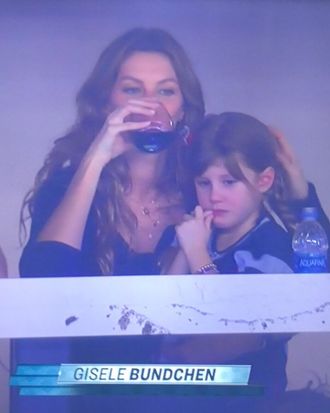 Gisele Bündchen drinking wine during the Super Bowl.
During Sunday night's Super Bowl, some people (who?) were focused on actually watching the football — but social-media users noticed something far more important: Gisele Bündchen coping with the stress of the game by drinking red wine.
At one point in the evening, the Super Bowl camera panned to the nightshade-avoiding wife of the strawberry-fearing New England Patriots quarterback Tom Brady. The supermodel was coolly sipping on wine (with her adorable daughter on her lap). Twitter couldn't get enough of it:
But, as you know from the insane celebration footage in Philadelphia, Bündchen's husband ended up losing to the Eagles. So, later that night, the supermodel also ended up posting an image of herself consoling the sad football player. We can only hope the wine helped ease her pain.