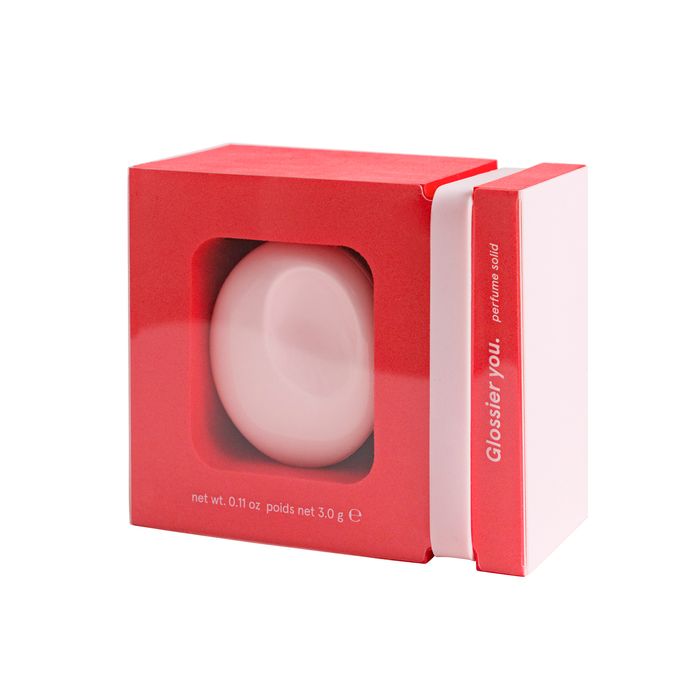 Beyoncé loves Glossier. Millennials love Glossier. Now the brand's first fragrance, called You, has a new companion in the form of a perfume solid.
Unlike traditional perfume sprays, solids say it but don't spray it. The scent is encapsulated in a waxy, creamy base (in this case, made of cornstarch, beeswax, and coconut oil) that isn't a liquid. To "put it on," you dip a finger or two into the base and rub it onto pulse points. Allegedly, the Egyptians were the first to use perfume in this format, and would lay cones of balsamic oil under their headgear or wigs, to perfume the face as it melted. In modern day, perfume solids are great for a fragrance touch-up and a TSA-approved way to transport good smells.
Like most perfume solids, Glossier You's feels a little lighter on the skin (as the brand says, it "quite literally melts into skin") but retains the spray's original peppery, salty, earthy, warm, and clean feel. In perfume speak, the scent's three base notes are ambrette (present in J'Adore by Dior), ambrox (used in Light Blue by Dolce & Gabbana), and musk ( like CK One by Calvin Klein). The top notes are iris root and pink pepper.
The scent comes packaged in a sleek, shallow compact with a subtle thumbprint that swivels open. It's softly millennial pink, of course. As a bonus, it's also less expensive than the spray. Glossier You perfume solid is available today.