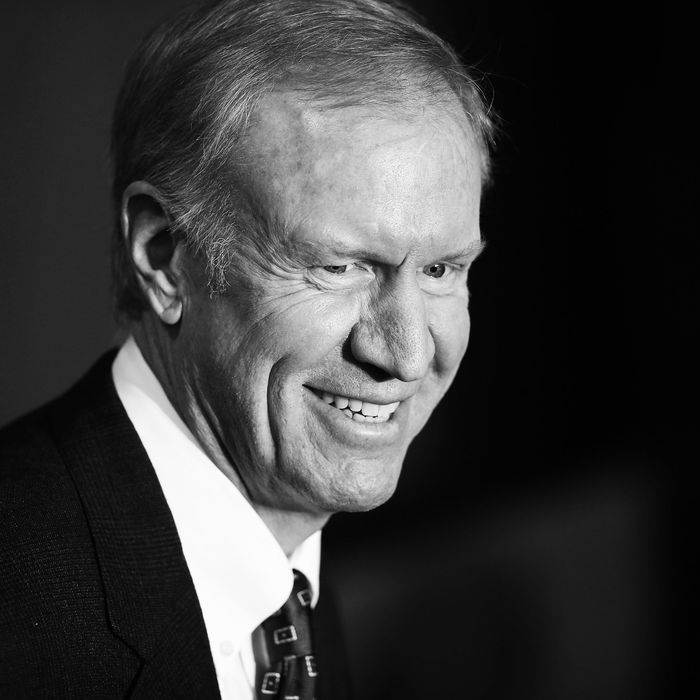 Governor Rauner.
Photo: Scott Olson/Getty Images
Today in unfortunate food analogies, Illinois governor Bruce Rauner took a big gulp of chocolate milk to demonstrate his commitment to workplace diversity during a Black History Month celebration.
Standing on stage alongside Hyatt Hotels executive Tyronne Stoudemire, Rauner was eager to mix the Hershey's chocolate syrup — an apparent metaphor for marginalized communities — into the glass of milk in his hand.
"This chocolate syrup represents diversity: women; people of color; people with disabilities; the aging population; and generation X, Y, and Z," Stoudemire said before squeezing a big glug of syrup into Rauner's milk. As soon as the chocolate settled on the bottom of the glass, Stoudemire noted: "Diversity sits at the bottom of the organization."
Which is why Rauner stirred it up. And, despite Stoudemire's insistence that the governor didn't need to drink it, Rauner was thirsty for some of that sweet inclusivity-flavored milk.
"It's really, really good," Rauner said, followed by indecipherable murmuring. "Diversity!"