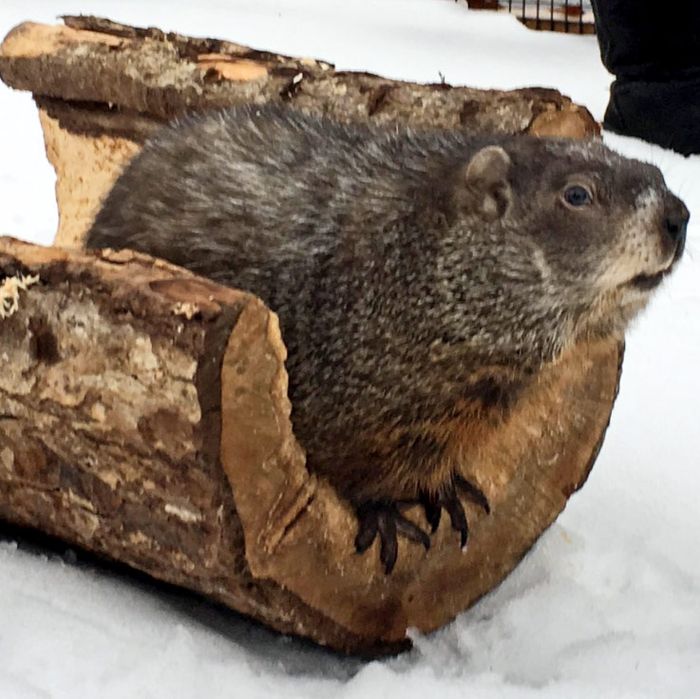 Shubenacadie Sam.
Photo: Courtesy of Twitter/NatashaPace
Today, Punxsutawney Phil emerged from his marmot hole in Pennsylvania, saw his shadow, and scurried back inside, subjecting us to six more weeks of winter. Also today, Shubenacadie Sam emerged from his den in Nova Scotia and bit a reporter, subjecting us, I imagine, to six more weeks of Saw-like violence and bloodshed.
Sam's Groundhog Day started pleasantly enough. He was released from his nice-looking little house, didn't see his shadow, and ran around his enclosure while onlookers cheered, hopeful for an early spring.
But when the crowds left, things took a turn for the worst. Sam, presumably overwhelmed by the pressure of having to predict the weather in an age of global warming, made a run for it, scurrying up a fence in a desperate bid for freedom. Just as he reached the top, he was apprehended by CBC reporter Brett Ruskin, who managed to get him back in the enclosure, but not before Sam bit his meddling fingers.
Watch the chilling video below:
And here's a closer look at Ruskin's injury:
Sure, the wound looks harmless enough, but probably best to brush up on the Purge movies just in case.