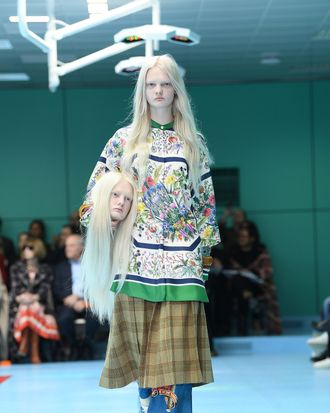 Gucci fall 2018.
Photo: Venturelli/WireImage
Good fashion makes you think. Or lose your mind. Or, in the case of Gucci's fall 2018 collection, which showed at Milan Fashion Week on Wednesday, both.
One model walked the runway carrying a replica of her own head. Another, a baby dragon. For a split second, I actually thought this dragon might be real, which is a testament to the oftentimes dumbfounding and transgressive nature of Alessandro Michele's work.
While it may seem like Michele binge-watched Game of Thrones while designing this collection, he was actually reading up on Foucault's ideas about identity politics, as well as Donna Haraway's "A Cyborg Manifesto." Typical.
As a result, Michele's muse this season was a post-human, post-identity, woke Gucci cyborg. The set was an operating table, and the collection proceeded to chop up various cultural references and piece them back together, from New York Yankees caps to turbans to sculptural headpieces inspired by Asian architecture.
The show notes opened with a dense quote from Foucault about "disciplinary powers" imposing "fixed identities" or binaries of "normal/abnormal" on subjects in order to control them. We, the law-abiding subjects, are eager to fall into place, Foucault claims.
But not the Gucci Cyborg.
The Gucci Cyborg has no fixed identity or place of origin. Instead, it is a "hybrid" with "eyes on its hands, faun horns, dragon's puppies and doubling heads." It is a "biologically indefinite and culturally aware creature" — a "symbol of an emancipatory possibility through which we can decide to become what we are."
Fashion has always been fascinated with the image of the cyborg. (Take André Courrèges's 1960s Space Age ladies, for example.) But in 2018, cyborgs have actually become a reality, with the birth of virtual influencers like Lil Miquela, who has half-a-million Instagram followers and poses in brands like Chanel. In fact, you can find her doing a social-media takeover for Prada on Thursday.
Cyborgs are the ideal fashion muse. They never age, never get tired, hungry, or bloated. They can be in Los Angeles one day and Milan the next. And they never accidentally tweet something inappropriate. But, like fashion (and dragons), the cyborg is ultimately a fantasy. Real people (and front-row celebrities like Rowan Blanchard, Dakota Fanning, and Nick Cave) are the ones buying clothes — at least for now.
So, will the real world buy into this Gucci collection? Probably. It may not have been real, but it felt true.