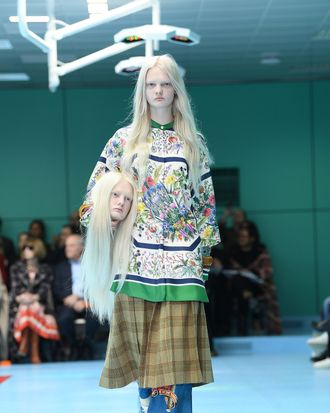 Unia Pakhomova for Gucci fall 2018.
Photo: Venturelli/WireImage
Wouldn't it be nice to have two heads? One could be in the office composing emails and the other perched on your couch scrolling through Instagram. You'd never forget anything or miss any television shows. Plus, you could be awake 24 hours a day.
During Milan Fashion Week, designer Alessandro Michele made this fantasy a reality when he sent models Unia Pakhomova and Dwight Hoogendijk down the fall 2018 Gucci runway carrying replicas of their own heads. The theme of his collection was "cyborgs," and the set was an operating room. Other models cradled dragons, chameleons, and snakes.
In addition to chopping up various cultural references and piecing them back together, Michele also decided to dismember models, too — a commentary on the multifaceted nature of our modern, finsta-gram prone identities.
Michele being a lover of art history, one could also read these dismembered heads as a reference to cephalophores, or Christian saints who were martyred by beheading. Either way, they were an instant social-media hit. Instagram's Eva Chen, for example, quickly created the #GucciHeadChallenge.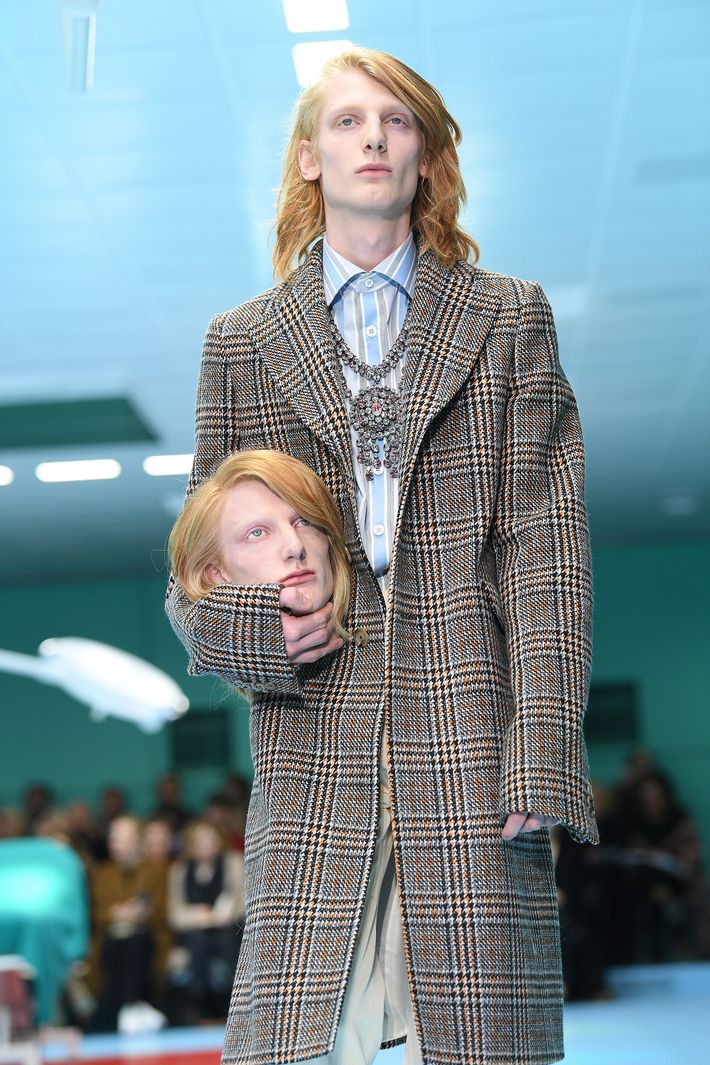 The Gucci heads bore such a likeness to the models carrying them, one might think they were real. For the job of creating them, Gucci tapped Makinarium, a bespoke special- and visual-effects company based in Rome. (In the past, Makinarium has worked with Ridley Scott, Danny Boyle, and Ben Stiller.) The process took six months and required molds of the models' heads, as well as 3-D prints and scans.
What's it like carrying an exact replica of your own head down the runway? We asked Gucci model Unia Pakhomova to walk us through Milan Fashion Week's most major moment.
What was your first reaction when you were told of the plan?
I was surprised and very interested to see what was going to happen. But I didn't know what it was for and how the process would occur.
What was it like carrying your own head down the runway?
It was amazing! When I took my first step on the runway, I heard people talking about my head and how they were surprised. I tried not to laugh on the runway.
Do you get to keep your head? If not, what's going to happen to it?
No, my second head is now in the Gucci showroom in Milan. I'm sad because I wish I could send my head to my mom, so she wouldn't miss me anymore.
Would you carry it around in real life?
I would try to keep my head with me all the time, but I would hold it on my shoulders.
If this head could talk, what would it say?
Why is some girl holding me under her arm?