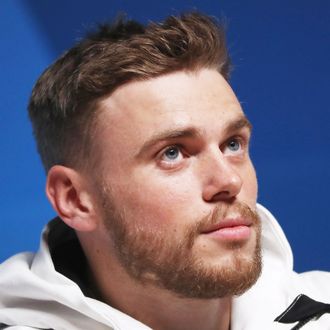 U.S. Olympian Gus Kenworthy.
Photo: Ker Robertson/Getty Images
Olympic skier Gus Kenworthy is one of the only openly gay athletes (along with his friend Adam Rippon, remember those cute Twitter pics?) competing for Team U.S.A. during the 2018 Winter Olympics. Both Rippon and Kenworthy have voiced their disapproval of having Vice-President Mike Pence — who has been called "the most vociferously and consistently anti-gay statewide elected official in the country" — leading the U.S. Olympic delegation. But on Thursday, Kenworthy revealed that he broke his thumb … which he said means he can get out of having to shake Pence's hand (phew).
"Broke my thumb yesterday in practice. It won't stop me from competing (obvi) but it does prevent me from shaking Pence's hand so … silver linings!" he tweeted on Thursday. But when a Twitter user called out Kenworthy's "obsession" with Pence, the athlete reminded us all that this was his first tweet mentioning the husband of Mother.
Can't wait to see what Donald Trump Jr. has to say about this.