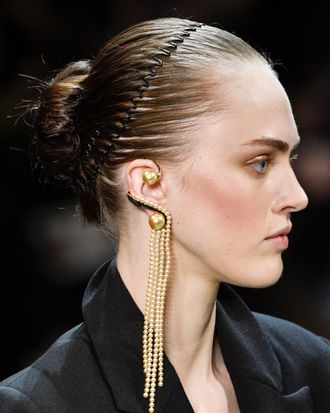 The hair and makeup at Prabal Gurung fall 2018.
Photo: Peter White/Getty Images
Hold onto your hacky sacks; the '90s are coming back in a big way. Well, '90s hair, at least. On Saturday Guido Palau clamped the ponytails at Alexander Wang with a retro banana clip, and hairstylist Anthony Turner sent models with comb headbands down the runway at Prabal Gurung last night. Don't you just love the nod to yesteryear?
"It's reminiscent of the 'day after,'" Claudio Lazo, Turner's hair co-collaborator, told the Cut. Lazo and Turner wanted a playful, modern antidote to the rich colors in the clothes. "Think of going to yoga class on Sunday morning and your hair's slightly done from the night before. You add a little water to slick down the hairline. You twist the ponytail into a figure eight bun. It looks youthful, organic … like a ballerina."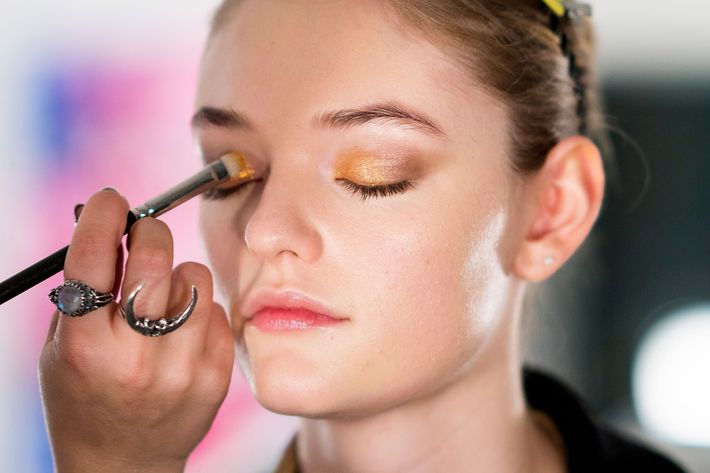 The Wella hairstyling team at Prabal used a little more than water, however. First, they smoothed the hairline by blowing it straight with a hairdryer, then gathered the hair into a low ponytail. They twisted the ponytail into a knot — "the faster, the better," Turner said — and then slowly pushed back a comb headband until it stopped, just past the ear. This was not fancy branded head gear, like the clips at Alexander Wang. You can find the headbands used at Prabal Gurung at your local drugstore.
Makeup artist Diane Kendal drew inspiration from the Mosuo, a matriarchal tribe outside of Tibet, for the collection's golden-eye look. She paired two M.A.C cream eye shadows from an upcoming palette (Olive U and Soiled) underneath two bronze, glittery lip glosses (Love It Like This and Time to Werk). She applied a small amount of lip conditioner to each model's lips, and created a bright flush on the cheeks with M.A.C's "Flirting with Danger."
On their nails, models either wore Zoya's Isadora, a metallic violet, or Dove, a gray. Those with cool undertones stuck to Dove, while warmer tones were treated to Isadora. Blue nail polish was nowhere in sight. That would have been '90s overload.