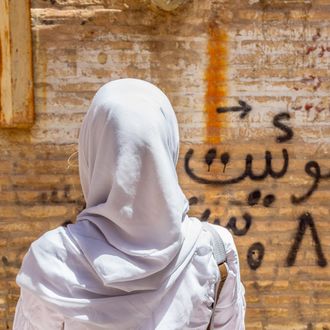 Photo: Jerome Cid/Getty Images
Wearing the hijab became mandatory for all women in Iran in 1983, a few years following the 1979 Islamic Revolution. But, per a report released by President Hassan Rouhani's office on Sunday, 49.8 percent of Iranians believe the government should not mandate that a woman must wear a veil.
This comes after 29 women were arrested for protesting the hijab law over the past week. The report itself is from back in 2014; as the New York Times pointed out, some see the timing of the release as highly strategic.
"Mr. President wants to be popular, and his team knows that an increasing number of women do not like the Islamic code of dress," political analyst Farshad Ghorbanpour told the paper. "They want to woo the women and make sure the popularity of the president does not diminish even further."