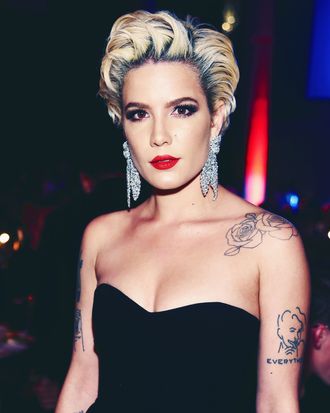 Halsey.
Photo: Dimitrios Kambouris/amfAR/Getty Images
Ashley Frangipane, better known as the singer Halsey, might be "bad at love," but she's good at makeup. Who knew? Apparently Yves Saint Laurent Beauté did. At yesterday's amfAR Gala, which raises money for HIV/AIDS research, the brand announced a new partnership with the singer. Halsey's new gig goes beyond being the face of an advertising campaign, as she'll also be creating makeup looks with the brand.
While she won't be changing her Instagram handle to @HalseyMUA anytime soon, she will be sharing makeup tutorials and tips with her followers every month. Last night was her first day on the job — to accompany her performance, she did her own makeup and created a modern, vampy look using the Tatouage Couture Liquid Lip Stain in Grenat No Rules, a rusty red.
"Halsey's own natural beauty and honest approach to life has stand-out appeal," read a statement from YSL Beauté, citing her bold lyrics and strong vocals as part of her passion and power. The pop artist often sings about things she hates and is outspoken about politics, which makes her the good match for the edgy brand that wants to connect with younger customers.
Last month, Halsey recited an emotional poem she wrote about her experiences with sexual assault at the Women's March in New York City. In her poem, she recalled a miscarriage she suffered as a result of sexual assault. "You see I've worked every day since I was 18," she said. "I've toured everywhere from Japan to Mar a Lago. I even went onstage that night in Chicago when I was having a miscarriage. I mean I pied the piper! I put on a diaper! and sang out my spleen to a room full of teens."
The beauty collaboration will continue with her Governor's Ball performance this June, where she'll debut a new look. We suggest their gold mascara and disco-themed eye-shadow palette.