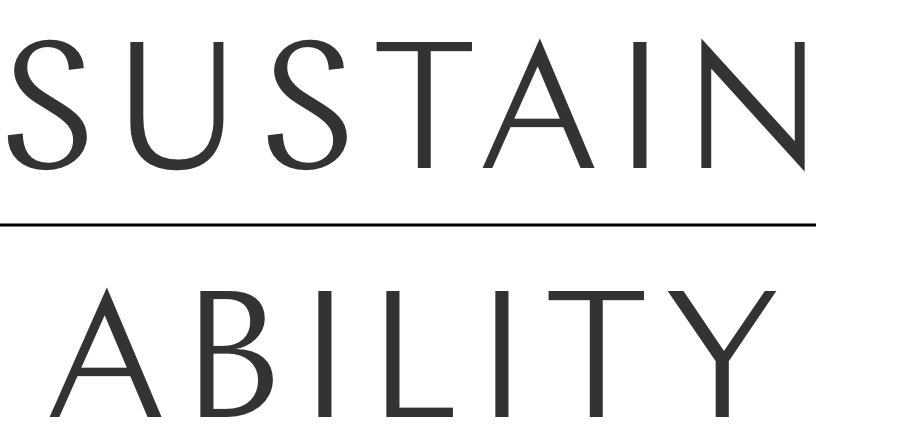 Sustain/Ability is a week of stories about how fashion impacts the environment.
On a snowy Friday morning after the Supreme holiday party in December, Heron Preston woke up early, got in a car, and rode the hour-long commute up to Irvington, New York. It was here that he would complete his week-long apprenticeship at the Eileen Fisher headquarters, working specifically with Renew, the brand's clothing take-back and reuse program.
The Eileen Fisher headquarters is not the first place you might expect to find the 33-year-old streetwear designer, whose friends and past collaborators include Virgil Abloh and Kanye West. Admittedly, Preston doesn't own any Eileen Fisher cardigans or calf-length sack dresses, nor do any of his contemporaries. (They have a "different consumer base," Preston explained politely.)
Fisher, who started her company in 1984, didn't know of Preston and his work until a few months ago. ("I'm pretty out of the loop," she said with a laugh.) But upon meeting, Preston and Fisher discovered that they shared a commitment to producing sustainable fashion — a mission that just about anyone can get behind.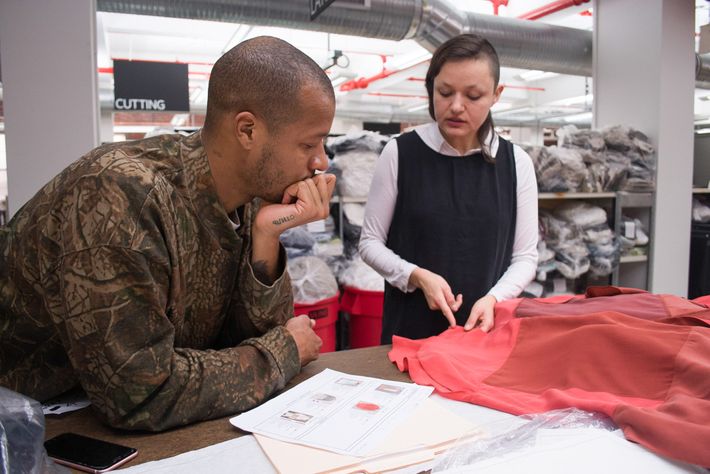 Preston loves an unlikely pairing. In September 2016, he showed a capsule collection at New York Fashion Week in partnership with the Department of Sanitation. The idea was to raise awareness for the city's 0x30 campaign, which aims to send zero waist to landfills by 2030. The collection included up-cycled hoodies, tees, and accessories made out of donated DSNY uniforms, which Preston then sold for $60 to $600. Half of all sales from his Fashion Week event, which took place at the DSNY Salt Shed as opposed to a traditional runway venue, went to the Foundation for New York's Strongest.
His stint at Eileen Fisher is a continuation of that ethos. "I want people to know I'm serious about this," said Preston. "It wasn't just a one time thing."
Fisher has a long history of producing sustainable fashion — rivaled only by Patagonia in size and ambition. During his apprenticeship, Preston hoped to learn more about up-cycling, circular design, supply chain innovation, and how to apply general environmental consciousness to his operation.
"I only proposed to do something like this because I remember when Virgil and Kanye did their internship at Fendi," Preston explained. "I was like, if they did that at Fendi, I want to do something like that here!"
Fisher can fairly be called the Fendi of sustainability. Since 2009, the company has quietly been running a robust clothing take-back program called Renew, which offers customers $5 dollars for every article of the brand's clothing that they return — even if it's been worn to shreds. The pieces are sorted according to condition, salvaged when possible, and then resold at select locations at affordable price-points. In the past nine years, Eileen Fisher has taken back over 800,000 garments. The brand's goal is to be completely sustainable by 2020.
"Even if we become a 100 percent sustainable company, we're just one," says Fisher. "It's just not enough in this huge industry. So we took on the mission to share what we know and educate others, especially young designers. They're going to change the fashion industry and the world."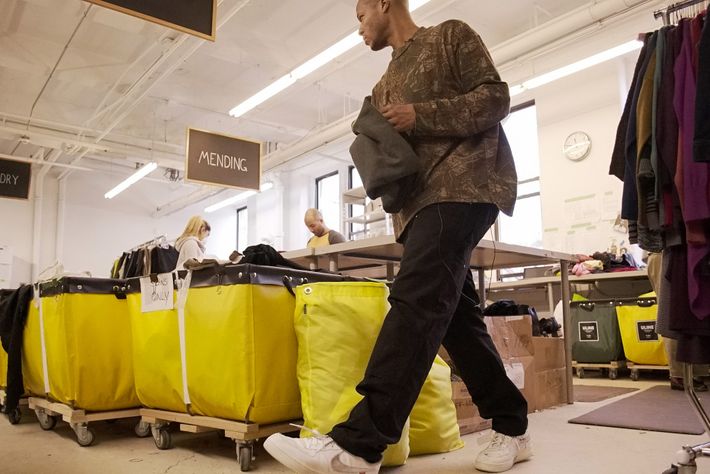 Preston spent his first day at Eileen Fisher in the sorting department of Renew. The space looks like a combination of a laundromat and a factory, with piles and piles of clothing meticulously organized by style, color, and fiber. Not only is the company's take-back program good for the earth, but it also educates the design team about what works and what doesn't. After receiving a number of clothes with armpit stains, for example, they asked themselves: Should we put seams there, so that part of the garment can be easily replaced?
By the end of the week, Preston was working with Renew designer Carmen Gama on fashioning a two-piece top out of scraps from linen pants. He spent the rest of his days asking "a bunch" of questions and meeting with people at the company with titles like Head of Sustainability. He was also given the Eileen Fisher Vision 2020 project plan book. "Literally, they just gave me the Bible," Preston said with an enormous grin.
When Preston and Fisher sat down for a one-on-one session at the end of his internship, she gave him some advice: "Take small steps," she said. "You can't attack everything at once."
This goes against every fiber of Preston's always-curious, Energizer-Bunny-in-cargo-pants being, which is why it was exactly what he needed to hear. When I asked him what he made of Fisher's advice, Preston translated it as a prompt: "Dude, just go."