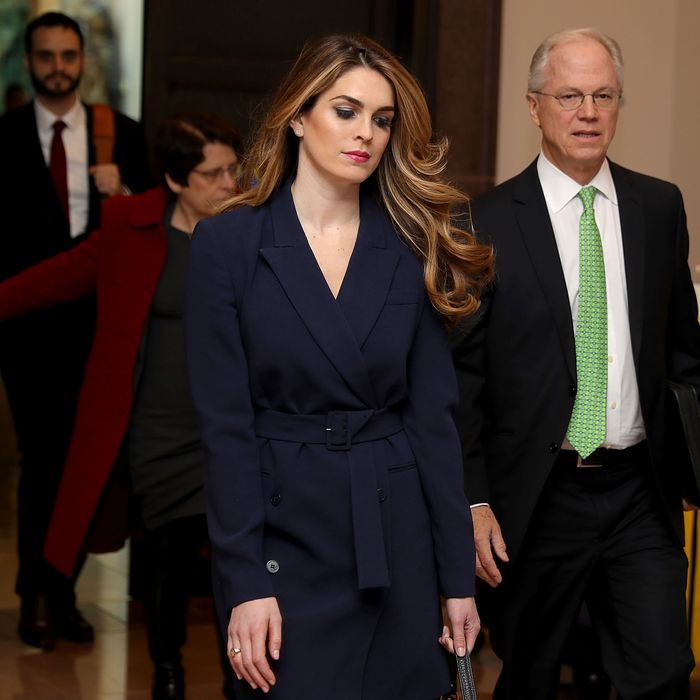 Hope Hicks.
Photo: Chip Somodevilla/Getty Images
White House communications director Hope Hicks is the latest Trump administration official to resign, the Times and CNN reported Wednesday.
The 29-year-old, who worked for the Trump Organization before joining Trump's presidential campaign, told colleagues "she had accomplished what she felt she could," according to the Times.
Her resignation comes just one day after Hicks told House investigators that Trump sometimes requires her to lie, but only about little things. The resignation is reportedly unrelated to her testimony.
In a statement Trump said, "Hope is outstanding and has done great work for the last three years."
"She is as smart and thoughtful as they come, a truly great person," he said. "I will miss having her by my side but when she approached me about pursuing other opportunities, I totally understood. I am sure we will work together again in the future."
The Times says Hicks's departure date will likely be within the next several weeks, allowing Trump to select yet another White House communications director. Before Hicks, the job was held by Sean Spicer, Anthony Scaramucci and Mike Dubke. Jason Miller, who was supposed to be Trump's first communications director, withdrew himself from consideration before the inauguration.