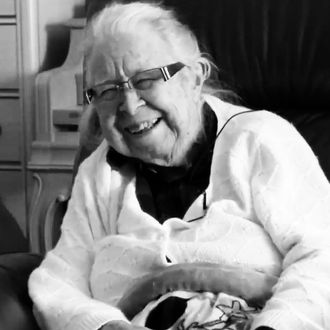 Doris Rucker Wasden.
Photo: Courtesy of Fox13
One of the perks of old age is that you can tell everyone exactly what you're thinking whenever you want. This trait also appears to have helped a 99-year-old woman escape from a hostage situation.
The Washington Post reports that Doris Rucker Wasden was held by an armed hostage in her home after the suspect fled a nearby shooting. While her granddaughter, CJ Montoya, and her granddaughter's fiancé, Jim Gabbard, managed to get out of the house, Wasden didn't hear what was happening until she was actually confronted by the suspect.
"I just got back in bed and he come in again and then he started to talk to me. And I said 'I can't hear you, I can't hear you,'" she told Fox 13. "And then he realized I was a very old woman, so he was pretty nice to me after that."
She also reportedly gave him a talking-to for making a mess in her house — which appears to be what inspired him to finally let her go.
"He was rifling through the drawers, making a mess, spilling things all over and she has her 100th birthday party one week from today," Gabbard told KSL. "And her words to him were, 'I just had this house cleaned for my party and you are messing it up. You better knock it off.'"
Eighteen-year-old Freddy Alexander Velasquez was arrested leaving the scene of the crime and faces six felony charges, including aggravated kidnapping.
"I never felt afraid of him," Wasden said. "But I and the dog were a little shaky."