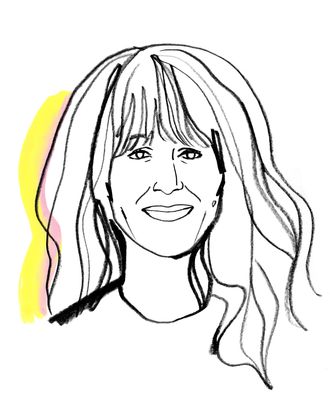 Illustration: Lauren Tamaki
Charlotte Tilbury is the mother of two and a legendary makeup artist. Not only is she a behind-the-scenes fixture at runways and red carpets, but she's an A-lister in her own right — often photographed alongside the celebrities with whom she works. As the brains behind a cult-favorite fragrance and a namesake cosmetic and skin-care line, she often balances busy work days with long nights of partying. Here's how she gets it all done.
On waking up:
I always have my personal assistant or my executive assistant wake me up. Someone always has to drag me out of bed because I'm not a morning person.
On her intensive beauty regimen:
I have a lot of late nights and early starts, and I take a lot of airplanes. I kind of battle myself, so I always do a lot of holistic acupuncture and take a lot of vitamins to balance out my intense life.
I do my Goddess Skin clay mask or my instant dry sheet mask at least three or four times a week. Then, I put on my Magic Day Cream and my Magic Eye Cream. Depending on my skin, l use either my Light Wonder foundation or my Magic Foundation; my Miracle Eye Wand; and my Retoucher concealer.
I have ten makeup wardrobes, so I might wear a Vintage Vamp or a Dolce Vita look, or maybe a Rock Chick. I always love a smoky eye. And then I put on my Luxury eye palette. I'll use my Feline Flick, my Audrey pencil, and then my Pin Up Pink lip liner and my Pin Up Pink lipstick. And my Beach Stick.
I've always got makeup on. Even when I go to bed.
On preparing for the day:
I jump in the car with my P.A. because we have to do emails and go through my schedule, which is constantly changing. So we do that in the car on the way to work, or she'll do that while I'm getting ready, sometimes sitting on my bed [laughs]. And then my day will start. Maybe I'm going to the office and doing a store design meeting, a marketing meeting, a board meeting, or maybe I'm doing a shoot. Every day is so different — and in different parts of the world.
On spending time with her children:
We always have breakfast together and then they go to school. Depending on what time I get home from work, we hang out and spend the last couple hours of the day together. I can't always do that. Sometimes, I'm just not there. But otherwise in the evening, we hang out for a few hours, and we'll play, we have building blocks, we read books. We might watch a film together — we call it snugging up. Sometimes my baby even gets me to lay in his cot and I'm so tired I end up falling asleep in it. [Laughs].

On managing a jam-packed calendar:
We know there are certain things that I'll be at — whether it's Fashion Week, or Cannes Film Festival, or the Met Ball, or the Oscars, or the Globes — so we'll look through the year, and then other shoots will come in. Unfortunately, sometimes we have to say no to really amazing things because there just isn't time. I have to have some off days because if I've worked over the weekends, then I have to make the time up to be with my children. And I'm not a robot. I can go for quite a period of time, but then I need rest.
I consider myself to be like a car, and if you don't put fuel in the tank, then you're going to run out of gas. I have my homeopathic drops when I'm traveling. I have acupuncture and a healer in L.A., and I have different people in different places that I try to see when I'm on the road for a long period of time.
I have an incredible amount of energy and I can handle quite a lot. You know, I just enjoy life. A lot of people, they're like, 'I would die if I had your schedule,' but I enjoy it.
On her headquarters:
My office is in Brook Green in England. My room is called Charlotte's Parlor. It's got all my work, all my covers, my campaigns, and looks. I've got lots of books for inspiration. I've got the awards we've won — the brand has won 120 awards now in four years. We also have a large meeting table with some chairs and some French rugs on the floor and a chandelier and a vintage French desk. I've got my vintage compact and stuff like that in there for inspiration. And photographs of my children.
On lunch:
I love food. I have a huge amount of energy, but that's because I always eat. If I didn't eat, I would get deranged. But I often have to have working lunches and it will be about business and we'll talk through the whole lunch while we're eating. Or I'll be in my office in a meeting and I'll be eating in the meeting because there's just not enough hours in the day.

On getting inspired:
Most of my ideas don't happen in the room. It always happens when I'm on the road, or I see a gap in the market.  Necessity is the mother of all inventions so it's always looking at what people need and me as an expert thinking how I can improve their lives.
On relaxing:
Sometimes I have weekends where we go to the country and we stay in country houses with friends.That's quite the English thing to do. Otherwise, I just hang out in London with my children. As my life has gotten crazier, the weekends are really times to spend time with my children as much as possible. And maybe in the evening go out to dinner and see friends, but during the day I just want to spend time with them.
On summers in Ibiza, where she grew up:
That's a tradition for me. But as my life has gotten crazier, now there's emailing by the pool, a bit of conference calls — but, at least it's better, it's by a pool in the sunshine. When you're in business you are kind of married to it and it's your life. It's not something you can just check out of. But when I go back there my parents are both bohemian and I'm able to relax a lot more.

On dancing and partying:
I find it very meditative. It's so cathartic. It brings huge amounts of endorphins. That's the thing that people don't realize, that you can go partying and actually wake up the next morning with more energy and happier even though you've had a few hours less sleep. It's sort of like off-loading stress. I always find that when I've fed my soul with laughter and happiness, I wake up the next day and I bounce out of bed, and I'm more joyful.

On following her instincts:
I think sometimes people have a little voice in their head and they ignore it, or they think someone knows better because it's their profession. I just follow my intuition and it's never wrong. And also, I'm not really afraid to ever say, I don't understand something. And I think some people get intimidated to say that. I think if you have half a brain cell, then you can learn. Business is not that complicated.
On her motto:
Dare to dream it, dare to believe it, and dare to do it — that's my motto. It has always subconsciously been my motto, but because I was running a company I put it into words to inspire other people to be able to do it. You can have a dream, but you've got to believe the dream and then you've got to do the dream. If you only believe 50 percent of the dream, then you're only going to get 50 percent of the dream back. But if you believe 100 percent, then you'll do 100 percent.

On wearing makeup to bed:
It's only my eyeliner and my mascara. Sometimes if I'm looking particularly tired, then I put a little bit of my Wonderglow face primer on, because it has hyaluronic acid and vitamin peptide in it. I cleanse with my Multi-Miracle Glow and put my Magic Cream on and my Magic Eye Cream. Sometimes I put my Overnight Bronze and Glow mask on because it tints my skin and really hydrates it. It's just a little bit of makeup on the eye, to give it a kind of a bedroom eye.

On sleep:
Twelve is like an early night. I dream of going to bed at ten, but it never works. I was brought up on an island where everyone stayed up late, and it was normal to have dinner at ten o'clock at night. But sometimes I'll have a lie in, and have snuggy time with my children in bed. Sometimes I'll say, You know what? I'm not getting out of my nightdress all weekend.
If you buy something through our links, New York may earn an affiliate commission.