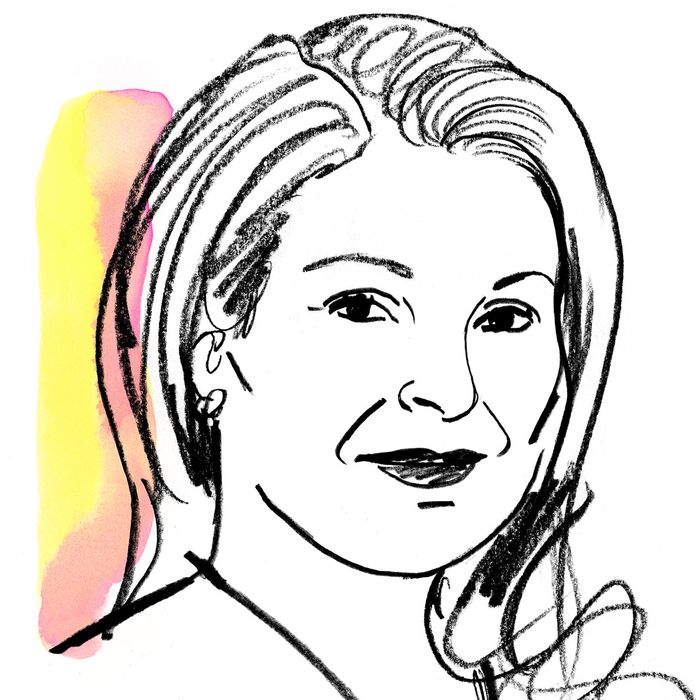 Illustration: Lauren Tamaki
Whether you know it or not, you've seen facialist Joanna Vargas's work on every major red carpet from the Met Ball to the Oscars. Vargas, who tends to the complexions of Hollywood's most famous faces, is the woman behind that seemingly lit-from-within glow. With salons on both coasts, a jam-packed calendar, and an ever-growing skin care line, Vargas succeeds — as a boss and a mother — by sticking to a strict schedule. Here's how she gets it all done.
On waking up early:
I tend to wake up at 5 or 5:30 a.m. If I don't exercise right when I wake up it doesn't get done. So typically, I'll either do a Peloton class or a tennis lesson. The early morning hours are when I do all of my press. I email in the mornings before everybody else wakes up. I have a couple of vendors in other parts of the world who typically email me while I'm sleeping so I'll catch up with them as well.
On getting ready:
Once I do a quick bunch of emails I'll go upstairs, dry brush my skin, and take a shower. After that, I like to layer my products on my face. I do my Daily Serum, my Rejuvenating Serum, and my Daily Hydrating Cream under my makeup with some eye cream. My makeup is really simple. I like people to be able to see my skin. I usually wear Laura Mercier Tinted Moisturizer, a little bit of blush and a little lip. Sometimes I'm too busy to do my eye lashes, but I always wear eyebrow pencil and lipstick.
On morning mom duties:
At like 7:30 a.m. I wake up my kids and get them ready for school. I have a 5-year-old daughter and a 12-year-old son. My 5-year-old is really into fashion, so to streamline my morning we usually pick out her clothes the night before. It can take a lot of time otherwise [laughs]. Once I get the kids dressed and downstairs, my nanny is usually walking in the door and she'll cook some breakfast and I leave for work.
On commuting:
Sometimes I drive to the office and sometimes I take the ferry. I live in Edgewater [N.J.] so the ferry is an eight-minute commute. Once I get to the office, I usually sit down with the salon manager and the operations manager. The operations manager makes sure that everything is running smoothly between the different companies — meaning the two salons and the skin-care line. I usually sit with them and we have a quick half-hour meeting to go over anything pending, anything they need me for, and to get the low-down on what's happening for the day. And then I start doing facials.
On her bicoastal salons:
My facial room in New York has a giant couch in it, and I usually lay on my couch and do emails and stuff when I'm working. My windows overlook the New York Public Library and Bryant Park so I have a beautiful view and it's bright and sunny. The salon is modern, very high ceilings, and it's very busy in there at all times.
My office in Los Angeles is styled a bit more like an L.A. retreat. It has a fireplace. I have a backyard that's like Zen a garden — it's got lots of trees and it's really beautiful and peaceful. I have meetings either there or in the living room sitting on the couch with the fire going.
On the importance of communication and mentoring the staff:
I don't micromanage my company, but I like to know what is going on so my staff — even the estheticians — send me summary reports of what's going on after a day's work.
With a skin care line, there are a lot of projects going on, so I need to hear what we're working on, what needs to be done.
With the estheticians, I like to have an ongoing dialogue with them about their clients and different skin questions that come up for them. Mentoring is really important to me because it's something I didn't have a lot of coming up in the business. So, we discuss what kind of skin they saw in a work day, and what concerns they had, what the client concern was, and if they felt like they addressed it. It gives them a lot of confidence to know they have me by their side, and I think clients come to the salon knowing that I'm taking care of them even though perhaps I'm not the one giving the facial.
On traveling to the Los Angeles salon:
I typically go the last week of the month. A Monday through a Friday. I'm home on the weekends with my kids, and I get in a bunch of work while I'm there. And then my additional trips would be any red-carpet events. The Golden Globes are the beginning of January, so I'm there for that. It really depends. But the rest of the year it's just the last week of the month.
I'm like a well-oiled machine when it comes to travel. I never check luggage because I have a house in Los Angeles, but I have a little on-board skin-care routine. When I get on the plane leaving New York, it's quite early, so I have my serums on my face, my Daily Hydrating Cream on my face, and then I take my Rejuvenating Serum, my Eye Cream, and usually two different sheet masks. I always bring extra sheet masks for the flight attendants because once I put it on they're like, 'Oh my god, what is that?' I usually bring some rose water and I bring face wipes for mid-flight again. When I wake up from sleeping, I like to wash my face with a face wipe and then I do the whole thing all over again.
On treating celebrities:
The only time servicing a celebrity is more stressful is when they're nominated and it's the morning of an awards show. Even the most seasoned actor or actress gets nervous. They want to win.
By the time we get to Oscars morning a lot has gone into that moment and I've been working hard on their skin for several months. But I personally don't find it nerve-wracking to work on a celebrity. They're just people and they come to me because they trust me and I'm good at what I do.
On managing a celebrity-packed calendar:
I have an assistant that does it for me. Her stress level is probably way higher than mine [laughs]. She has to get in everybody that wants an appointment. And everybody is a priority, so how do you deal with that? But she manages to make it all work, and she has a very good relationship with everyone else's assistant, which is kind of key.
On her busiest day:
My busiest day is always Oscars morning. Any kind of awards or red-carpet event — that day. The Met Ball is a huge day for me as well. I try to do all the same stuff, waking up early, doing my exercise. The only thing that changes is the amount of people I'll do in a day. I'll try to jam in as many people as possible. There are times, like the day of the Met Ball, that I've gotten to the office at five o'clock or six o'clock in the morning. If eight or nine really good clients are all going to the Met Ball and they all want their final facials to be that morning, I'll come in early and make that happen.
On a typical work day:
I do about five to six facials a day. Each one is an hour. My clients will do an hour with me and then a half hour in the LED light bed. Usually I'm booked back-to-back. When the clients are changing, I'll come out and talk to the operations manager or the salon manager just to check in. I usually pick one person to have a conversation with, then I go right back to work. I finish seeing clients by 2 p.m. And then between two and five I go back on email or I do interviews or I have meetings, and by 5 p.m. I want to be out and heading home to see the kids.
On returning home in the evening:
I walk in the door between 6 and 6:30. I like to get home early enough so that my son is still doing homework and if he needs help I'm there for him. If he doesn't need help with anything I can play with my daughter for a while before she has to start winding down. Usually at night we'll take the kids out for a long walk with the dogs so we can all regroup.
On balancing work and motherhood:
There's nothing spontaneous in my life. It's all very scheduled and regimented and I find that the kids do better knowing my movements exactly and when they can count on me and when I'm not going to be around. And usually when we're in Los Angeles, my husband and I tend to go out more. We party when we're there.
On relaxing before bed:
I usually do some kind of painting every day in the evening — either with the kids or after the kids have gone to bed. It relaxes me and refocuses me. I always do a sheet mask at night while I'm painting or while I'm reading. I'm usually asleep by 11 p.m. I have to get at least six to six-and-a-half hours or else I just don't feel like I can think straight.