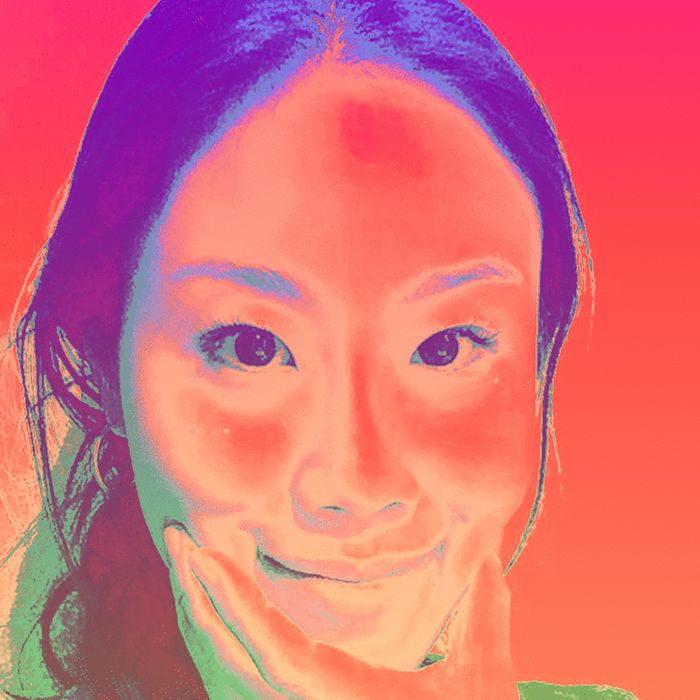 Photo-Illustration: by Stevie Remsberg
Alicia Yoon is a Korean skin-care expert, co-founder of K-beauty emporium Peach and Lily, and a trained aesthetician (somewhere in there, she also attended Harvard Business School). You wouldn't know from looking at her dewy, poreless skin, but Yoon also has eczema. From personal knowledge and years of experience, Yoon has cultivated a Korean beauty routine that soothes the red, itchy, sensitive skin of an eczema sufferer. In her own words, here's her routine and why it works.
I've had eczema since I was born. So I grew up trying every home remedy imaginable — baking soda baths, bleach baths, oatmeal pastes, and resorting to a bevy of steroids if all else failed in taming my itchy, weepy skin.
When I attended aesthetician school in the '90s in Korea, my whole approach to eczema changed. It was my skin-care breakthrough moment. Instead of dealing with the symptoms, I took on a holistic and preventative approach to managing it, including a totally different skin-care routine. The results? Eczema can't be "cured" per se, but those sleepless itchy nights or the constantly inflamed and rashy skin? Instead of being the default reality of life, it became the exception.
Over the years, including after becoming a licensed New York esthetician and working with a lot of clients who also struggle with eczema, I found a three-pronged approach to skin care could profoundly help a lot of other people with eczema-riddled skin.
The three things I like to reinforce at every step of the skin-care routine are to: (1) protect and strengthen the skin barrier, (2) hydrate skin, and (3) decrease inflammation. Those with eczema typically have a leakier skin barrier. Moisture is more easily lost from the skin, and bacteria gets in more easily. Strengthening the skin barrier is the first step — it's sort of like plugging a hole in a leaky boat.
Getting ample moisture to skin is key, since dehydration makes everything worse, including leading to more inflammation which can beget worse eczema flare-ups. Finally, quelling inflammation is really helpful, since that can help minimize flare-ups. What's great is that incidentally, this three-pronged approach to minimize flare-ups is also a great way to keep skin from aging prematurely. Win-win! Here is my routine.
My routine consists of double-cleansing in the morning and in the evening. Even though I have dry skin, I double cleanse in the mornings as well but use just the tiniest bit of both cleansers. It's also because I use night creams that are oil-based so I want to remove these before applying my morning routine. Toxin-filled sebum is produced while sleeping and it's important to cleanse that off to prevent free-radical damage.
I start with the Shangpree S-energy Cleansing Gel to dissolve everything from stubborn makeup to SPF to pollutants trapped in sebum. Yes, even dry skin has some sebum production that can trap the many impurities in our environment. This super-gentle cleanser melts everything off easily and pampers skin with nourishing ingredients. No tugging or struggling, necessary!
I then follow up with the Atopalm Moisturizing Facial Cleansing Foam. It's a low pH, so my skin barrier is left intact and removes any residual impurities. This is the No. 1 recommended cleanser by dermatologists in Korea for those struggling with eczema, rosacea, psoriasis, or sensitive skin. Atopalm uses this patented ingredient that actually mimics the molecules of a healthy skin barrier. I use this head to toe and a little goes a long way.
I've advised my clients to stick to a gentle double-cleansing method AM and PM and this alone has yielded really profound improvements to skin — it can be one of the easiest and fastest ways to see major improvement. It's definitely worth trying!
Then comes a super hydrating toner to balance my skin's pH after cleansing (water can be too alkaline). I've been using the Be the Skin Botanical Nutrition Power Toner daily for five years now! It's so hydrating, excludes alcohol, and instead includes soothing ingredients like royal jelly that also helps fight inflammation. I test a lot of products so my skin gets a bit finicky, but this helps reset my skin. I sometimes use a separate essence, but this toner doubles as an essence for me as well. I pat in a few additional layers to drench skin with hydration.
I then apply the Shangpree S-energy Long-Lasting Concentrated Serum with the Olivarrier Fluid Oil mixed together. Both are super silky, so I do a quick face massage when applying (no friction when rubbing means prime-time massage time!) for lymphatic drainage and to stimulate muscles. The serum has a proprietary botanical complex that's proven to help plump skin and address fine lines and wrinkles. Basically, I see a big difference when I use this. Skin is totally bouncier and super radiant, so I reach for this serum all the time. The fluid oil is pure 100 percent squalane that's fast-absorbing and non-greasy. Those of you with eczema likely need to supplement skin with lipids to help keep the skin barrier strong. This is a great option to do just that without irritating skin.
If I'm combating dark spots (usually after a long weekend away where I'm out in the sun), I use the Femmue Lumiére Vital C Serum. It's only 2 percent vitamin C so very gentle and non-drying, and the beautiful formula (smells like a fresh cut bouquet) keeps my dark spots away and refines texture.
Next comes my Volufiline15 eye essence by Eco Your Skin, which totally sinks right into skin for potent results. The volufiline and polylatcic acid helps fill in fine lines so my makeup applies without creasing.
I seal all this in with the Peach Slices Citrus Honey Aqua Glow. This is a gel that serves as a serum and moisturizer in one. It melts into skin but also protects and hydrates skin. It's versatile — one layer for more humid days and a few extra layers for dry, wintry months. I love this for travel because of the non-fussy, hygienic tube format. Annatto seed oil helps repair skin, citrus extracts help brighten and boost radiance, honey helps soothes and can be a powerful antibacterial, and ceramides help keep the skin barrier strong. Makeup wears well over this and there's never any pilling.
I exfoliate twice a week and for that I use a few different products. My go-to is the Be the Skin Non-stimulus Face Polisher as it gently, gently buffs skin and reveals baby-soft skin. I'll alternate at times with the Eco Your Skin Lavender Bedside Mask that uses a chemical exfoliant (salicylic acid) but is combined with calming lavender in a skin-comforting light creamy sleeping mask so that skin's never left dry. The subtle lavender scent lulls me to sleep and I wake up with an instant glow. I'm totally in love with it.
I also sheet mask regularly. I love the Peach & Lily dream sheet masks because they're gentle enough to be used daily but they're all about results. There's no alcohol, artificial fragrances and harsh ingredients — I formulated these keeping those with the most sensitive skin (those with eczema included!) in mind, since sheet masks sit on the face for 15 to 30 minutes at a time. They're packed to the brim with antioxidants and anti-inflammatory ingredients, so results are pretty instant and build over time. I wanted these masks to be formulated with all upside and no downside!
I sometimes get hormonal acne and traditional spot treatments can be pretty drying for me, so I pop on a Peach Slices Acne Spot Dots as these help flatten blemishes overnight without the use of drying drugs.
And in the mornings, SPF always. I'm currently obsessed with the Lagom Sun Gel as it's truly invisible and weightless.
This routine keeps my skin healthy and strong enough to help keep the itchy, rashy skin at bay.
This article was originally published February 16, 2018. It has been updated throughout. If you buy something through our links, New York may earn an affiliate commission.