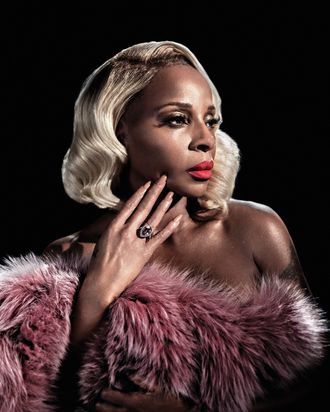 New York's spring fashion issue presented cover-star Mary J. Blige in a rare light: wearing red lipstick. "I convinced her to do it," makeup artist Sir John told me.
Sir John turned to online beauty brand Dose of Colors for the perfect red. Meanwhile Larry Sims, Blige's hairstylist for the photo shoot, focused on sculpting her shoulder-length curls. The result is a contemporary nod to vintage glamour. Read below to learn how Sir John and Larry Sims created the look.
The inspiration: Old-school Hollywood. Eartha Kitt, Marlene Dietrich, and Dorothy Dandridge were a few of the actresses featured on the photo shoot's moodboard.
The face: Sir John prepped Blige's skin with moisturizer and then applied NARS' Natural Radiant Longwear Foundation all over her face with a wet Beautyblender. "She has really beautiful bone structure," Sir John explains. "I didn't want to over-contour her and just used a cool, taupe-y blush that was a shade deeper than her complexion around her cheekbones, along the temples of her forehead, and along the jawline."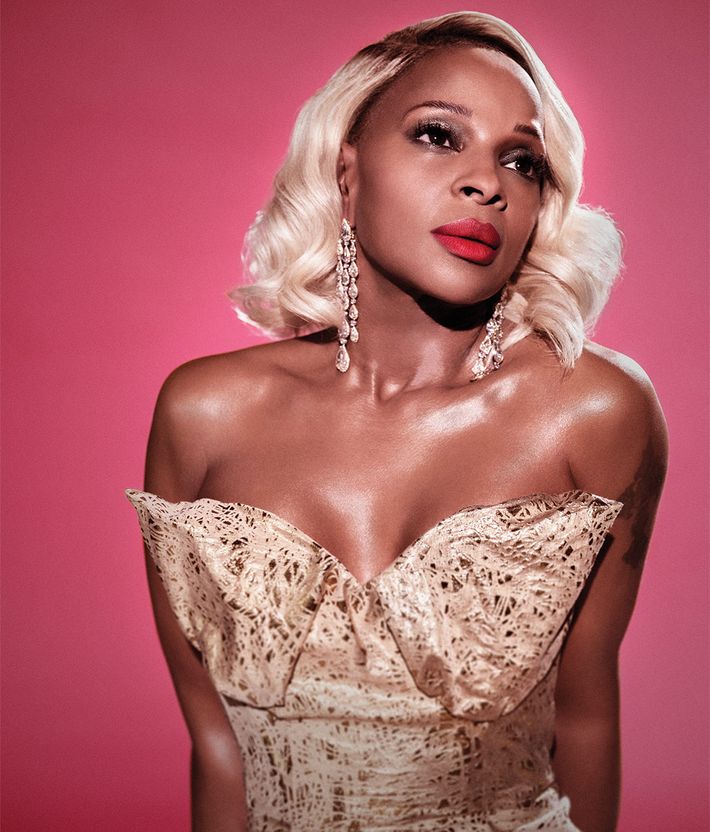 The eyes: Sir John gave Blige a "halo eye," which is a technique where a dark eye shadow is applied to the eye's outer and inner corners (in this case L'Oréal Paris's Colour Riche Mono in Matte-Ison Avenue), and a shimmery shadow is applied in the center (he used Bobbi Brown's Luxe Eye Shadow in Moonstone with a wet brush).
The lips: Mary J. Blige rarely wears red lipstick, but Sir John convinced her to give Dose of Color's "Kiss of Fire" a try. To pull off the shade yourself, Sir John suggests using a red with orange undertones and keeping your complexion neutral-toned and glowing. Don't wear vibrant eye shadows or the colors might overwhelm your face.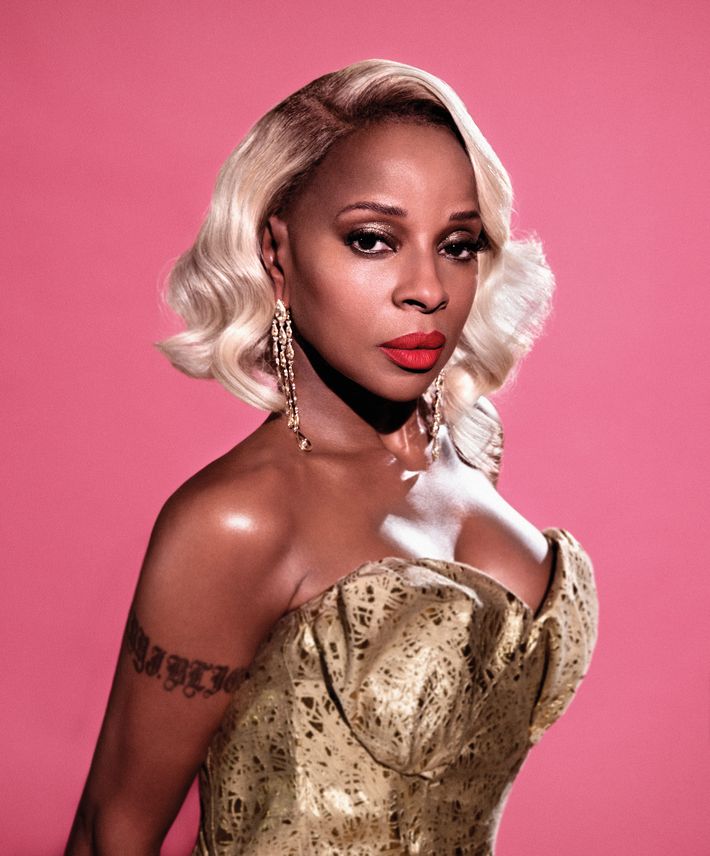 The hair: "We started with establishing a side part over the right side using the arch of the eyebrow as a point of reference," Sims says. "Then we used a nickel-sized curling barrel and wrapped quarter-inch sections of hair around the curling iron from root to tip." (He recommends either Gold 'N Hot or Bio Ionic.) We did that all throughout the top of her head, going in the same direction. I then used a pea-size amount of Smooth 'N Shine's Hair Polisher throughout her hair, followed by a Mason Pearson brush that I brushed through the curls to create a sort of Marcel, old Hollywood wave. At the front of her hairline, on the left side, I took a rat-tail wide-tooth comb and combed the hair away from her face and brought it forward with my fingers. It created a really beautiful cascading wave around the hairline. Then I finished the look with Schwarzkopf's hairspray."
If you're starting with curly hair: Sims recommends blow-drying hair treated with a blow-dry cream from Flawless or Smooth 'N Shine, first. Use a Denman brush as you blow dry to straighten and smooth your hair's cuticle. Afterward, lightly flat iron your hair and follow the steps above. "It it morphs into a modern, messy textured soft style that wears for at least three to four days," Sims says. "Feel free not to shampoo your hair a few days after you style it."
If you buy something through our links, New York may earn an affiliate commission.