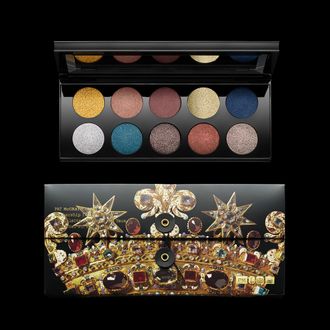 Pat McGrath Decadence Palette
With the launch of "Decadence" last month, legendary makeup artist Pat McGrath has now released four glamorous eye-shadow palettes under her Mothership line. However, unlike with Mothership I through III, each color in Decadence is incredibly shimmery, which can make the experience of mixing and matching the shades a little bit intimidating. But fear not! Here are three ways to include the colors of Decadence into your makeup wardrobe.
If you're nervous about wearing eye shadow during the day, stick to neutral colors. For this look, brush "Enigma," a frosty light brown, over your lids, concentrating on the outer-corners most. Then apply "Divine Milk" which is a deep gray-brown, on top of "Enigma" in the outer-corners, as well as along your lower lash line. Using a flat brush dust "Gold Standard" along the lower half of your lids and in the inner corner of your eye; make sure to avoid the outer-corners, and you're done.
The Most Flattering Purple
Apply "Blue Blood" — Pat McGrath's rich purple — all over your eyelids, and along your lower lash line. Using your finger, pat "Sterling" in the inner corner of your eye, and sweep it away, toward the center of your eyelid. The result is a purple eye-shadow look that feels very modern.
A Non-Intimidating Smokey Eye
So you want to try an all-shimmer smokey eye? You'll need "Underworld," "Lapis Luxury," and "Sinful." Start with "Underworld" and brush the intense blue along the outer-corner of your eye, and along your crease. After that, apply "Lapis Luxury" with your finger (it's easier to blend that way) to the center-lower half of your lid. Finally, brush "Sinful" along your eye's inner corner. Congrats! You're now a smokey eye wizard.
If you buy something through our links, New York may earn an affiliate commission.