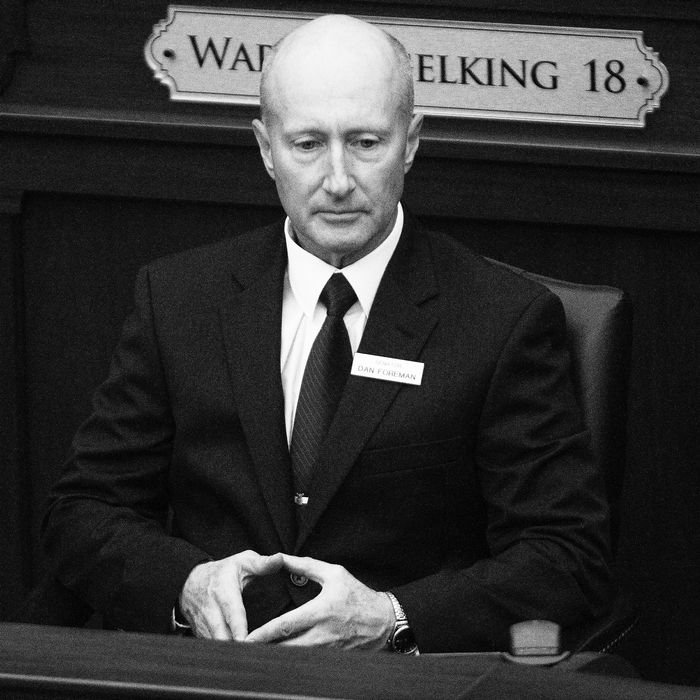 Dan Foreman.
Photo: Otto Kitsinger/AP/REX/Shutterstock
A group of college students from the University of Idaho had planned to meet with State Senator Dan Foreman to lobby for a bill that would allow women to receive a year's worth of birth control and promote safer sex on campuses. Instead of a meeting with Foreman, what they got was an anti-abortion rant.
According to the AP, Foreman abruptly canceled the meeting the day of, after the student had traveled 300 miles to see him. They left a note and condoms in his office, then left to meet with other lawmakers. They passed Foreman in the hallway, and someone recorded him yelling at them "abortion is murder."
"I'm a Roman Catholic and a conservative Republican. I think what you guys are doing stinks," Foreman said in the video.
The students were not there to discuss abortion with the senator, just birth control and sex education. According to a representative from Planned Parenthood of Greater Washington and North Idaho, some other lawmakers disagreed with the students, but did not shout at them. However, one other senator waved a rosary at them while discussing the benefits of abstinence.
A fellow state senator, Maryanne Jordan, filed an ethics complaint against Foreman after seeing a tweet from a year-old, unverified account that presented itself as Foreman. The tweet said that the students should discuss "killing babies" with Democrats. After the complaint was filed, the account was deleted, then reactivated briefly to say that it was not associated with Foreman.