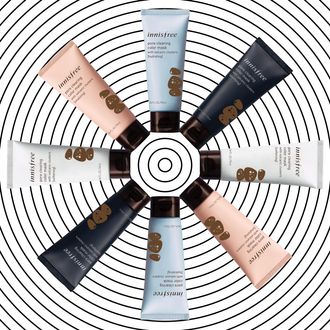 Korea's biggest beauty brand, Innisfree, is known for its breadth of skin care and makeup — they have nearly 900 products. With the opening of its first U.S. store last fall, the brand is making K-beauty more accessible to American customers. And now, the brand is helping American customers with the Korean practice of targeted face-masking by releasing a new Volcanic Color Mask collection. The brand, which sources its ingredients from the mineral-rich Jeju Island, a volcanic island in South Korea, developed seven new colored masks intended to target specific facial areas and skin concerns. All the masks use volcanic clay to draw out oil and impurities.
There are seven mask formulas in three textures that can create a custom facial when used together. The water-gel clay masks come in Brightening (to protect dull skin from pollution), Hydrating (to replenish dehydrated skin with hyaluronic acid), and Vitalizing (to refresh lackluster skin) formulas. The cream-clay masks are non-drying and come in Cica (to stimulate collagen and reduce redness) and Calming (to soothe stressed skin) formulas. The transforming clay masks go from clay to foam and also double as cleansers. The transforming masks come in Purifying (to flush and minimize the appearance of enlarged pores) and Refining (to smooth rough skin) formulas.
The brand even created a face-zoning guide for easy mixing and matching depending on skin concerns and occasion. One of the guides is for when the seasons change, which often leaves skin out of whack and in need of different treatments. The color-coded guides include where to place the specific masks for the best results.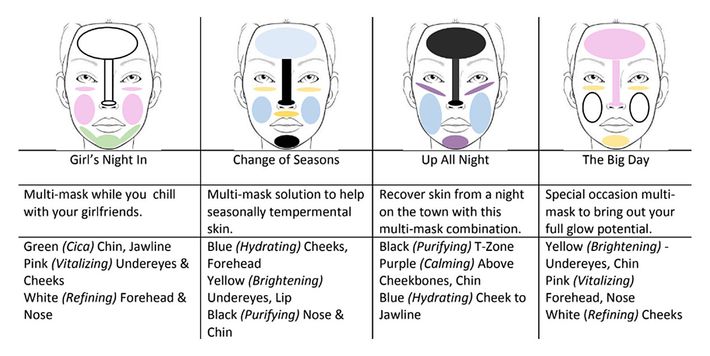 All of the masks can be left on for up to ten minutes and used one or two times a week. The Volcanic Color Mask collection will be available March 1.