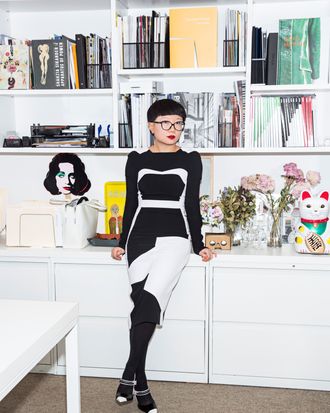 Photo: Victoria Stevens. Produced by Biel Parklee.
In Her Shoes is a column about what real women wear when they need to get things done.
With her pop art sunglasses and signature bowl cut, JiaJia Fei stands out in a crowd. But as recognizable as she is IRL, you might be more likely to know her from her Instagram, which has over 65,000 followers. On her feed, Fei maintains a fierce devotion to Polaroid-style borders, which she uses to frame everything from photos of her favorite paintings to a shot of her Margiela boots in the Louisiana swamp.
Fei, who studied art history at Bryn Mawr College, is passionate about promoting what she calls "visual literacy" through social media. She works as the Director of Digital at the Jewish Museum on the Upper East Side, where she's tasked with using technology to make the museum more accessible to the public. Previously, she was the Associate Director of Digital Marketing at the Guggenheim. Both titles were created specifically for her.
Below, she talks to the Cut about bold looks, big blazers, and her love of sprezzatura (the Italian phrase for being effortlessly chic).
On her black-and-white shoe uniform: My go-to work shoes are my black Acne ankle boots. I wear them almost every day, unless I'm wearing my other black Acne ankle boots. If I have to swap for dress shoes, my go-tos are my white Margiela mules, which luckily go with everything. My color palette in life (including my cat, Coco Chanel) is black-and-white, so the shoes were a perfect match to my dress by Antonio Berardi.
On what she wears to a big meeting: A blazer or something with shoulder pads. The 1988 film Working Girl with Melanie Griffith and Sigourney Weaver is an allegory for dressing for the job you want, and still to this day my archetype for what women (bosses) should be wearing to work.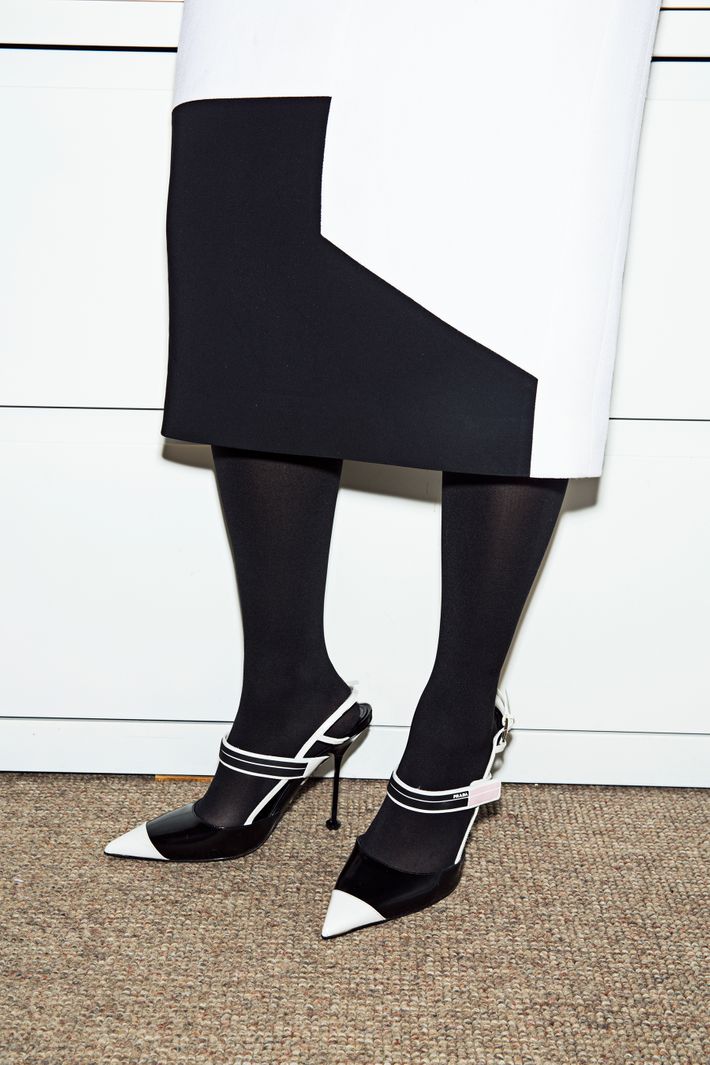 On the shoes she keeps at her desk: My real desk shoes are a pair of pointy leather slippers that I bought on the street in Jaipur on my last trip to India. They are work slippers that I change into immediately once I step into my office. The furthest I've ever walked in them is downstairs to the Museum lobby and back.
On going out after work: I'm a big fan of converting outfits from desk to dinner. If it's not a gala or something that needs a full outfit change, I try to wear something that's work-appropriate by day and style the look differently for the evening. The best way is to add a blazer over an evening dress for daytime, or throw on a pair of heels to transition into a party look.
On her go-to Monday outfit: I'm most likely in something comfortable or robe-like, like Issey Miyake, pretending it's still the weekend.
On what her average day looks like: I am usually in meetings most of the day, running back and forth between my desk and conference rooms. I get into work at 9 a.m. and go straight into Russ & Daughters for coffee and a bagel. When I get to my office, I launch all of my systems and dashboards: Basecamp, Slack, Google Analytics, and TweetDeck, until my computer basically looks like the Bloomberg terminal. Throughout the day, I toggle between various projects and emails until I reach inbox zero — but that actually never happens because the internet never sleeps.
On who she's dressing to impress: I'm dressing for me! One of my favorite things about working at an art museum is that it allows and encourages freedom of expression and creativity, whether it's through your own artistic projects or in the way that you dress. The Jewish Museum's current exhibition, Veiled Meanings, for example, is all about how clothing from all over the world can reveal a person's identity and tell a story.
Prada leather slingbacks, $990 at 575 Broadway; 212-334-8888
If you buy something through our links, New York may earn an affiliate commission.