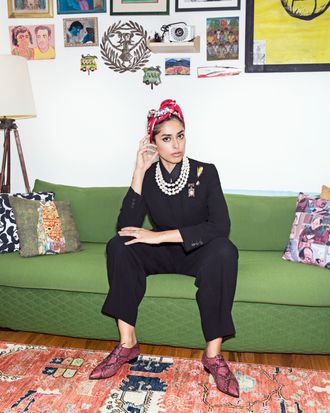 Fazeelat Aslam wears Alumnae shoes.
Photo: Victoria Stevens. Produced by Biel Parklee.
In Her Shoes is a column about what real women wear to get things done.
Very few people can say their job duties entail both embedding with the Taliban and speaking to a crowd at Harvard University. Fazeelat Aslam is the exception. An Emmy- and Oscar-winning documentary filmmaker, Aslam has worked for the likes of Al Jazeera, PBS Frontline, and Vice News, covering stories in her native Pakistan as well as Haiti, India, and across the United States. She was also the producer behind the 2012 short film Saving Face, about acid attacks in Pakistan.
Fazeelat was born in Lahore but spent time in Zambia, London, and America before attending Wellesley College. After graduation, she returned to Pakistan to pursue her documentary work, but she now calls New York home. We caught up with her at her apartment in Brooklyn to chat about her future creative projects, her mother's extensive shawl collection, and her aesthetic, which she describes as "powerful, indigenous and unexpected."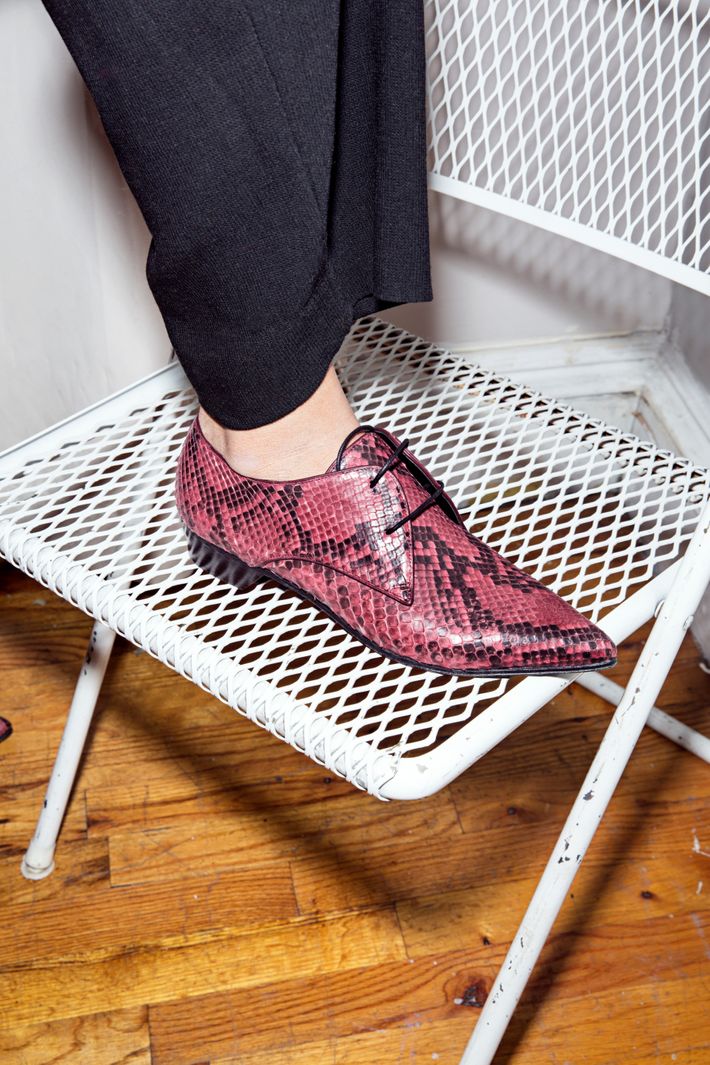 On dressing for the job: As a woman in documentary, I feel like in order to be taken seriously I need to dress down. It's an unfortunate double standard that what we wear can dictate our legitimacy or the perception of our intelligence. I'm not looking for an outfit that impresses; I try to be invisible. After ten years in the field I'm transitioning out so I can express myself sartorially as I do already with my words, images, and ideas.
On her varied footwear needs: When I'm filming, I predominantly do field work, so rugged sneakers are usually the only option. They last whether I'm trekking through knee-high sewage or clandestinely navigating Taliban-occupied territory.
When I'm not in the field, I like classic shoes. In the summer it's my Tropeziennes leather sandals. I wear the men's version and they feel like butter — very Xena-goes-to-the-South-of-France. In colder weather I go for my burgundy Doc Martens. I spent a big chunk of my life in London and I find that British footwear lasts. Plus, Doc Martens enliven the Daria Morgendorffer in me.
On changing gears: After ten years working in conflict reporting, I promised myself this year I would pursue my creative dreams, one of which was exploring vintage curation and fashion. Although I'm currently working on my documentary, I'm also launching my vintage store on Instagram. It's called @JaniVintage and it's a wonderful space for me to create, play, and dress up, with a focus on South Asian silhouettes, textiles, and flair. The subcontinental silhouette is heavily prevalent today in so many Western designers' collections, so I'm trying to represent for the motherland!
On embracing her height: As a tall woman, most of my life I've been guided to shrink myself down so despite my affinity for flats I do try and wear a slight heel for meetings. I want to stand extra tall.
On being constantly on-the-go: As a filmmaker, I rarely work from a desk and office, so I usually have a pair of shoes in my bag — almost always flats. I usually just need something clean to change into. The easiest things to carry are traditional khussas (flat, handmade leather slippers) which were en vogue a while ago. My husband and I live in them at home and during warm weather.
On her approach to outfits: I'm always dressed for two things, napping and dancing, so shoes must be comfortable and chic. A flat, leather slip-on is my go-to. In the outfit, layers are essential coupled with an interesting textile — usually from Pakistan if not somewhere else in the east. My mother collects antique shawls and designs jewelry, so my closet is filled with some pretty special pieces.
On Monday dressing: I love formal pajamawear, whether it's Lauren Manoogian's pure alpaca jumpsuit or my vintage European men's shirts belted with a cropped pair of trousers and a vintage blazer. Mondays are always trying so this outfit makes me very happy.
On finding her aesthetic: After spending my life post-college in Pakistan, when I moved to New York I started exploring vintage a lot. Now I usually choose to work in one of my natural fiber jumpsuits, always with pockets. I have a pale-blue linen jumpsuit which was a sample from the L.A. brand Mixed Business which I love and wear in the field often. It is practical and understated but also impossibly chic.
If you buy something through our links, New York may earn an affiliate commission.