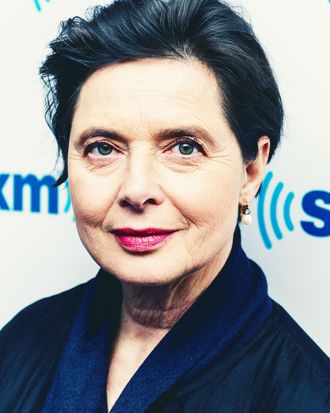 Isabella Rossellini.
Photo: Roy Rochlin/Getty Images
Isabella Rossellini lost her Lancôme contract at 43 and regained it at 63. Now, the 65-year-old actress will appear in ads this year for the brand's Rénergie Multi-Glow range.
Despite being officially re-signed in 2015, Rossellini's presence with the brand has been limited — she's appeared in limited Lancôme imagery and no ads. In 1982, her exclusive contract with the brand made her at the time the highest paid model in the world. After being the face of legendary products such as Trésor for 14 years, Rossellini was replaced (Juliette Binoche succeeded her). There was no confusion as to why she was let go.
"They told me they needed somebody younger. The advertising was aspirational, and even though they have clients of many ages, the desire was for youth," she told the Cut in an exclusive interview. Magnanimous and not at all bitter, Rossellini called the new-old gig an opportunity to "right" things. "Things change. They tell me my name comes up in their market research still. And now I'm new again! There are very few 64-year-olds — I turn 64 in June — representing a cosmetic company."
Although official imagery has yet to be released from Lancôme, Rossellini has been posting teasers on her Instagram, much to the joy of the internet commenters who have been proclaiming, "Bravo!" and "Bella!" They are shot by Peter Lindbergh in Paris, with her stressing that they are blissfully un-retouched. She's even been visiting the labs.
The big beauty brands have recently broadened their representation, using women of different ages, among them Charlotte Rampling for NARS; and Susan Sarandon, Jane Fonda, and Helen Mirren for L'Oréal Paris. Here's to even more of that, "assuming" your wrinkles, and "a lack of self-hatred."