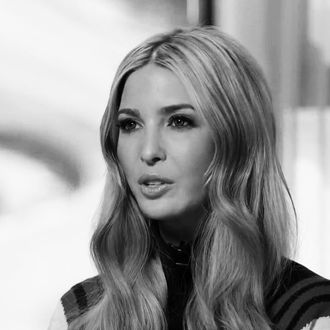 Ivanka Trump on
Today
.
Photo: Courtesy of TODAY
If you've been thinking of asking White House adviser Ivanka Trump how she feels about the sexual-misconduct allegations against her father/employer, President Donald Trump, well, she'd rather you not. On Monday, the First Daughter called out a Today show reporter for inquiring about that, saying it's "pretty inappropriate" to even ask.
The self-professed women's advocate (who recently endorsed the Time's Up movement) was asked by reporter Peter Alexander whether she believes her father's numerous accusers, during a Monday-morning interview. Trump replied, "I think it's a pretty inappropriate question to ask a daughter if she believes the accusers of her father when he's affirmatively stated there's no truth to it."
She continued, "I don't think that' s question you would ask many other daughters. I believe my father, I know my father, so I think I have that right as a daughter to believe my father."
But while Trump thinks it's rude to ask about her dad's sexual-assault allegations, she's totally up for chatting about his controversial idea of arming teachers with weapons. "I think that having a teacher who is armed who cares deeply about her students or his students and who is capable and qualified to bear arms is not a bad idea, but is an idea that needs to be discussed," she told Today.