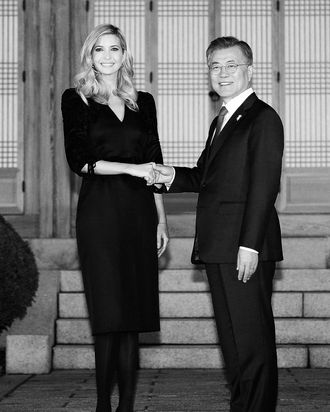 Ivanka Trump and South Korean President Moon Jae-in.
Photo: Pool/Getty Images
Ivanka Trump has finally landed in South Korea for the 2018 Winter Olympics, where South Korean president Moon Jae-in has already showered the guest of honor with beautiful red slippers and two stuffed animals.
"It is a great honor to be here in South Korea with the U.S. delegation," Ivanka said as soon as she landed at the airport, The Guardian reports. "We are very excited to attend the 2018 Winter Olympic Games to cheer for Team USA."
While Ivanka primarily took the trip to attend the Olympics Closing Ceremony, on Friday evening (Seoul time), she feasted at Moon's residence, the Blue House. Upon entering, the guest of honor was immediately gifted a beautiful pair of red embroidered slippers to wear during dinner, which reportedly was a "delicately prepared" kosher feast including bibimbap to "symbolize harmony."
She also received two limited-edition plush toys: Soohorang and Bandabi Olympic mascots, which are given to medalists.
It's unclear which topics of discussion the dinner party settled on — Seoul reportedly wanted to use the time to advocate for the Trump administration's current rapprochement with North Korea, while Ivanka ostensibly traveled to South Korea to watch some sports and reaffirm the U.S.'s commitment to South Korea — but everyone seemed relatively pleased at dinner, or they at least feigned it.
Well, most people.