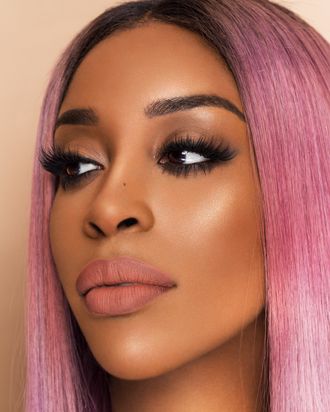 In a time when influencers are often criticized for their craven relationships with brands, Jackie Aina is keeping everyone honest. She's accused makeup entrepreneur Jeffree Star of racist comments, uploaded videos highlighting colorism in the beauty world, and once even dared to suggest that Rihanna's Trophy Wife highlighter was less than perfect.
Aina's pursuit of honesty is paying off. Her YouTube videos have been viewed over 155 million times, and last year she launched her first makeup product — a highlighter — in collaboration with Artist Couture.
The Cut caught up with Aina to learn about her extensive skin-care routine, her walk-in beauty closet, and what it was like to critique Fenty Beauty.
You were a member of the Army Reserve before you launched your YouTube channel. What drove you to beauty?
Growing up, fashion was a huge part of how I expressed myself, so I always thought that I would become a designer. However, my dad is from Nigeria and he expected me to do something more traditional like become a doctor or lawyer. I was pretty much given an ultimatum: either go to a university or do the fashion thing and get financially cut off at 17.
It was that ultimatum that led me to go to a traditional college. My major was pre-med, but I couldn't do it. My boyfriend at the time was in the army and he suggested I join him. I joined the army reserve the following year, in 2008, and started my YouTube channel a year later.
I've come to realize that when you are meant to do something, you're going to find a way to do it. I started my YouTube channel because I didn't see people who looked like me, and so I took it and ran with it. What I found really unique about YouTube is that I got to express myself, and in return I was filling a void. I would get comments from people saying, "There aren't a lot of brown girls repping for us."
I was doing all of these crazy, colorful looks, but at the time there were very few darker-skin creators. Whenever I would see magazine articles or tutorials on darker skin women, they would stick to neutral and skin-tone colors. I was used to being told that certain colors don't work for my skin tone, and it was my way of challenging that. I said, "I'm just going to show you how to do it myself since no one will teach me how to do it."
That led me to start the channel, and then I got enough confidence to apply for a job at M.A.C. After I got hired, I started to seriously pursue freelance makeup.
What's an average day like for you?
I definitely wake up at 11 three to four days out of the week. I always try my hardest to get up before 10 and try to be productive, but I'm not a morning person. So I get up right before the afternoon and I usually do my full 10-step skin-care routine.
If it's a filming day, I will usually go right in. When I'm not filming, I'm doing a lot of unboxing because I receive quite a lot of products from various brands. I take that and make it a Snapchat moment. I also spend a lot of time on YouTube: looking at what's trending, looking at what other people are doing, reading through my comments. I spend a lot of time on Twitter as well just because I'm constantly trying to see what people are talking about. Where does my audience want to connect? It's very much about communicating with my audience and also being in touch with what is on-trend.
How many beauty products are sent to you each week?
It fluctuates. Some weeks I'll get no more than five boxes, and then the next week I'll get 20 to 30. It's even worse when I'm traveling. I'll come home to boxes covering the door. I have a walk-in closet that's specifically dedicated to boxes.
I have a system: for every new thing I have to get rid of something else. And if I haven't worn it once this season, then I have to get rid of it. Once I have my friends and siblings go through what I have, I donate to the shelter. I work a lot with domestic-violence shelters because I think it's extremely important that battered women are able to get back on their feet. Makeup can help women go on job interviews and things like that.
You mentioned that you have a 10-step skin-care routine. What does that look like?
I'm trying to balance retail skin-care products and medical grade skin-care products. I've found that medical-grade is what works better for people with darker skin because we have hyperpigmentation, and the stuff you get over-the-counter isn't potent enough.
Let's say I'm going home from a long day of wearing 8 hours of foundation. I usually start with a pre-cleanse balm or an oil [Clinique Take the Day Off Cleansing Balm]. After that I follow up with a face wash [Fresh's Soy Face Cleanser]. Sometimes I even wash my face twice, but I counteract that with a gentle cleanser so it's not stripping my skin. After that I use a micellar cleansing water to get even more of the excess makeup. Sometimes we forget to clean around our ears, our jawline, around the hairline … the micellar water will snitch on you. It'll say: "Mmhmm, ma'am, you need to get that and try again." I'm just trying not to wake up with extra visitors, extra pimples.
After that I use a toner [Fresh Deep Hydration Facial Toner] to balance the pH of my skin. Lately I've been using an essence, which is something you can use with the toner or in place of the toner, but it doesn't necessarily do what toners do. Anything you put on top of it is supposed to work better. I follow up with four serums, minimum, and then I moisturize. The serums come from my esthetician; she has a line called Guidance to Glow. Sometimes I'll use a sheet mask. A sheet mask is like a serum, if you really think about it. And that's it. If it's the daytime I'll follow up with an SPF.
I also like Tatcha and GlamGlow — after a long day of makeup I like their mask because it sucks out all of the oils and excess buildup. Pur also has a really good clay mask and some really good facial toner sprays.
You often address social issues on your channel. For example, in January you uploaded a video about racism in the beauty industry.
It comes naturally to me. I'm a big believer in using your influence responsibly. I don't think people understand how much pressure influencers are under to talk about every issue under the sun. But that doesn't come naturally to everyone. That's not a part of everyone's story. I would much rather see people using their influence responsibly and genuinely, versus talking for the sake of talking. When I make content, I'm not thinking "What's going to make people riled up?" I'm usually thinking: "I have to get this off my chest. Or "How can people benefit from this?" That's important to me.
Do you ever feel nervous putting yourself out there?
I do. I still second-guess myself. I never want to be misunderstood or misinterpreted. These days, you can say something the wrong way and the next thing you know you're being canceled left and right.
You dared to make one small critique about Fenty Beauty at a time when everyone else seemed to be dishing out unanimous praise. Specifically, you said the Trophy Wife highlighter didn't appear flattering on your skin. Were you nervous when you uploaded that video?
No. I've learned that you have to sandwich an insult in between two compliments. The overall review was positive, but I understand how people interpret things. It would be different if the whole review was me bashing Rihanna and talking crap about Fenty Beauty, but it wasn't that. Since it was overall positive, I was able to put in some things that I didn't care for. People receive things better when you soften the blow. If anything, I feel like a lot of people were like, "Finally someone said it." And it wasn't to say that no one can wear Trophy Wife. It's just that I'm also a makeup artist and I understand how color works and in my opinion it's a color that is not flattering on someone of my complexion. It does look good as an eye shadow, though.
Speaking of Fenty Beauty, what are some other new beauty brands worth checking out?
I really like Beauty Bakerie. They are kind of like the cool, black-owned version of ColourPop. Everything is bakery-themed. I love Coloured Raine's shadows and lipsticks. On the bougier side I love Pat McGrath. Her stuff constantly blows it out of the water for me. I don't know if you consider her up-and-coming, but her stuff is popping right now.
This interview has been edited and condensed.