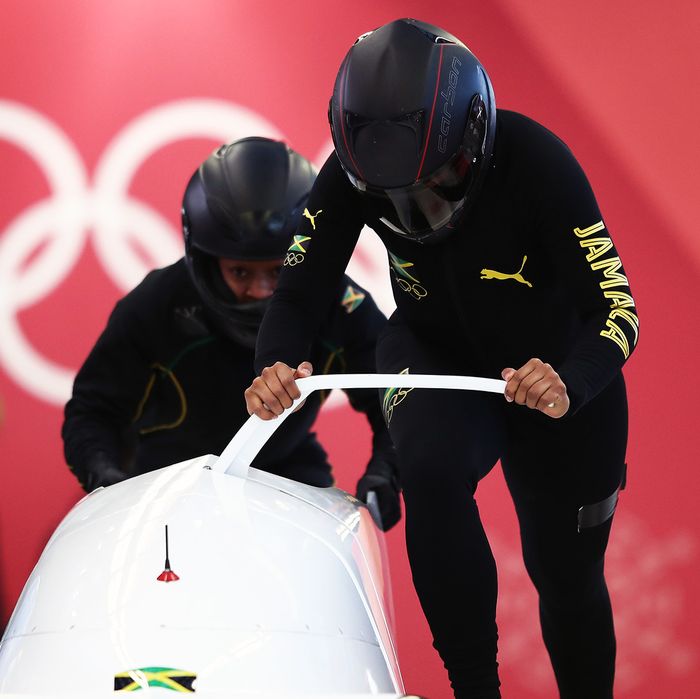 Jazmine Fenlator-Victorian of Jamaica trains for the bobsled event at the 2018 Winter Olympic Games.
Photo: Clive Mason/Getty Images
The Jamaican women's bobsled team is facing yet another obstacle after one of their coaches resigned on Wednesday under mysterious circumstances, Reuters reports.
Jamaica has never fielded a women's bobsled team and athletes Jazmine Fenlator-Victorian and Carrie Russell hope to make history by competing in Pyeongchang — 30 years after the men's team did so at the Calgary Winter Games. (That feat was immortalized in the movie Cool Runnings.)
The team's driving coach, former German bobsled champion Sandra Kiriasis, claims she was forced out of her role by Jamaican Bobsled Skeleton Federation (JBSF), which oversees the team. According to accounts, Kiriasis is now claiming she owns the bobsled, and is refusing to allow the team to use it until the JBSF pays for it.
Kiriasis says she doesn't know what happened. "The athletes have told me they don't understand why this has happened as they have no problem with me and we have a good relationship,"
The JBSF said she wasn't good for the team. "The lady was a hugely destructive force on the team," JBSF president Christian Stokes told Reuters. "Now that she is off the team, synergy is much better, tension is down, and athletes are now able to focus in a much healthier environment."
NBC Olympics reports that, for now, the athletes will compete as scheduled.