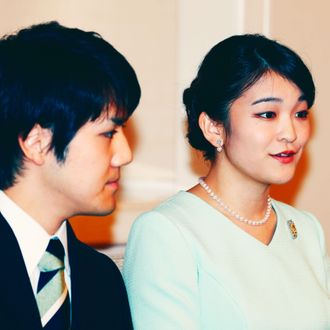 Kei Komuro and Princess Mako.
Photo: SHIZUO KAMBAYASHI/AFP/Getty Images
Last year, Japanese princess Mako of Akishino announced that she was giving up her royal title to marry a commoner, her college boyfriend Kei Komuro. The pair had planned to get formally engaged in March and marry this November but now, like many a college couple before them, they're pumping the brakes on this whole thing so they can figure some stuff out first.
"It is because of our immaturity and we just regret it," they explained in a statement to CNN.
Mako, 26, also added that they had "rushed various things" and that she wished "to think about marriage more deeply and concretely and give sufficient time to prepare our marriage and for after the marriage."
They're now planning to hold the wedding off until at least 2020.