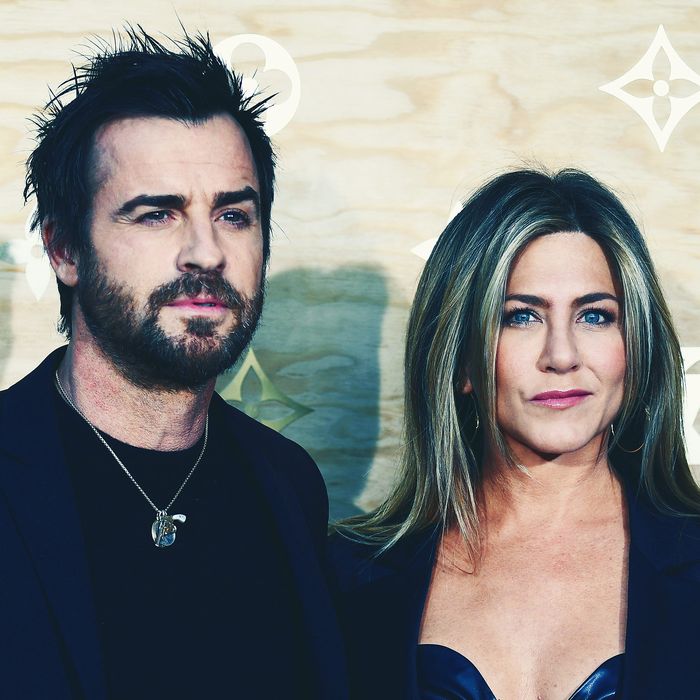 Justin Theroux and Jennifer Aniston.
Photo: Gabriel Bouys/AFP/Getty Images
The first thing you should know is that Jennifer Aniston is fine. Since her split from her second husband Justin Theroux, which she and Justin announced via a statement from her longtime publicist on Thursday evening, "there has been no indication that she is upset," a source told People. "She has seemed fine."
And why shouldn't she seem fine? These things happen. "Jen has continued her life as usual," the source added. She "has spent time with friends, like she always does."
The decision to break up was made "mutually and lovingly at the end of last year," said Jen and Justin in a joint statement.
"Normally we would do this privately," the statement continued, "but given that the gossip industry cannot resist an opportunity to speculate and invent, we wanted to convey the truth directly. Whatever else is printed about us that is not directly from us, is someone else's fictional narrative. Above all, we are determined to maintain the deep respect and love that we have for one another."
One of Jennifer Aniston's favorite things to do is rail against the "gossip industry," and who can blame her? In her 25-year career she has been accused of being pregnant more times than any other living woman. It's odd, though, that she and her publicist decided to release this statement on a Thursday, gifting the tabloids and blogs like us a full day to speculate about what went wrong before the long weekend. Here are all the fictional narratives we've heard about Jen and Justin so far.
They decided to split after their New Year's vacation to Cabo. At the end of last year, Jen and Justin traveled to one of Jen's favorite vacation destinations in a last-ditch attempt to save their two-year marriage, according to Us Weekly. For some reason, they brought friends: Jason Bateman and his wife, Amanda Anka. Us Weekly's source said the trip was "make or break":
"Jason Bateman's wife convinced Justin to go to Cabo. She has been the mediator in recent months, trying to get Jen and Justin to work through their problems and save their marriage. The Cabo trip was a make or break vacation for Jen and Justin. They went away with their friends hoping to have fun and work on it."
Sadly, like most last-ditch attempts to save marriages orchestrated by well-meaning friends' wives, the Cabo trip didn't go as planned. "The guys and girls hung out separately in Mexico," the source added. "It didn't work."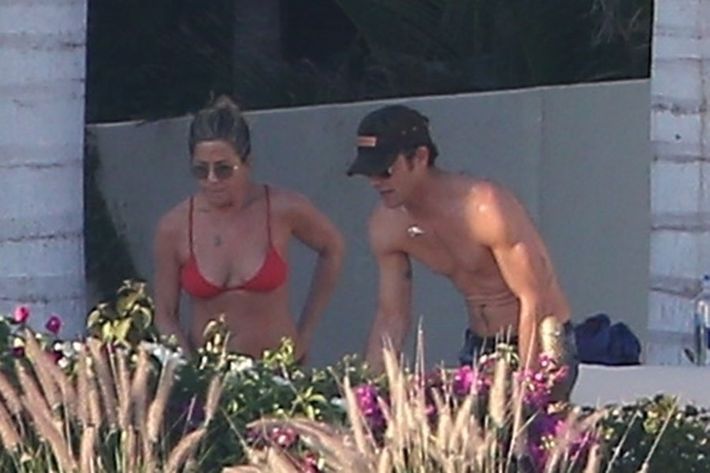 Does this all sound a bit familiar? Remember that Jen and Brad Pitt were photographed holding hands on the beach in Anguilla the day before they announced their split.
Jen and Justin had been living apart for months. Even before the couple announced their breakup, People and Us Weekly reported that Jen and Justin were spending a lot of time apart. Justin kept running off to New York, ostensibly for work, and Jen stayed home in L.A. According to TMZ, they have essentially been living separate lives since August. "Justin has an apartment in the West Village," the site reported. "Our sources say they saw Justin all the time, but [Jen] stopped coming during the summer."
A source told People that Jen and Justin are just "different people" who enjoy being in different places. "Jennifer loves her life in Los Angeles, and if anything, she has grown more attached to being there," the source said. "Justin is not that comfortable or happy in Los Angeles all the time. He loves New York and always has."
Jen celebrated her 49th birthday with girlfriends at Courteney Cox's Malibu home last Sunday, while Justin walked a dog alone in Washington Square Park.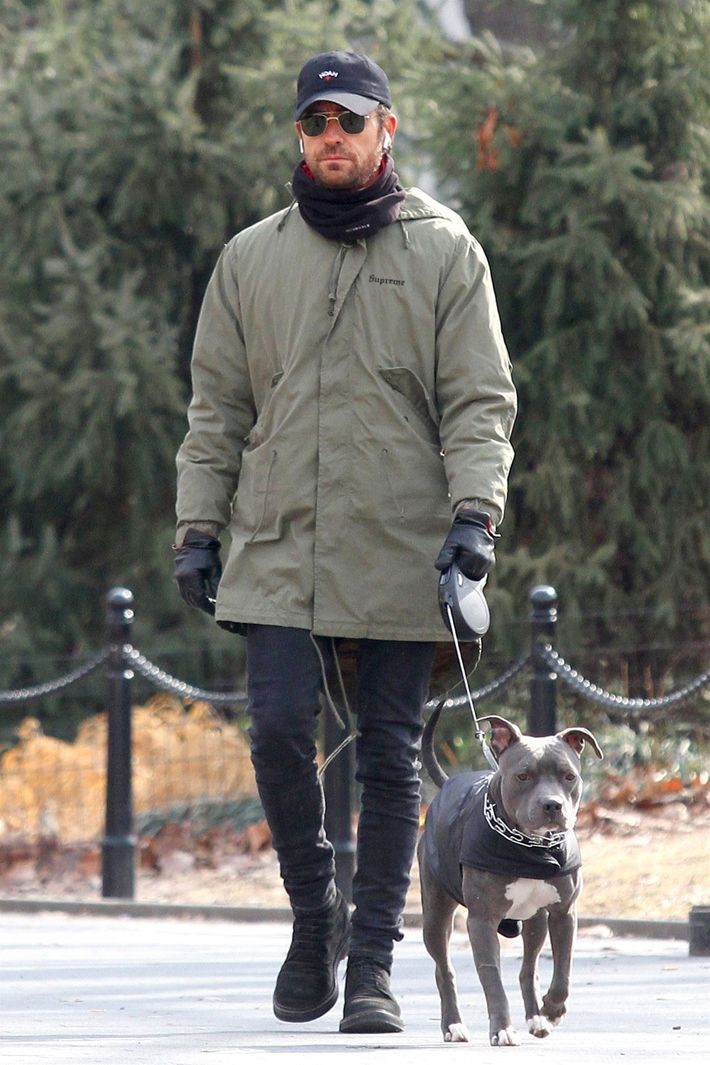 Jen has an "ironclad" prenup. This is according to another Us Weekly report. The source in this story said that the agreement would be "very hard" for Justin to contest, and that "the prenup talks before the marriage were long and intense."
As Celebitchy pointed out this morning, a "long and intense" prenup process tracks with what we know about Jen and Justin's courtship: They were engaged for almost three years before they finally got married in a surprise ceremony in Jen's backyard in 2015. There were dozens of tabloid stories during the engagement about how the two had trouble blending their lifestyles.
People has a breakdown of the couple's income over the last two years here. Jen made millions and millions and millions of dollars and Justin "had a cameo in Star Wars: The Last Jedi."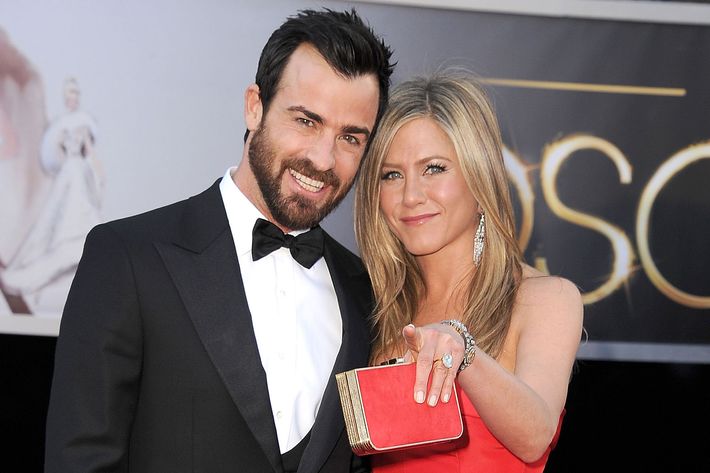 Jen's totally selling the house. The split announcement came exactly eight days after Architectural Digest debuted its March cover, which features Jen and her "dreamy California home" that she shared with Justin in Bel Air. In the interview with the magazine, Jen said that she loved to hang out at the house with Justin and their three dogs, which I'm sure was true at one point. According to Us Weekly, however, Jen plans to flip the mansion for a "huge profit." So the Arch Digest spread (which includes one photo of Justin walking out the front door to his motorcycles — how symbolic) was a big advertisement. Per Us Weekly's source, "The mansion is going to be a pocket listing, and if it doesn't sell that way, it will be listed on the open market. She is ready to find the next project."
See? It's all fine, fine, fine.