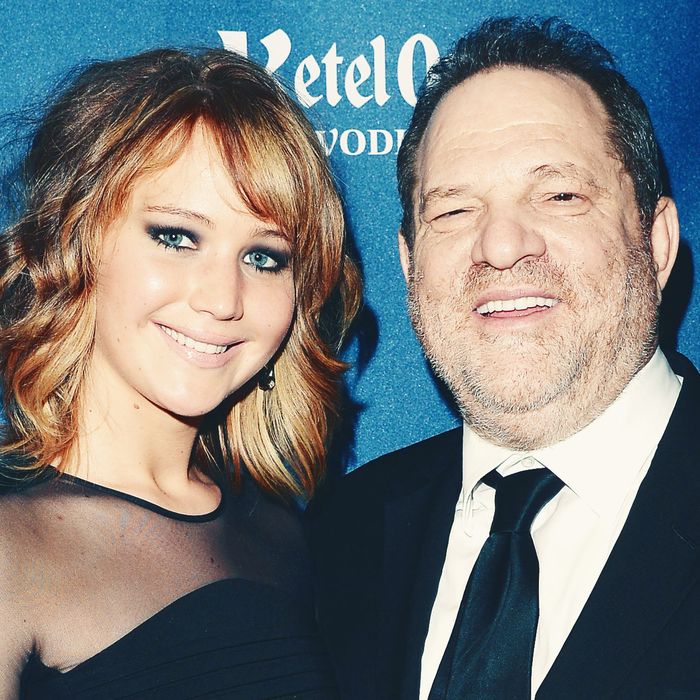 Jennifer Lawrence and Harvey Weinstein.
Photo: Jason Merritt/Getty Images for GLAAD
Jennifer Lawrence does not want Harvey Weinstein's legal team using her name to help defend him in court.
On Wednesday, the disgraced mogul's lawyers filed a motion to dismiss a class action lawsuit being brought by six women accusing him of sexual misconduct, arguing that the claims were "fatally overboard," and that "as drafted, they would include all women who ever​​ met with Weinstein, regardless of whether they claimed to have suffered any identifiable harm as a result of that meeting." (In other words, he didn't sexually harass every woman he ever met, calm down.)
To make their case, Weinstein's lawyers cited Meryl Streep and Jennifer Lawrence as examples of women who have publicly stated they were not abused or harassed by Weinstein. But Lawrence was not on board. After news of the claims got out, she told TMZ, "Harvey Weinstein and his company are continuing to do what they have always done which is to take things out of context and use them for their own benefit. This is what predators do, and it must stop." She went on:
"For the record, while I was not victimized personally by Harvey Weinstein, I stand behind the women who have survived his terrible abuse and I applaud them in using all means necessary to bring him to justice whether through criminal or civil actions. Time's up."
Hours earlier, Meryl Streep also rejected the use of her name in the suit, telling Deadline Weinstein and his team were "pathetic and exploitative" for using her words to defend himself.
"The criminal actions he is accused of conducting on the bodies of these women are his responsibility, and if there is any justice left in the system he will pay for them — regardless of how many good movies, made by many good people, Harvey was lucky enough to have acquired or financed."