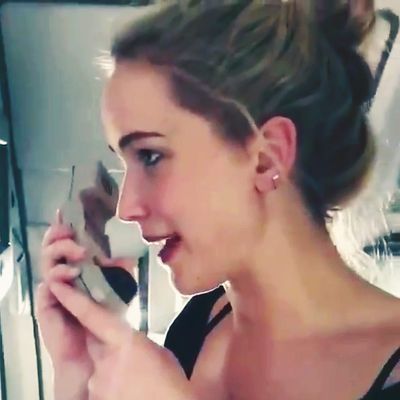 Jennifer Lawrence on the plane's loudspeaker.
Photo: Courtesy of Twitter/jeffskversky
Jennifer Lawrence told Entertainment Weekly a few months ago that she's basically horrible to fly with (she sometimes interrupts flights by yelling "We're all going down!" if they hit turbulence). And on Super Bowl Sunday, the actress wreaked havoc in the sky again — by taking over the loudspeaker for football and Bridesmaids-quoting purposes.
The endlessly-relatable star of biblical (or scarf?) allegory mother! is seen in a video posted on Twitter commandeering the speaker system on a flight from New Orleans to Los Angeles before the big game on Sunday. In a move that would likely make Bradley Cooper proud, she then said into the phone, "Everybody, this is not the pilot speaking. This is Jennifer Lawrence. It's February 4th, Super Bowl Sunday, and we all know what that means. Can I please get a 'fly Eagles fly'?"
Lawrence tried to get the rest of the plan to chant "fly Eagles fly" with her, before quickly throwing in a Bridesmaids quote ("There's a colonial woman on the plane.") A flight attendant then appeared to interrupt her in an attempt to get her to stop being the worst passenger on the plane.
How Jennifer Lawrence of her!