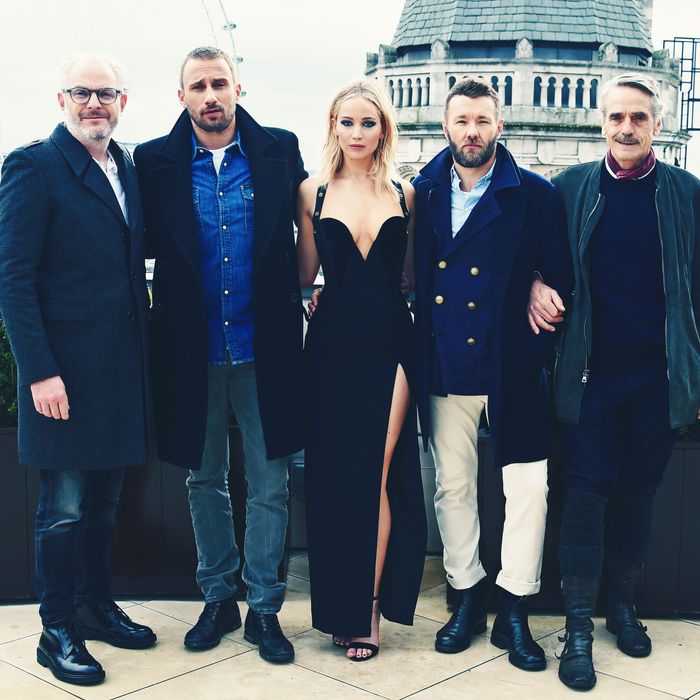 Photo: Dave Benett/Getty Images
Jennifer Lawrence is the latest celebrity to brave the elements in the name of fashion, and she's not interested in the media's criticism of her outfit choices, which she deemed "sexist." In the viral photo, Lawrence is pictured wearing only a Versace dress alongside her more bundled up (and dowdy-looking) male co-stars. "Please Give Jennifer Lawrence a Dang Coat," read one headline on Jezebel.
Lawrence posted a comment on her page in response to the controversy set off at the event for her latest Soviet spy thriller Red Sparrow.
Wow. I don't really know where to get started on this "Jennifer Lawrence wearing a revealing dress in the cold" controversy. This is not only utterly ridiculous, I am extremely offended. That Versace dress was fabulous, you think I'm going to cover that gorgeous dress up with a coat and a scarf? I was outside for 5 minutes. I would have stood in the snow for that dress because I love fashion and that was my choice.
Metro published another piece that contributed to Lawrence's outrage titled. "Jennifer Lawrence Covers Up in Trendy Checked Flares and Leather Biker Jacket As She Steps Out in London.. After Dazzling in String of Racy Ensembles." The vocal star went on:
This is sexist, this is ridiculous, this is not feminism. Overreacting about everything someone says or does, creating controversy over silly innocuous things such as what I choose to wear or not wear, is not moving us forward. It's creating silly distractions from real issues. Get a grip people. Everything you see me wear is my choice. And if I want to be cold THAT'S MY CHOICE TOO!
You know the old saying: Her internal body temperature, her choice.