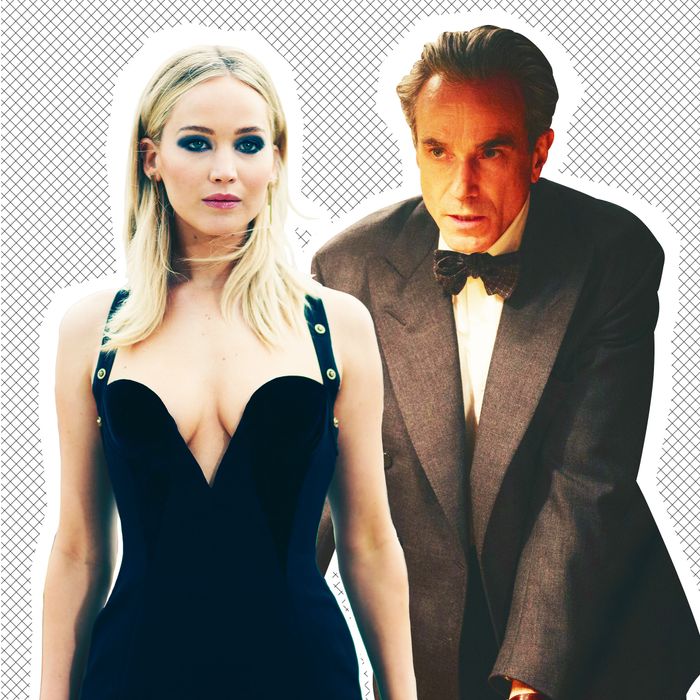 Jennifer Lawrence and Daniel Day-Lewis
Photo: Getty Images; Courtesy of Focus Features
Just as one shouldn't judge a book by its cover, one similarly should not judge a film by its first three minutes. Unfortunately, Jennifer Lawrence seems to have forgotten that old adage, telling Marc Maron that she barely made it past the credits of Paul Thomas Anderson's Phantom Thread. As she explained on his WTF podcast:
"I got through about three minutes of it. I put in a good solid three. I'm sorry to anybody who loved that movie," Lawrence said. "I couldn't give that kind of time. It was three minutes and I was just [oof]."
As fans of the film know, Phantom Thread is packed with twists and turns that one couldn't possibly predict from the film's first few minutes. Yet something about the film's premise appears to have been triggering for J.Law:
"Is it just about clothes? Is [Reynolds Woodcock] kind of like a narcissistic sociopath and he's an artist so every girl falls in love him because he makes her feel bad about herself and that's the love story? I haven't seen it, so I don't know. I've been down that road, I know what that's like, I don't need to watch that movie."
Despite what you may be thinking, Lawrence was quick to clarify that she was not referring to her own crotchety creative genius ex-boyfriend Darren Aronofsky. Okay!