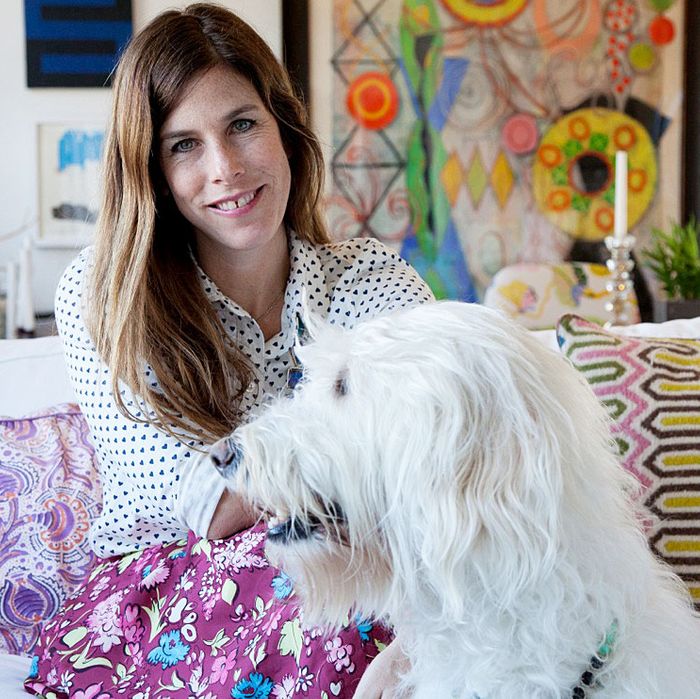 Neuwirth and Teddy.
Photo: Courtesy of Irene Neuwirth
Los Angeles–born and based jewelry designer Irene Neuwirth has accessorized Ruth Negga for the Oscars, created custom dog and cat pet pendants for Lena Dunham and Taylor Swift, and charmed the fashion world with her bold, colorful creations. But if it hadn't been for some prodding from her family, her life could have taken a very different — and more equestrian — direction.
Neuwirth went to school for environmental education, and after college, she taught horseback riding, much to her parents' chagrin. "My dad felt like I was very educated and should find another job," Neuwirth said.
She had been making jewelry in college as a hobby (she was keen on macramé pieces with antique stones), and her early creations became a street-style hit. "I strung up ten pieces and I called Barneys, just the switchboard, and asked who their buyer was. They gave me the name and then I literally hit redial until somebody answered the phone," she said. Neuwirth quickly got a call back, and was on a plane to New York the next day. Barneys snapped up the collection, and 15 years later, Neuwirth's is among the top-selling jewelry lines for the retailer.
All of Neuwirth's designs are made with raw, often unusual stones, and have established her as a favorite both in the fashion world and in Hollywood (Reese Witherspoon and Julianne Moore are just a few of her famous fans). She recently won the GEM Award for jewelry design, and has been nominated for six CFDA awards, taking home the Swarovski prize for accessory design in 2014.
Below, the designer spoke to the Cut about loving expensive makeup when you don't wear much of it, the appeal of unsexy pajamas, and the bedsheets keeping her relationship together. Read on for the full Q&A.
How do you thank people for a gift?
I always am looking for an excuse to give people jewelry. I love to give people pieces that they've been coveting. And I get so excited for them to open it, it's insane. I'm like, 'Have you received your box yet?'
Color or no color on your nails?
None. Probably because I bite my nails. So as soon as I put color on them they look terrible. Bad nervous habit. I don't have color on my toenails or my fingernails. I should. As I'm presenting jewelry to people all the time, I feel like my nails should look top-notch. But if anything I like just really, really light pink.
What are some coffee-table books you'd be proud to display?
David Hockney: A Bigger Book and The Salvador Dalí wine book and the food book. I have that huge Assouline jewelry book on my coffee table. And the Il Pellicano book, and all Todd Selby's books. And I have that really beautiful David Bowie coffee-table book; and the Commune book I love.
Heels or flats?
Flats. I have these embarrassing Gucci flats that I wear all the time. They're very un-Gucci. They're not embellished. They're literally just like black Mary Janes. Or I just wear sneakers. I have Common Projects sneakers that I love so much and they don't make it anymore and I want them so badly. They're black in the front and white in the back. They're really cute. The sole came off, I've worn them so much.
What would you never wear?
I would never wear skin-tight pants. That I will never, ever, ever, ever wear.
What's your favorite song on your playlist right now?
The new Grizzly Bear album is really great. I just downloaded first song from David Byrne's new album, with Brian Eno. That's really good.
No makeup-makeup, or actually no makeup?
I'm not a big makeup person. Whenever I get dressed up or if I get my makeup done, they leave and I wipe it all off. But I do use Giorgio Armani mascara, and I really like Clé de Peau lip gloss. So the most expensive makeup ever known to man. I bought tons of Clé de Peau at Barneys when I was there for my trunk show. And then I was like, 'Just put it on my card and I'll run upstairs.' And then I got my bill and I was like, 'Did I spent $1,000 on makeup?'
What's your guilty pleasure?
I would say my guilty pleasure is the way that I travel. I really love to explore new places and I feel like I do that probably a little bit more than I can. I love to work, but someone will be like, 'Do you want to do this?' And I'll be like, 'Yes. I'm booking it right now' so that I can't get out and then I feel guilty about it a little bit.
What are your favorite accounts to follow on Instagram? That's a hard one to because I don't get as immersed in Instagram as I probably should. I really love to follow Matches. I feel like they have all these beautiful destinations. I love BDDW. I love to put my things on Instagram and it's exciting to see people relate to what you do. I follow a lot of my clients, it's always nice to see who connects to what you do. I follow a lot of cheeseburgers … food-related things. And I like to follow architectural things — Pam Shamshiri is really great on Instagram.
What's your favorite …
Pair of jeans?
That's a really tricky one because I don't really wear jeans. I do have a pair of  Saint Laurent, high-waisted ones that cover my big butt. But I usually wear a dress. I'm a dress person because I have a little waist, not so little butt.
T-shirt?
We had these T-shirts made with Teddy [Neuwirth's labradoodle] on them. That's my favorite T-shirt. I wear that every night when I go to bed.
Pajamas?
The least sexy pajamas ever known to man. I have Band of Outsiders striped men's pajamas that I bought for Phil, my boyfriend. And I wear those every single night. They're great.
Flower?
Peonies. I like how big and bold and crazy colorful they are — that bright fuchsia. I also like poppies. Like those beautiful purple-and-white striped poppies and all the different colors. They're so pretty.
Chocolate?
There's an amazing place in San Miguel de Allende called Mente Cacao. They make the most amazing chocolate and the girls from Botanica were like, "That is the most incredible place, you have to go." And we went in, and all of us were obsessed with this chocolate the entire time.
Fragrance?
I like any rose fragrance. I like Rodin.
Sheets/linens?
AREA. Those are the fucking best. Anytime anyone stays at my house, they go and they buy those. It's like, I am convinced my boyfriend and I are staying together because of those sheets. And our dog. They're light blue or a nude pink. My whole bed is nude pink and light blue. To me that's a neutral.
Lip balm? Right now I'm using SkinCeuticals lip balm.
If you buy something through our links, New York may earn an affiliate commission.