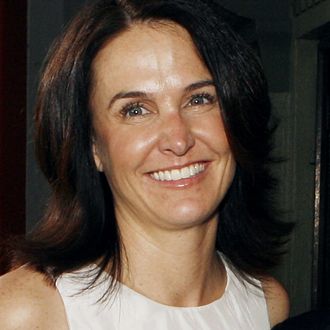 Photo: Kevin Winter/Getty Images
News broke today that Jill Messick, a producer, studio executive, and Rose McGowan's former manager, died by suicide yesterday at the age of 50. Messick's name has appeared in the news lately since she represented McGowan in 1997, the time period during which the actress was allegedly raped by Harvey Weinstein. Following her death, Messick's family has released a statement outlining her longtime battle with depression and bipolar disorder, and asserting that Messick did not enable any abuse of McGowan at the hands of Weinstein (and in fact tried to protect her when she learned of any misconduct). In an effort to clarify Messick's role in the incident between her former client and Weinstein, the statement via The Hollywood Reporter reads:
In January 1997, Jill was an entry level manager at Addis Wechsler. One of her first clients was Rose McGowan, and one of Jill's first duties was to set up a breakfast meeting with Harvey Weinstein during the Sundance Film Festival. Following the meeting, Rose told Jill what had happened – that she made the decision to remove her clothes and get in the hot tub with him – a mistake which Rose immediately regretted. Rose never once used the word rape in that conversation. Despite this, Jill recognized that Harvey had done something untoward to Rose, if not illegal. She immediately went to her bosses, the partners of Addis Wechsler, to recount Rose's story and to insist that they immediately address the situation. They told Jill that they would handle the situation. The ensuing arrangements between Rose and Harvey were then negotiated, completely without Jill's knowledge. At that time, all Jill knew was that the matter was settled and that Rose continued making films with the Weinsteins. She never knew any details until recently, when Rose elected to make them public.
Additionally, Messick's family says she did not consent to Weinstein releasing an email in which she explained her recollection of the Sundance incident to him, and they also called on the media to be more considerate in their reporting of misconduct and abuse accusations, using Messick's suicide as example of the effect stories such as McGowan's have on people's lives. "Seeing her name in headlines again and again, as part of one person's attempt to gain more attention for her personal cause, along with Harvey's desperate attempt to vindicate himself, was devastating for her," reads the statement, which also says Messick did not come forward herself to refute McGowan's claims because she wanted to avoid undermining other women sharing their stories of assault survival. "It broke Jill, who was just starting to get her life back on track. What makes Rose's inaccurate accusations and insinuations against Jill ironic was that she was the first person who stood up on Rose's behalf, and alerted her bosses to the horrific experience which Rose suffered."