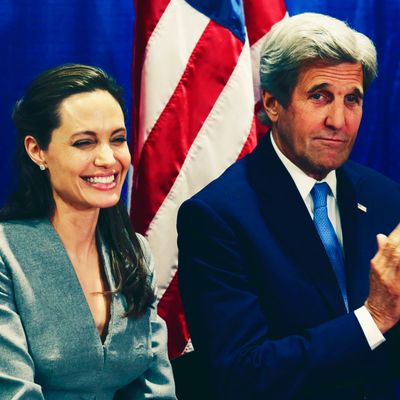 Angelina Jolie and John Kerry.
Photo: YURI GRIPAS/AFP/Getty Images
For the March issue of Elle, the first under new editor-in-chief Nina García, former secretary of state John Kerry interviewed Angelina Jolie about International Women's Day. Well, kind of. He didn't exactly ask many questions, but the two did discuss a range of issues, including climate change, violence against women, and this interesting tidbit:
AJ: I'm very patriotic, as I know you are. For me, it goes hand in hand with being proud of what America stands for. For instance, I'm the only person in my house who was born in America.




JK: I wasn't aware of that.
Read some of the highlights below:
John Kerry on climate change:
When you say "Save the planet" to most people, their eyes glaze over. But again, it's about how it impacts all of us — especially jobs. What if you are a farmer and things won't grow in certain places? What does it mean to have more frequent and destructive superstorms?
Angelina Jolie on politics and activism:
I was quite anti-politics when I was young. I started working on human-rights issues and meeting refugees and survivors mostly because I wanted to learn. I also had this romantic idea that I would get my boots on and be a humanitarian. But at a certain point, you realize that's not enough. You have to find the root of the problem. And that, so often, brings you back to the law and politics. 
Angelina Jolie on what she teaches her daughters:
I tell my daughters, "What sets you apart is what you are willing to do for others. Anyone can put on a dress and makeup. It's your mind that will define you. Find out who you are, what you think, and what you stand for. And fight for others to have those same freedoms. A life of service is worth living."
Read the full interview here.