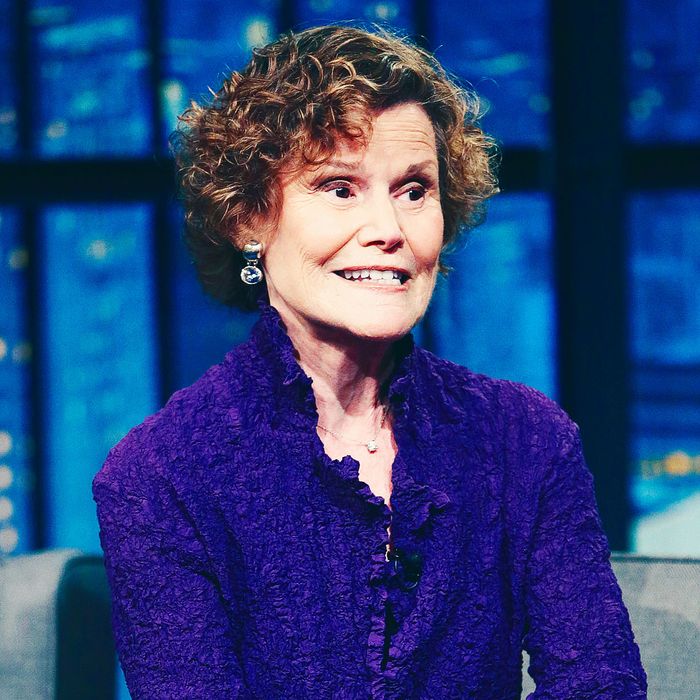 Judy Blume.
Photo: NBC/NBCU Photo Bank via Getty Images
Judy Blume, the author whose books ushered generations of people through their menarche, turns 80 today, and to celebrate, she shared some of her thoughts on #MeToo, how she feels there is a generational gap in the movement, and alleged child molester Woody Allen. Per NPR:
"That doesn't mean that women of my generation can't support the #MeToo movement," Blume says. "Where we may differ is, 'Is it OK to enjoy the art of someone who we now know may have been abusive to women?' To me, the answer is yes, I can. And I don't want museums to take away art because we now know that that artist from a different era may have been abusive to women."




And Woody Allen movies? [Rachel] Martin asks. "Where I stand right now, I will continue to see Woody Allen movies because I'm very interested in Woody Allen the filmmaker."
Blume did not elaborate any further, but did say that she has no plans on updating any of her books like Are You There God? It's Me, Margaret or Blubber, which is good, because that would be sacrilege.
I don't want to rewrite anything. My characters are who they are. For years, people have written and asked me to let Margaret go through menopause. And it's like, "Hey guys! Margaret is 12 and she is going to stay 12. That's who she is." No, I don't want to rewrite any of them.
She added, "I get up every day now and I say, 'Thank you, thank you! I don't have to write today,'" which sounds nice.