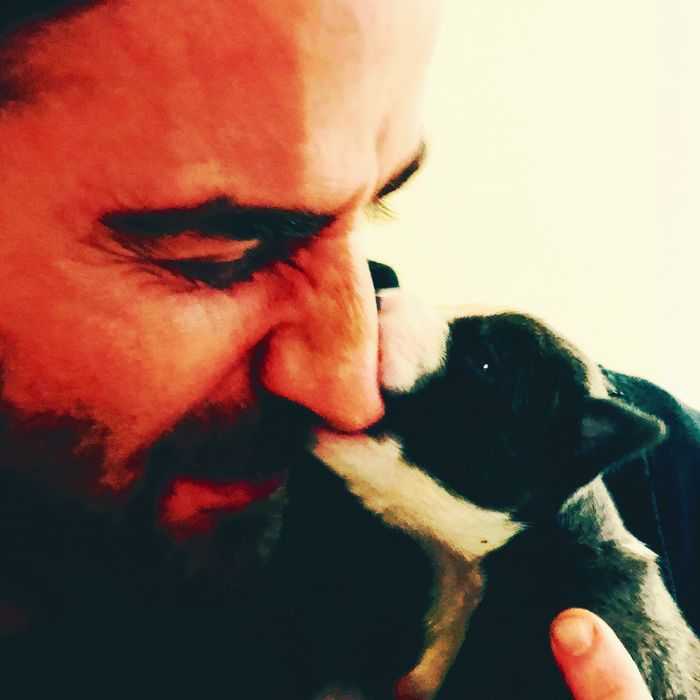 Justin Theroux.
Photo: Courtesy of Instagram/justintheroux
We all cope with breakups differently. Maybe you cry and drink a lot of wine, or finally sign up for those kickboxing classes at the gym. Or, if you're Justin Theroux — formerly of the Very Attractive Couple Justin Theroux and Jennifer Aniston — you post adorable pictures of puppies on your Instagram.
On Sunday, ten days after he and Aniston issued a joint statement announcing their split, the Leftovers star posted a delightful series of pictures of himself with some tiny, potato-sized Pitbull puppies, and the caption: "Texas!!! Another very inspiring visit with the incredible people and pups @austinpetsalive. I cannot understand how they do what they do, day after day, so consistently and lovingly to save so many dogs and cats. I HIGHLY recommend going in and getting your nose bit by a toothless baby pitbull. These two aren't yet ready to go, but when they are go get em …"
He also added the hashtags #pitbull, #austin, #rexas, #adoptdontshot, #seniordogsrule, and also #selenagomez, and (in a hashtag) "Yeah that's right Selena I did it to you again but if you saw these guys you'd do whatever you could too also I know you're chill like that."
As Elle U.K. suggests, Theroux probably met Gomez through Aniston — according to Gomez, she and Aniston are close and make pizza together sometimes. Gomez, of course, is busy making out with her rekindled flame Justin Bieber right now, so it's unclear whether she's seen the post, but she's chill like that.
Were Theroux's pictures a post-breakup thirst trap? Some canine-based self-care? Just a regular post with nothing to read into it? Whatever the case may be, it's always nice to see pictures of some very Good Boys.