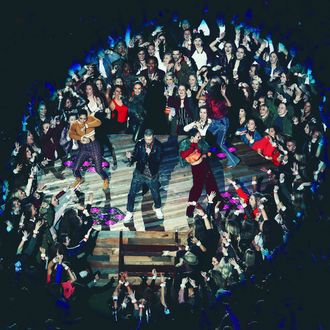 Justin Timberlake performing during the Super Bowl LII halftime show.
Photo: Christian Petersen/Getty Images
Each year, Super Bowl halftime performers dress in a crystallized version of their personal brands — something that can translate to 100 million people in the blink of an eye. Their backup dancers echo the message, too. For Katy Perry, that meant flaming Jeremy Scott numbers flanked by instantly meme-able dancers in shark suits. For Beyoncé, an homage to the Black Panthers. For Lady Gaga, avant-garde looks ready for the nightclub.
But this year's performer, Justin Timberlake, has never had an identifiable personal style. Over the years, he's presented himself as everything from a denim-on-denim-clad fashion victim to a player in a Tom Ford suit, enthusiastically jumping on whatever trends might be out there. So it's no wonder that on Sunday night, he presented a vision of fashion in 2018.
Timberlake himself wore a custom ensemble by Stella McCartney, who interpreted the name of his latest album, Man of the Woods, very literally. (The album is a tribute to Timberlake's son, Silas, whose name means "of the forest.") In addition to a "camouflage splatter" suit, as the brand's press release describes it, Timberlake also had on a button-down shirt featuring a deer-filled landscape by the artist Martin Ridley, plus a fringe leather jacket. He accessorized with a bandanna and a special version of Nike's Air Jordan 3 sneakers, which dropped immediately after his performance and sold out within minutes.
Timberlake's backup dancers were outfitted in earth-toned, contemporary streetwear looks. Two had on pieces by the Virgil Abloh–adjacent streetwear designer Heron Preston — one wearing a "СТИЛЬ" hoodie and the other sporting a bright orange fanny pack. One had on Gypsy Sport sweatpants. A friend I watched with exclaimed, "Is that Rachel Comey?" about another dancer's wide-leg trousers, which she wore with a turtleneck. (No, they were not. Yes, turtlenecks made it to the Super Bowl halftime show.) The rest wore some combination of Nike sneakers, Timberland boots, hoodies, cargo pants, beanies, and bomber jackets.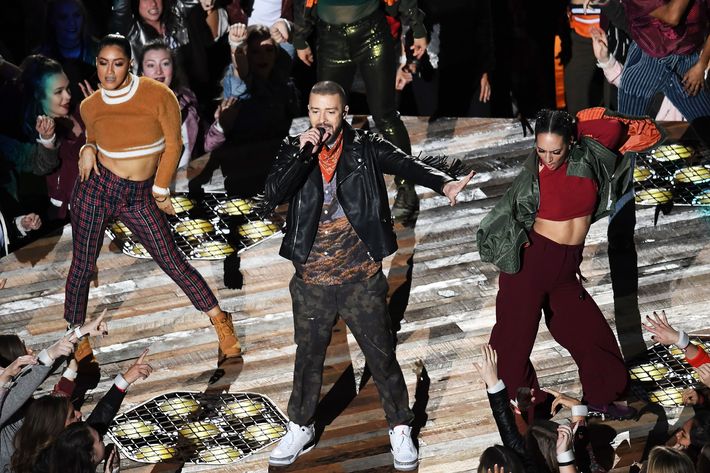 Like it or not, all of this was on trend. The halftime show looked to me like the scene at Kith, a popular New York streetwear store, on any given weekend in 2018. Or the corner of Mercer and Howard streets, where you'd not only find similar fashions, but also very young teenagers like the one who took a selfie with Timberlake.
Camouflage in particular has been all over the menswear runways, from Virgil Abloh's Off-White and Kanye West's Yeezy line to Louis Vuitton and Vetements. Rather than go for an all-American designer like Ralph Lauren or Tommy Hilfiger, Timberlake clearly wanted to appear more fashion with a capital-F.
Did the results look good? No. Timberlake's suit had the opposite effect of camouflage. His shirt resembled a Mac OS screensaver, and his sneakers were awkwardly clunky. But his performance was a reflection of what people are wearing right now, in the same way that the Super Bowl is a reflection of America right now, for better or worse.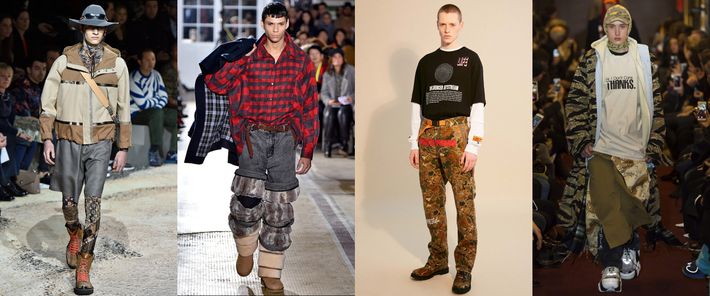 Collectively, these relatable wardrobe choices were a sign that both Justin Timberlake and the Super Bowl are desperately trying to remain relevant, especially among those who might have to Google Timberlake's name. But isn't it more interesting when Super Bowl halftime shows advance the conversation in some way, rather than just echoing it? Last year, Lady Gaga, for example, performed "Born This Way" during the most masculine TV event of the year. The shows don't always take risks, but when they do, it's as thrilling as a Hail Mary pass.
Taking risks, though, has never been what Justin Timberlake is known for. By embracing 2018 fashion without putting on a particularly 2018 show, he wound up highlighting the way he's failed to keep up, like a cool dad trying to take a selfie with a bunch of teenagers.