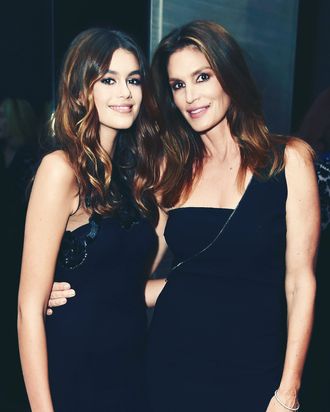 Kaia Gerber and Cindy Crawford.
Photo: Nicholas Hunt/Getty Images
Moms can be soooooooo embarrassing! Especially when they pose on top of a pile of nearly nude men on a magazine cover. The 16-year-old model Kaia Gerber experienced this firsthand when her mother, supermodel Cindy Crawford, revealed her sexy InStyle magazine spread this week. The photos and styling paid homage to the late Gianni Versace, who "celebrated powerful women but also beautiful and sexy women," as Crawford told writer Eric Wilson.
"I remember that [Cindy] was the one asking for the most sexy dresses," recalls Donatella Versace. "She always wanted the skirt a little bit shorter or the cleavage a little more strong."
Crawford was one of Versace's original muses, along with '90s supermodels Carla Bruni, Claudia Schiffer, Naomi Campbell, and Helena Christensen. The five of them were reunited at Milan Fashion Week last season, when Donatella Versace re-created her brother's greatest hits with a full tribute collection. For the finale, Crawford and her contemporaries walked hand in hand to George Michael's "Freedom! '90," just as they had done in 1991.
Although Gerber also walked the Versace runway in September, she was scandalized nonetheless by her mother's InStyle spread, which proves that Crawford's still got it after all these years.
"MOM!" Gerber commented jokingly on Crawford's Instagram of one of the photos, in which a very buff man wearing nothing but Versace underwear kneels at her feet. "Where's Dad?" she asks.
Crawford shared a screenshot of their social-media exchange on Twitter this morning with the caption: "Trolled." Oh, Mom!