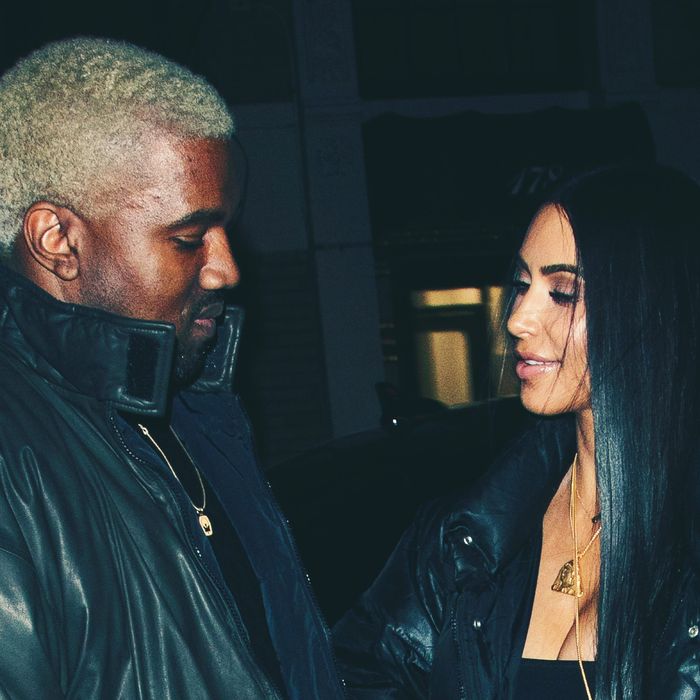 Kanye West and Kim Kardashian West.
Photo: Marc Piasecki/GC Images
On Wednesday afternoon, Kanye West returned to Instagram months after wiping his account clean. He shared a photo of a white piece of paper folded in half. On it, he wrote in Sharpie: "Happy Valentine's Day, babe."
West then proceeded to share images of iconic couples including Madonna and Sean Penn; Michelle and Barack Obama; Cindy Crawford and Richard Gere; plus Kate Moss and Johnny Depp.
Presumably, Kanye's Valentine's Day card was addressed to his wife, Kim Kardashian West, and not himself. Kim also shared a Valentine's Day post earlier in the day, saying she loved her husband "to infinity."
Kanye's card was infinitesimally less flowery than Kim's in its minimalist to-the-point-ness. Minimalism ranks high on the list of things Kanye West loves. In 2013, he told the Times that he considered himself a "minimalist in a rapper's body."
But is this Valentine's Day card "artistic," or just lazy?
Months before joining Instagram in 2016, Kanye West tweeted, "I was thinking about getting an Instagram but only on one condition: no one can ask me or try to tell me what to Instagram… It's my art…"
So, there you have it. If anyone else sent us this card, we'd be pissed. But we love Kanye as much as Kanye loves Kanye. And Kim. And art.