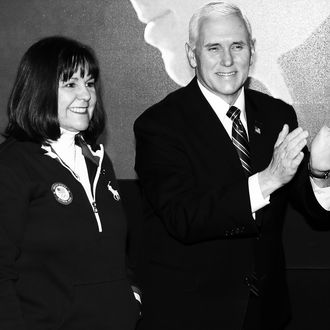 Mother and child reunion.
Photo: Joe Scarnici/Getty Images for USOC
Second Lady and White House Bee Mistress Karen Pence was tasked with introducing her husband at this year's annual CPAC conference, where she said she was going to use the opportunity to "pull back the curtains" and let us know more about the real Mike Pence. This was intriguing: would we finally learn more about why he calls her Mother, or what happens if he dares eat dinner alone with another woman?
No. Instead we learned some benign facts about Mike Pence that suggest he is either an incredibly boring man or a 12-year-old boy trapped inside a baby-boomer's body.
For instance: Every Friday night he eats pizza and drinks an O'Doul's nonalcoholic beer. He greatly enjoys drawing cartoons. And, if he could buy anything in the world, it would be a horse, because he loves horses. This love, as you may recall, has been well documented in this unfortunately worded tweet:
Karen Pence did also offer a couple of glimpses into her marriage with the vice-president. "I used to do these watercolor fairs and he would come to my booth and help sell the watercolors," Karen, a noted towel-charm artiste, gushed. She also said that her "job is to keep him humble" which, you know, we already kind of figured out with the whole Mother thing.