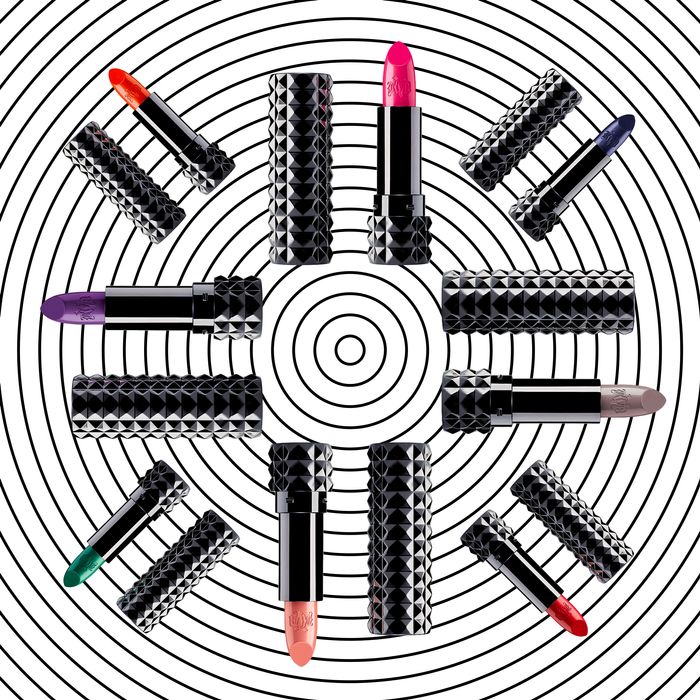 Rihanna continues to keep the beauty industry grasping at diversity, pushing them to broaden their shade ranges for all products. Kat Von D is updating and expanding her Studded Kiss Crème Lipstick to include 4o shades that are now bolder than ever thanks to a higher-pigment formula. The black studded cases are inspired by Von D's favorite goth wrist cuff.
The new lipstick is a creamier, more intense revamp of Von D's classic Studded Kiss formula, known for its long-wearing formula that's never patchy. The line, her largest collection yet, is also vegan and cruelty-free. It includes eight different nudes, ranging from a lighter soft peach to a dark, earthy sienna, as well as more unusual shades like sea-foam green, lavender, and glittery black.
Von D rereleased some old fan favorite shades — Lolita (a chestnut rose) and Bow N Arrow (a fawn nude) — for the new line, and made solid versions of her Everlasting Liquid Lipsticks, in shades like the shimmery brown Piaf and the deep burgundy Vampira. One of the new shades is White Out, an opaque white that can be used as a base for a brighter canvas, or blended in to lighten any shade. For the opposite effect, you can mix Slayer, Von D's black lipstick, with any shade for a darker, more vampy look.
The new lipsticks come in glimmer, metallic, or classic matte finishes, and are available now on Von D's website and at Sephora.
If you buy something through our links, New York may earn an affiliate commission.