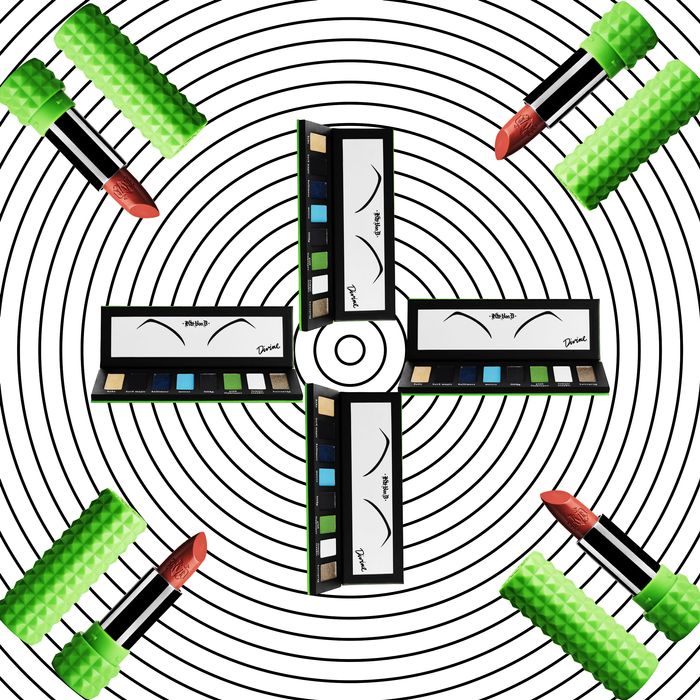 Kat Von D enlisted the help of late drag queen Divine's (born Harris Milstead) estate to create a larger-than-life makeup collection that celebrates Von D's biggest muse. "I've always been a huge Divine fan. He was so iconic and so ground-breaking, especially for the time that he was around because he was not only breaking barriers in the regular world just being openly gay, but in the drag world as well," Von D said in a press release. Divine passed away in 1988 of an enlarged heart. "He made people question the conventional idea of beauty and he made something that could be scary to most people very appealing."
There's an eye-shadow palette with big and bold colors worthy of the man who played Edna Turnblad in Hairspray, and Ursula in The Little Mermaid (the Disney look was inspired by Divine). The shades are appropriately named after Divine's most praiseworthy moments, friends, and roles: Babs (shimmery champagne), Hard Magic (matte black), Baltimore (metallic cobalt), Filthy (metallic charcoal gray), Pink Flamingos (metallic neon green), Female Trouble (matte white), and Hairspray (metallic silver). The last shade is a matte sea blue called Waters, and named after the director who nicknamed Milstead Divine.
There's also an accompanying studded lime green lipstick. It comes in a peachy-nude matte shade, and is named after Divine himself. The Kat Von D x Divine Collection launched this week on Von D's website. It will be available February 23 at Sephora.
If you buy something through our links, New York may earn an affiliate commission.