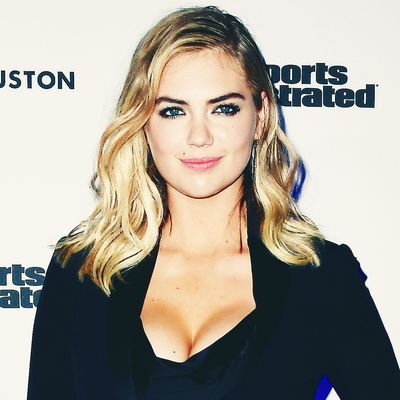 Kate Upton.
Photo: ANGELA WEISS/AFP/ Getty Images
Last year, Kate Upton was given three (3) different Sports Illustrated swimsuit issue covers. This year, the supermodel was almost swept out to sea during a surprisingly-dangerous SI photo shoot in Aruba.
As seen in video shared on Instagram by SI, Upton was posing topless on a rock in Aruba with an island-themed dress-esque concoction protruding out of her yellow bikini bottoms (the latest in swim fashion we guess?) — when the ocean tried to claim her as its own. Right as a photo shoot staffer approached her, a wave came crashing over top, knocking the model off the rock and into the water.
"Shit! Shit!," photo shoot workers are heard yelling in the video. "Grab her! Grab her!," they also said. "Oh my God, oh my God." A bikini-wearing staffer rushed to Upton's aid, and SI wrote in the video's understatement-filled caption, "Whoops! Things got a little rocky."
Let this serve as a reminder that not even supermodels are immune to the dangers of the sea.