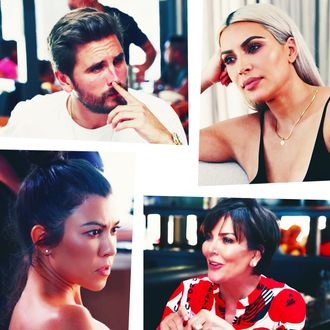 Photo: Courtesy of E! Entertainment
Happy Day-After Presidents' Day! Let's get right into Sunday night's episode, because I have some more Trump bashing to do: Our A-plot is Kris Jenner's legacy; our B-plot is Khloé and Malika's friendship; and our C-plot is Kendall Jenner's anxiety. Now, repeat after me: #LEGGO.
Scene 2:
Kris Jenner and Sofia Richie's nanny, Scott Disick, enjoy lunch with one another. Of all the Kardashian/Jenner women, Scott says he feels most comfortable around Kris and relishes any opportunity to hang with her. Kris feels similarly since Scott is like her son — plus, given the fact that he's no longer romantically involved with Kourtney, Kris has to make more of an effort to make him feel like he's part of the family. As Kris and Scott plan more things they can do together, like a spa day or walks in the neighborhood, the two stumble on a conversation about Kris's life before kids and her Calabasas Kingdom.
Casually, Kris talks about living with her mother MJ and her stepfather Papa Harry, who raised her from the time she was 10. Kris's biological father left her and MJ when she was just a kid, and also died when Kris was 16, so she didn't have much of a relationship with him. Kris remembers Papa Harry teaching her how to drive as a young girl, and getting caught stealing her parent's car when she was just 15. Scott's super interested in Kris's history, and is alarmed that he didn't know how colorful her past really was. This scene was filmed on August 9, 2017.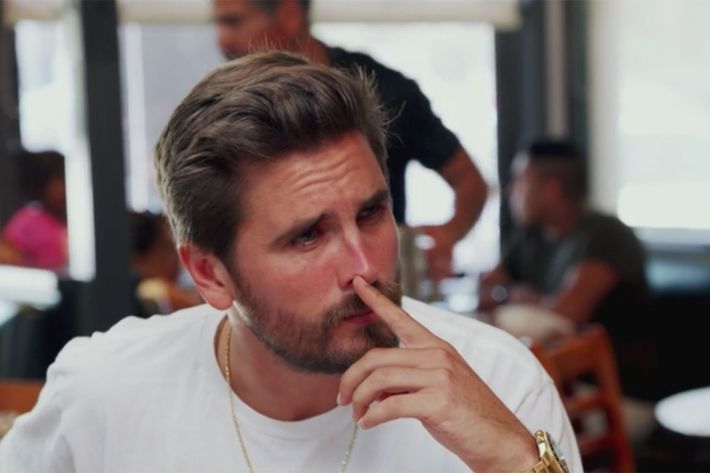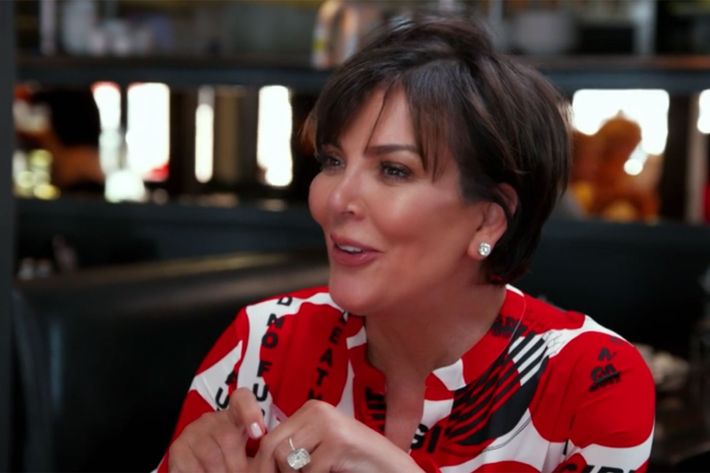 Scene 3:
At a photo shoot for her assigned brand, Good American, Khloé complains about Everybody's Favorite Best Friend Malika to Kourtney. Khloé calls Malika a "bitch" who is jealous of the time Khloé's been spending with Tristan. She also calls her friend out for not being empathetic to all the changes in Khloé's life, including the recent news that she's expecting a baby. The BFF tiff stems from a planned trip to Cabo, which Malika requested to change at the last minute.  Apparently, Malika had something added to her work schedule on the Friday they were supposed to leave, and was hoping Khloé would wait for her. This, and other tensions in their friendship, has set Khloé off, and she thinks the retired twin is being unreasonable. Kourtney eats her salad in a box and nods along to Khloé's complaints. This scene was filmed on September 7, 2017.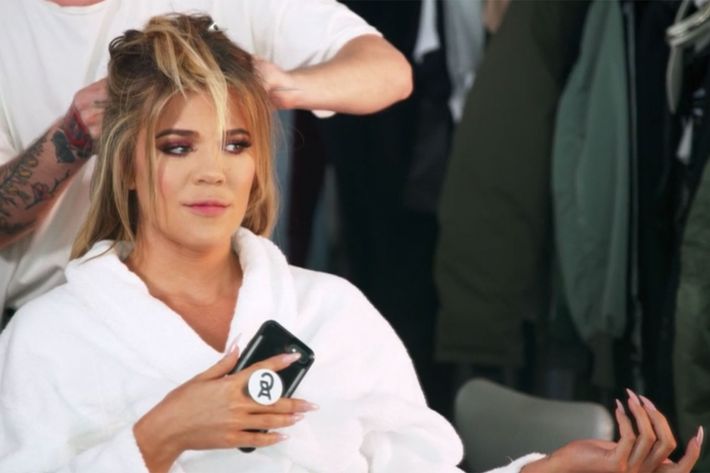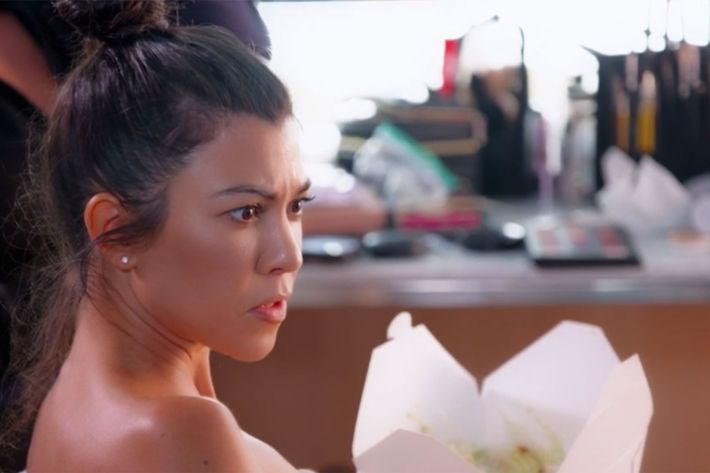 Scene 5:
Even though she didn't seem too verklempt over EFBF Malika and Khloé's "feud," Kourtney's decided to insert herself into this week's story line and try to help the old pals work out their issues. Kourtney hops on the horn with Celebrity Big Brother (London's edition …) contestant Malika to chat things through. Like she is in most cases, Kourtney is no help at all.
As Malika untangles her emotions surrounding Khloé's changing life and how that's affecting their friendship, a monotone Kourtney "helps" by confirming all of Malika's insecurities. Basically, she tells her that a soon-to-be-mom in a committed relationship will no doubt distance herself from her single and childless friends. Them's the breaks, and get used to it, Malika!
Kourtney goes deeper and says that she not only lost contact with a lot of her "original" friends when she became a mom, but she also opted out of fostering those relationships again until her kids were much older. Only now is she venturing out to repair the damage she's done after replacing all of her "original" friends with "mom" friends. Kourtney suspects that Khloé might behave the same way too, and suggests that Malika continue to reach out and try to maintain whatever friendship they have left. Yikes. This roast was filmed on October 30, 2017.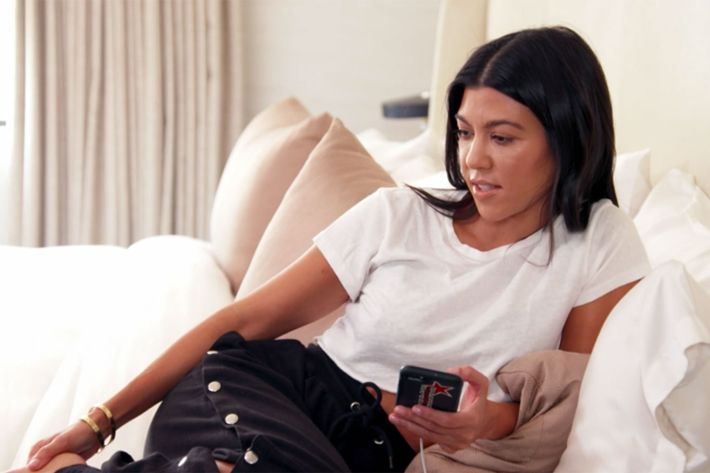 Scene 6:
Kim Kardashian West, Khloé Kardashian, Scott Disick, and Mason Disick all take a "hike," or quick walk, in Calabasas. When the group reaches the aesthetically pleasing lookout, Scott brings up some of the history he learned about Kris. He tells Kim and Khloé about Kris's dead biological father, Robert Houghton (IKR), who was an engineer and died in a tragic car crash. Kim and Khloé didn't know either of those things, and just assumed he was a deadbeat dad with no good qualities. This shocks Scott, who questions why they haven't made more of a concentrated effort to get to know about their mom's life before kids. Khloé, defending their ignorance of Kris's life, offhandedly says that there's only so much Kris could have shared about her father because she was just 16 when he died. An odd reason to truly not care, since Khloé and her siblings know firsthand the impact of a parent dying while you're young. Plus, anyone who has lived a life knows that being 16 doesn't disqualify something from having a tremendous impact on your life and inform the choices you make in the future.
Despite not having a previous interest in their mom's youth, Kim and Khloé think it would be nice to learn more about her; Scott agrees. If not for them, then Kris's history will be important to their kids and the following generations. After talking about Kris's dead dad and lack of interest in her childhood, Kim takes the conversation in a totally different direction. She's just gotten a text from Kylie, who purchased a silver Range Rover, even though that's "Kim's thing." Kim is pissed and thinks Kylie could have gotten literally any other car. This scene was filmed on November 7, 2017.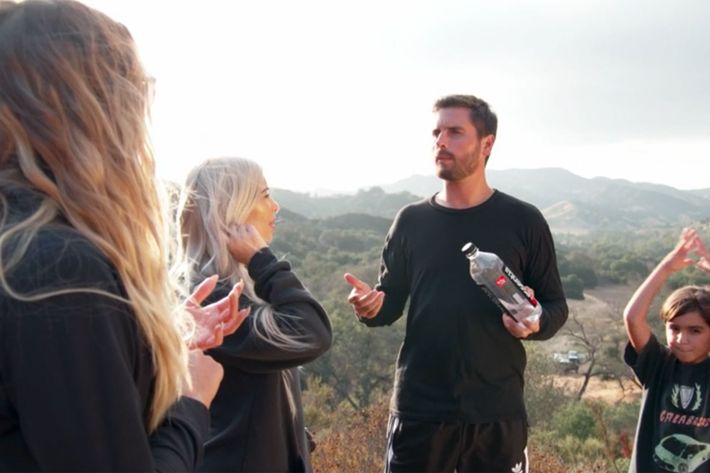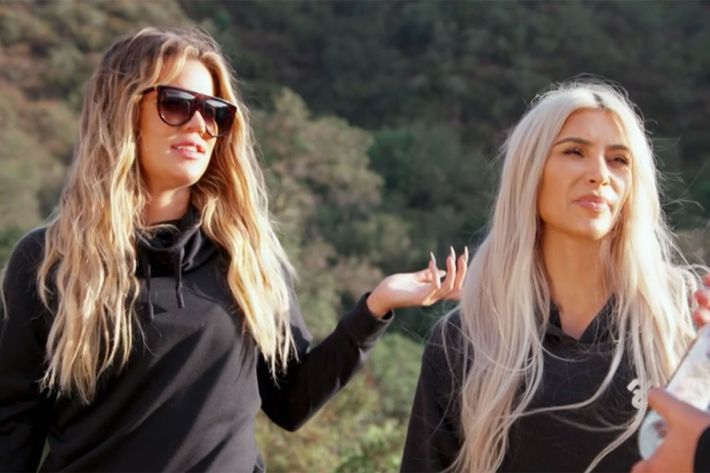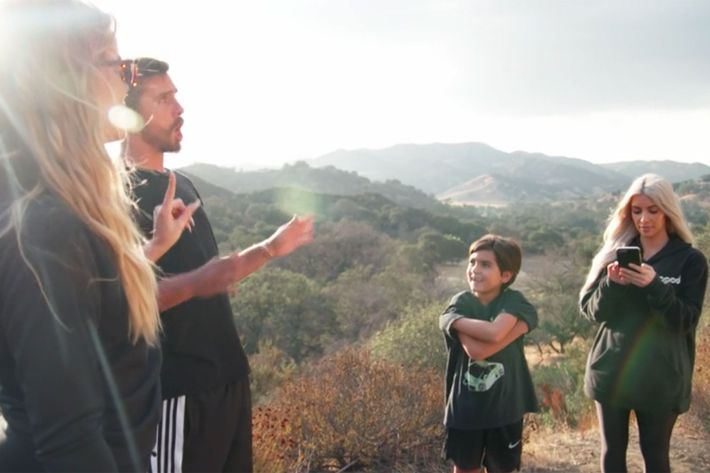 Scene 10:
Kendall Jenner visits Soon-to-Be-Muscle-Memed Kim Kardashian West's home. Kendall, who has struggled with anxiety for years, has been dealing with some symptoms recently. They've gotten so bad that she had to call her mother seeking emergency help while having a panic attack on her way to visit Caitlyn Jenner. Which, same, if I had to visit a Trump supporter's home. In any case, Kendall's been working with a sound healer to calm some of her anxious feelings and panic attacks, and it's been working. She's also scaled back on work, opting out of the upcoming Paris Fashion week and just walking in Milan shows. Kim thinks this is a great idea, and also advises Kendall not to feel pressured to have Kris tag along, if her overbearing presence will cause more nerves. Kendall agrees, and promises to make a decision on whether or not she wants Kris with her in Milan.
For Kim, the more important topic at hand is not Kendall's anxiety, but the random patch of hair on her sister's upper arm. Kendall has an explanation: You see, she's been getting her arms lasered, and when you get laser hair removal on areas that didn't originally have hair, hair will grow there … and grow thick. Kim, completely unsettled by her sister's hairy arm, has her assistant set up her waxing bowl so she can treat the issue herself. However, just as Kim is about to apply the hot wax to her sister's arm, Kendall remembers that she's getting laser the following day, which means she can't touch the area just yet.
High with power, Kim needs to wax someone right then and there, so Former Greatest Assistant of All Time Steph Shep is up next. On national television, Steph, who is no longer an employee of Kim Kardashian West's, gets her mustache waxed. This scene was filmed on September 18, 2017.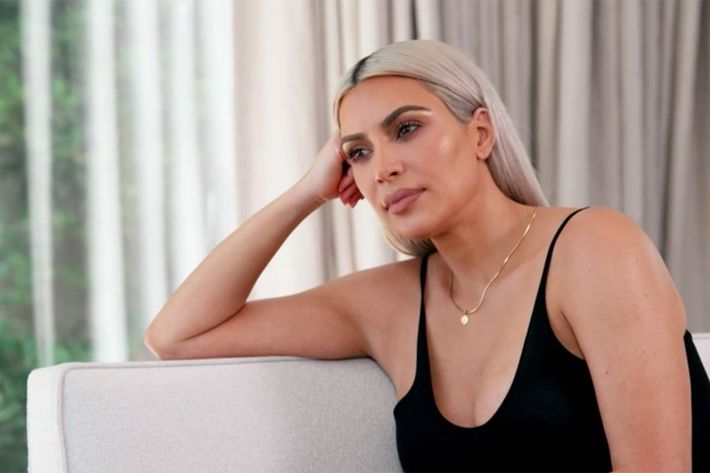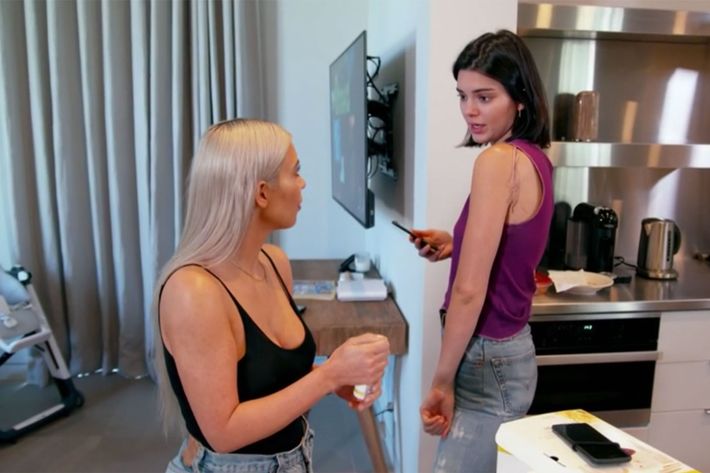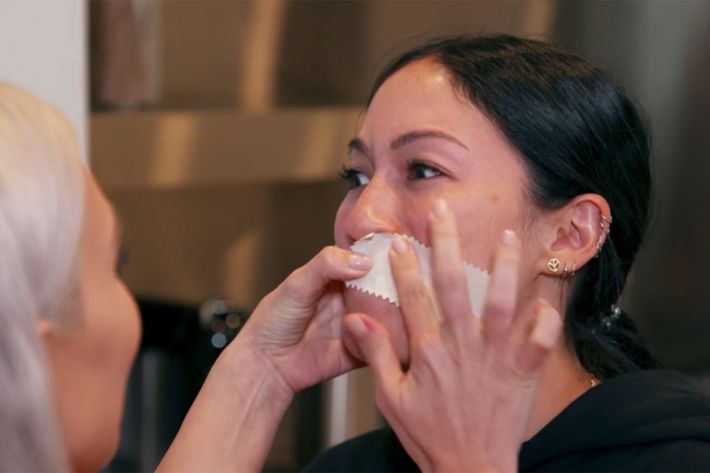 Scene 11:
At Khloé's L.A. home, Everybody (but Khloé's) Favorite Best Friend Malika drops by. Like all the other times she's been accused of being a bad friend to Koko, Malika sits in front of her almighty friend and hears the riot act on how she needs to do better. Khloé thinks Malika is a terrible communicator and incorrectly interprets her new friendships with Tristan's guy friend's as a personal attack on their lifetime bond. Khloé also thinks that Malika is blowing everything out of proportion — she doesn't spend as much time as Malika thinks with Tristan's crew.
Malika, on the other hand, thinks that Khloé's just gotten used to hanging out with the people she's around most in Cleveland, and often will forget that Malika exists, which has resulted in them not having a lot of one-on-one time together. Khloé doesn't really agree with Malika, but insists she'll do better in the future. They two friends also acknowledge that the fight is petty and could have been avoided had they talked things out earlier. This scene was filmed on September 6, 2017, the same day Khloé called Malika a "bitch" in Scene 2.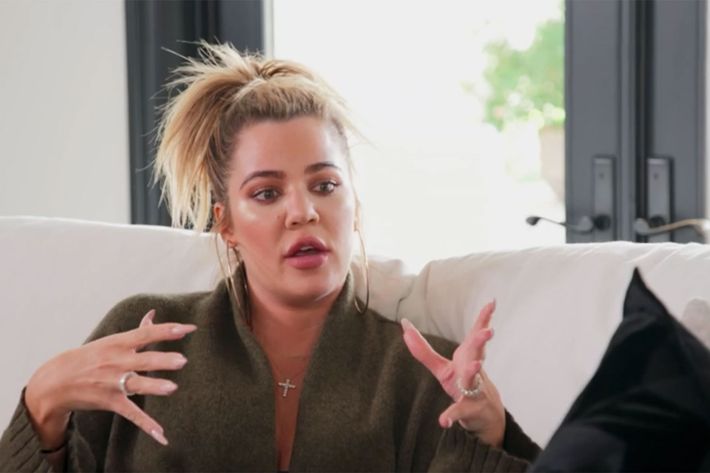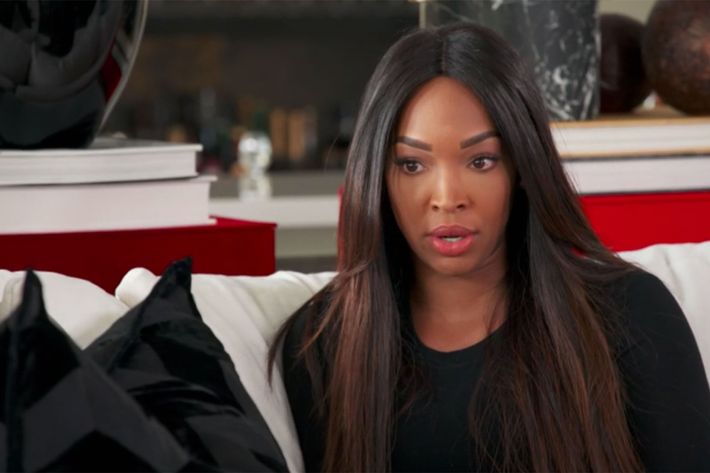 Scene 14:
In Milan, Kendall has decided to bring Kris along for her Fashion Week ride, and has even found a way to temporarily cope with her anxiety (by not thinking about it?) and walk in the Fendi show. As always, Kris shows up to whatever function she's invited to and rocks a red-on-red-on-red on red ensemble and slays the boys and girls who can barely pull a look together for an ANTM go-see! After the show, Kendall is in high spirits and happy to see her mom. This scene was filmed on September 20, 2017.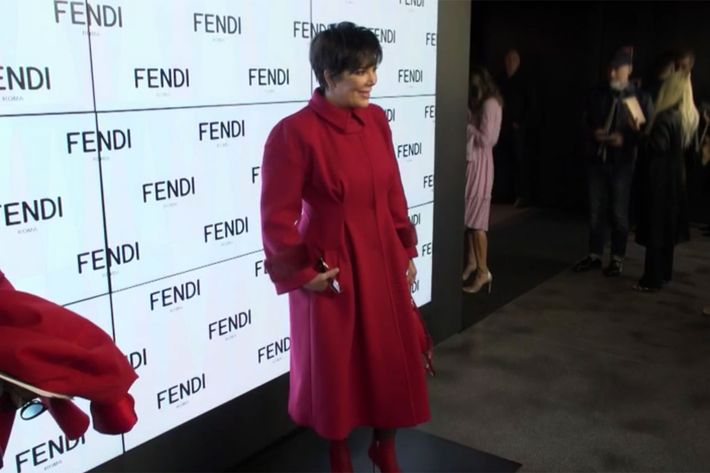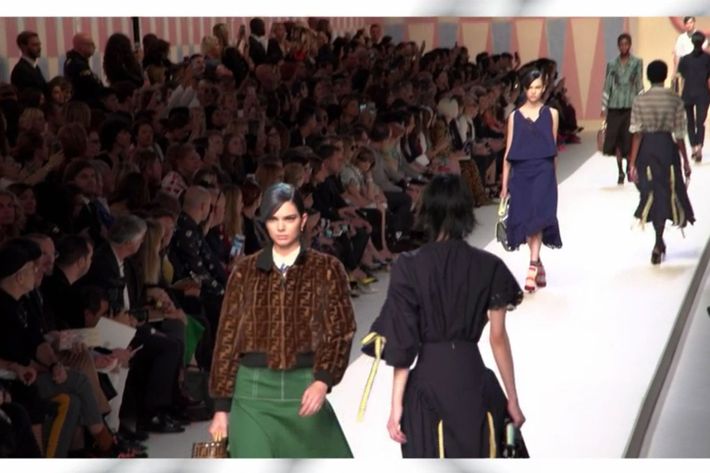 Scene 17:
In between PTA meetings for Sofia Richie, Scott's been working on a legacy video for could've-been-his-mother-in-law Kris Jenner. Earlier in the episode, Scott sat down with Kris as she shared tales from her life, including how she met Robert Kardashian (at a horse race) and more details on her biological father's death. It was really sweet of Scott to pull this together for Kris and her kids, and even sweeter for him to have created a full-on DVD with baby Kristen's face on the cover!
However, the only kids around to enjoy her legacy video are Kim and Khloé. Still, the family gathers around Kris's TV and watches her tell her story. More details emerge about her youth, including how she almost had to have her leg amputated because of a bone tumor, and the fact that she cheated on her then-boyfriend with Robert Kardashian. Literally some of the most insane stuff ever. Hunni has lived a life, Dolls! Kris ends the video by saying she hopes her kids and grandkids continue to appreciate the value of having a big family and appreciate the lives they've built for themselves. Kris Jenner is really one of a kind, folks! Kris and her kids (and Scott) watched her legacy unfold on November 10, 2017.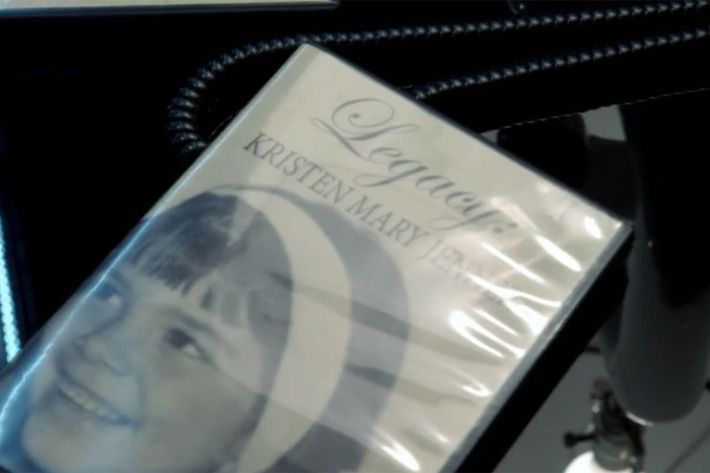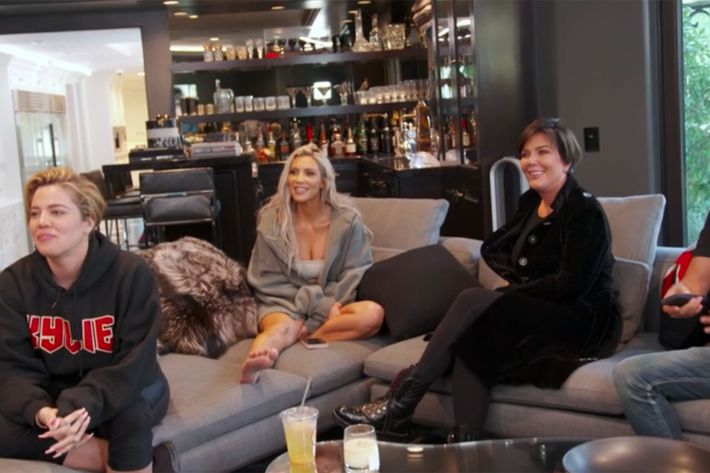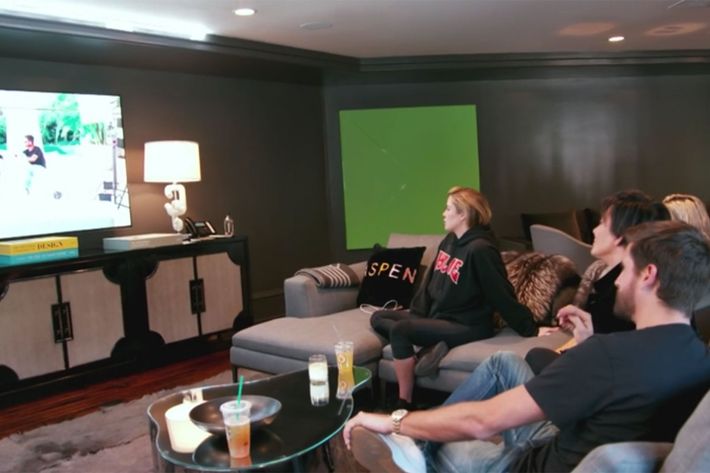 That's all for this week, Dolls! Check back next week for another #KUWTKE recap of Keeping Up With Kristen's Past! #MYPRESIDENTISKRISJENNER