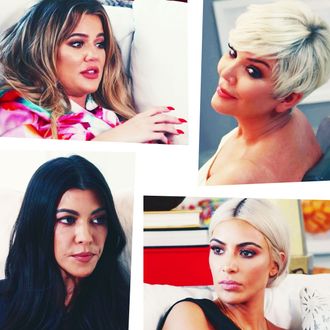 Photo: Courtesy of E! Entertainment
Dolls! We've made it to the penultimate episode of the 14th season of Keeping Up With the Kardashians! To celebrate this milestone, I got y'all something — THIS RECAP! What? You thought I could actually afford to give all of you something? How sweet.
On last night's episode, our A plot was Kris Jenner inspiring her daughters to put on costumes; our B plot was Khloé's pregnancy; and our C plot was Kourtney's eggs. For the second to last time this season: #LEGGO!
Scene 2:
Kim Kardashian West visits pregnant sister Khloé Kardashian for an afternoon of puzzle making and tea spilling. While Khloé works hard on the puzzle she's been putting together for at least three episodes, Kim chats on the phone with her civilian BFF and private Instagram account holder Allison Statter. Kimmie, fresh off firing Former Greatest Assistant of All Time Steph Shep, gives Allison the lowdown on how she let F-GOAT Steph Shep go — by telling Steph she loves her like a sister, but that their working relationship had come to an end. According to Kim, Steph totally understood and both women thought that this was the best move for their personal brands. A great tidbit of info: Steph wanted to take on a larger role in Kim's company. At this point, Steph was the COO of Kim's brands; aside from actually becoming Kim, I don't see how much higher she could have gone.
After her call with Allison, Kim gets a series of messages from family friend and PR guru Tracy Romulus. Tracy doesn't have great news: Apparently, TMZ has been receiving multiple tips that Khloé is pregnant and plans to run a story soon. Khloé seems less bothered than Kim, who wants Tracy to keep her updated with every bit of correspondence. Meanwhile, Khloé sighs and says she wishes they'd at least wait to run the story until she feels safe enough in her pregnancy to announce it publicly. Still, she remains calm and continues to finish her puzzle. This scene was filmed on September 22, 2017.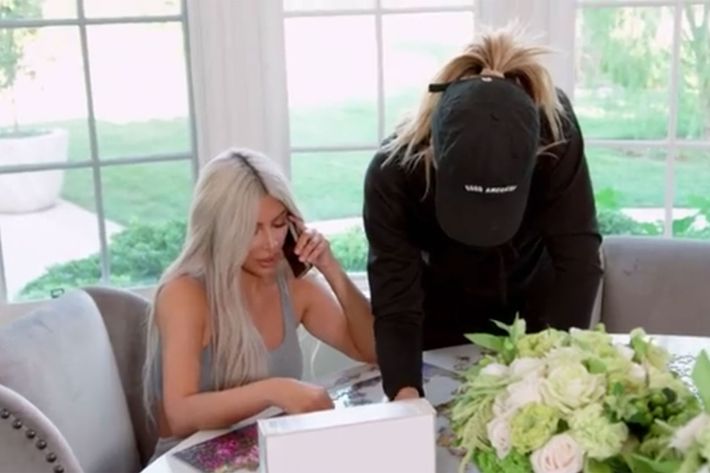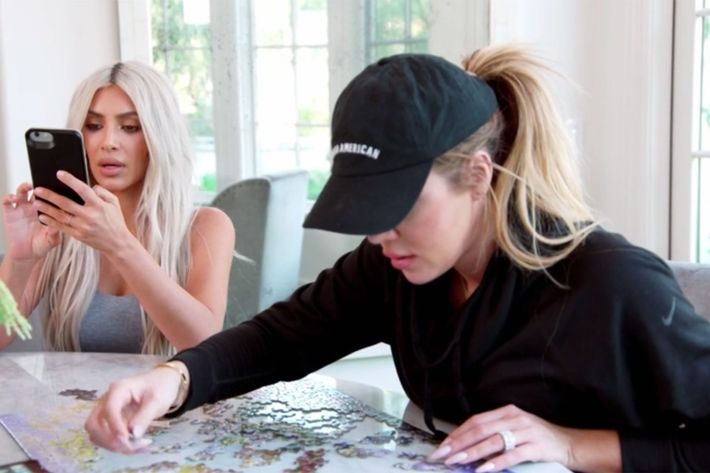 Scene 3:
Kourtney Kardashian and Kim Kardashian West visit their sister Khloé at her home. Khloé, wearing Claire's-like hoops and Kim, wearing something that looks comfortable and chic adjacent, listen to Kourtney drone on about possibly wanting to freeze her eggs. When I say "drone on," I mean not a lick of disrespect toward the art of family planning, but 100 percent disrespect to the horror that is Kourtney's voice.
Kourtney Kardashian, mother of three, is thinking that within the next ten years she'd like another child, and at 38, she feels the need to start getting that ball rolling. Khloé and Kim don't understand why she'd want more kids, but since it's that important to her, they say, she should just get some of Scott's sperm put in a "turkey baster" and go to town. Kourtney's not too keen on that plan, and wants to have the opportunity to "bring love into the world" with whatever mystery man she may fall in love with down the line. Rolling her eyes, Khloé asks if that man might be younger and/or the 24-year-old male model Younes, whom Kourtney is currently banging/dating. Kourtney scoffs at the idea of having a child with her boyfriend, and instead says that her "situation" could result in a child, or not. The younger two sisters look at her like she's lost her mind. This scene was filmed on September 11, 2017.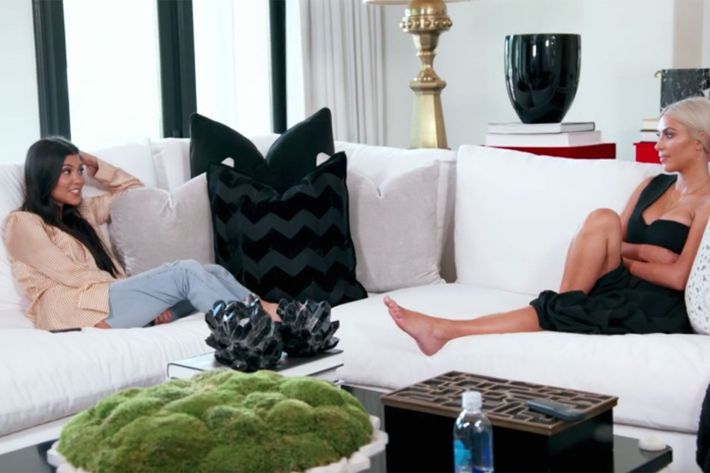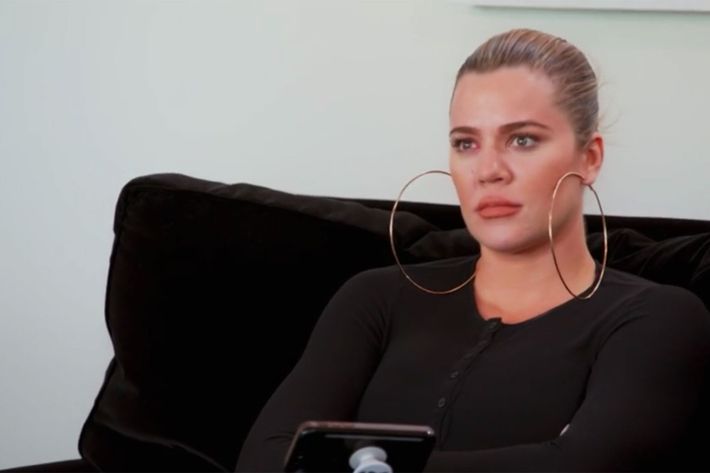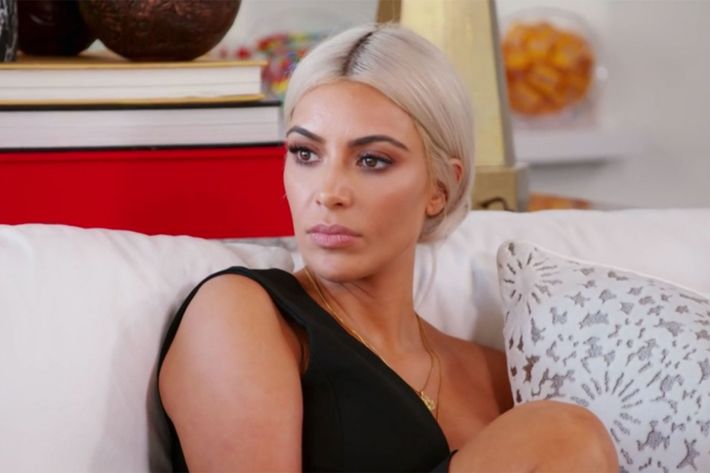 Scene 5:
Possibly stuck in Khloé's house, Kim and Kourtney gather on their pregnant sister's couches for another conversation. This time, the chatter revolves around Khloé's low progesterone levels.
Khloé's body isn't producing enough progesterone to line her uterus, so she has to vaginally insert pills at 3 p.m. and 3 a.m. every day. And what's even worse, she says, the pills have caused severe pain and bleeding surrounding her labia. Kim, who experienced similar issues and also took progesterone pills, corroborates the pain and difficulty of taking the pills, adding that her morning sex life was impacted by another of the pills' side effects — a cottage-cheese-like discharge. This aspect of her pregnancy is just another reason why Khloé's not eager to announce it to the world. This scene was filmed on October 2, 2017.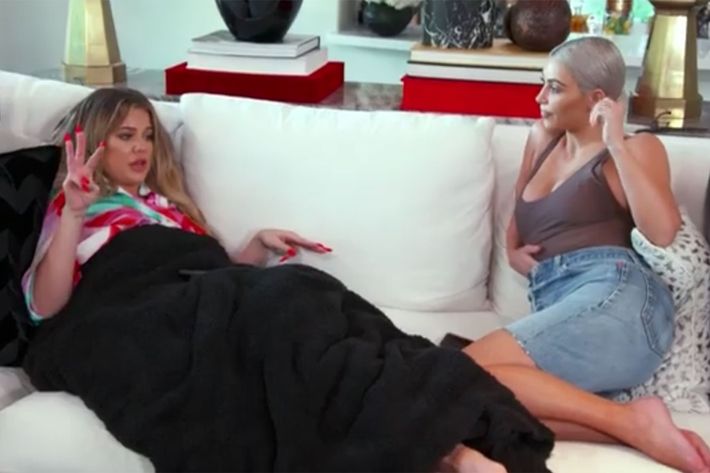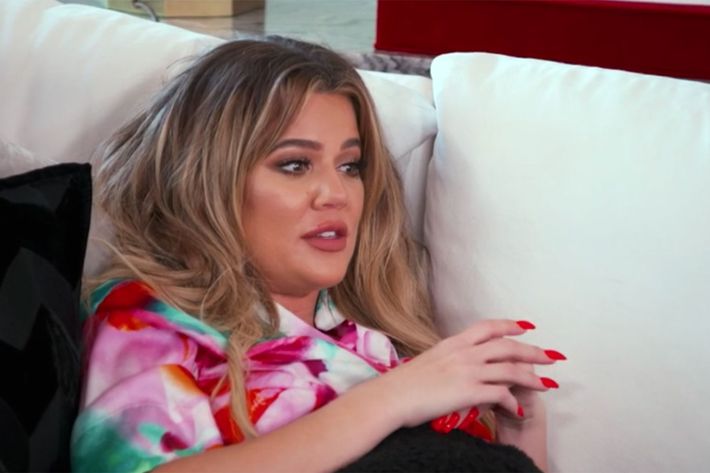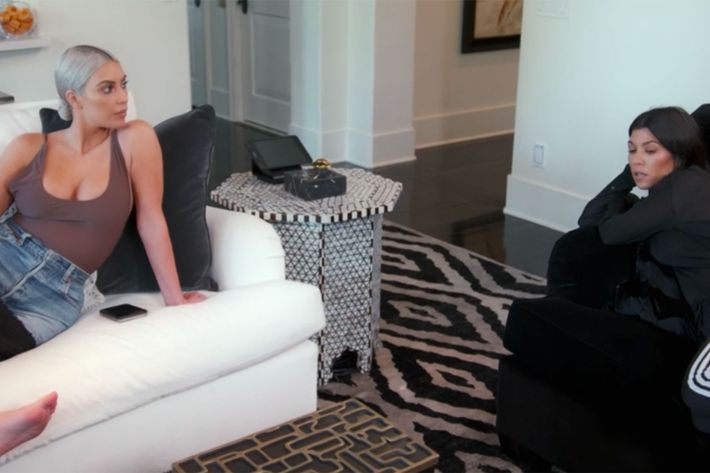 Scene 7:
Finally freed from Khloé Kardashian's Calabasas Clink, Kim is out in the free world but only makes it as far as Kris Jenner's. Kris, tempted by Kim's blonde locks, has decided to give the icy-blonde look a trial run. But because the process of dyeing her own hair seems too grueling, Kris has opted for a wig!
Kim, shocked by her mother's transformation, actually loves the lighter hair on Kris and even compares her to the iconic Devil Wears Prada character Miranda Priestly (played by Meryl Streep). Flattered, Kris takes the Miranda compliment and runs with it, agreeing that she is emulating Miranda's "chicness" and "New York attitude." What Kim isn't down for, however, is popping a pimple on Kris's back. She refuses to do it "on TV," but promises that she'll become Dr. Pimple Popper's apprentice once the cameras stop rolling. This scene was filmed on October 10, 2017.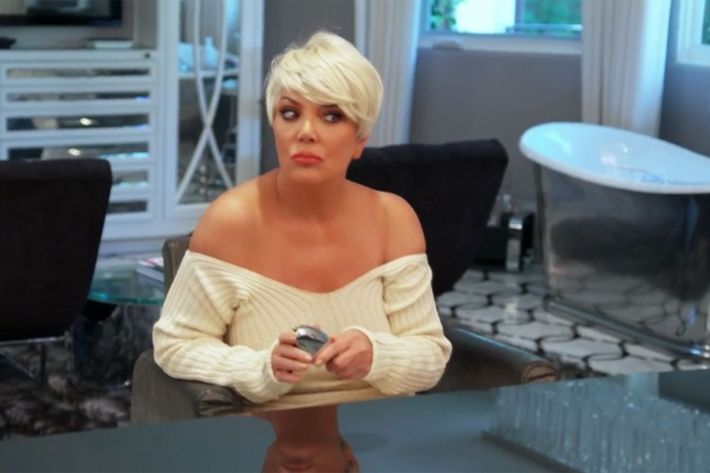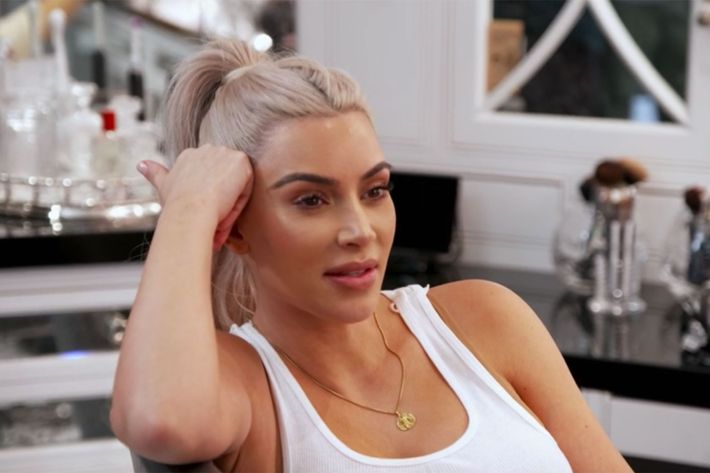 Scene 9:
After giving the idea of freezing her eggs some serious thought (she even visited her doctor!), Kourtney admits her plan to a few friends over lunch. Former Real Housewife of Miami Larsa Pippen, Kourtney's hairstylist and pal Scotty Cunha, and normal (well, not that normal) Sarah Howard discuss the ups and downs of egg freezing.
Sarah's done it before and has nothing but terrible things to say about the process, explaining that the hormones caused mood swings and depression and were a lot to handle. Sarah's also still looking for a sperm donor either in online files or IRL, so can't comment on actually using those eggs. Still, she says, feeling like she has an insurance policy for kids was worth it. Those complaints really affect Kourtney, however, who now believes that freezing her eggs may not be for her after all. This scene was filmed on September 13, 2017.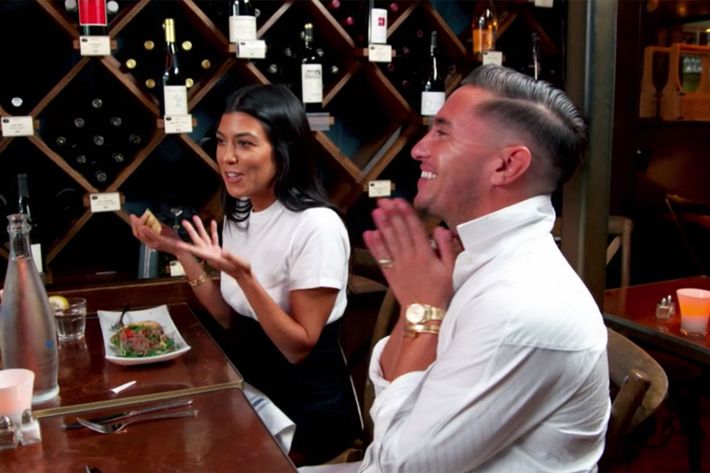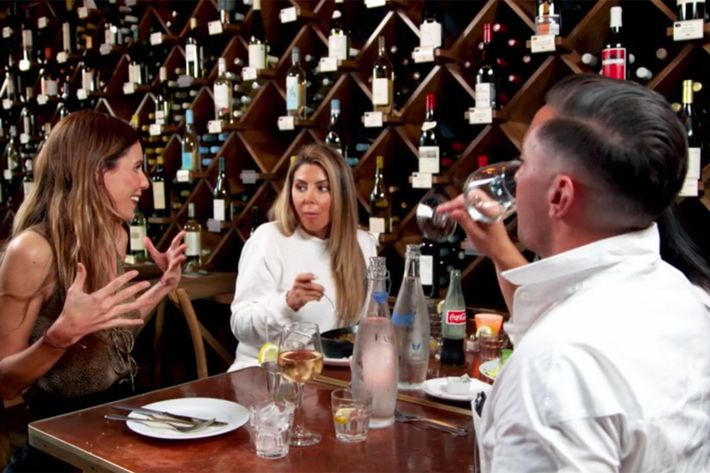 Scene 10:
Over at Runway Magazine her home, Kris Jenner's still sporting her blonde wig, but has added butchered quotes from The Devil Wears Prada. As her daughters trickle into her foyer, Kris says things like "Please don't bore me with your questions," and looks down on them through thick black sunglasses. Khloé can't handle Kris's absolute butchering of this iconic character, so she issues a public apology to Meryl Streep for the complete disrespect. This quick scene was filmed on October 10, 2017, just like Scene 7.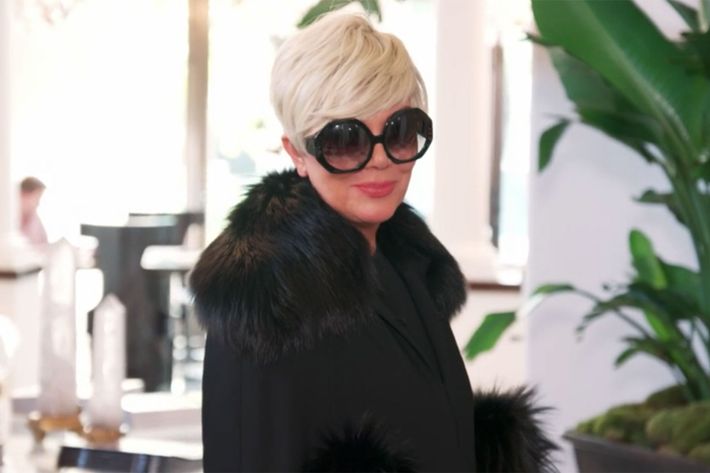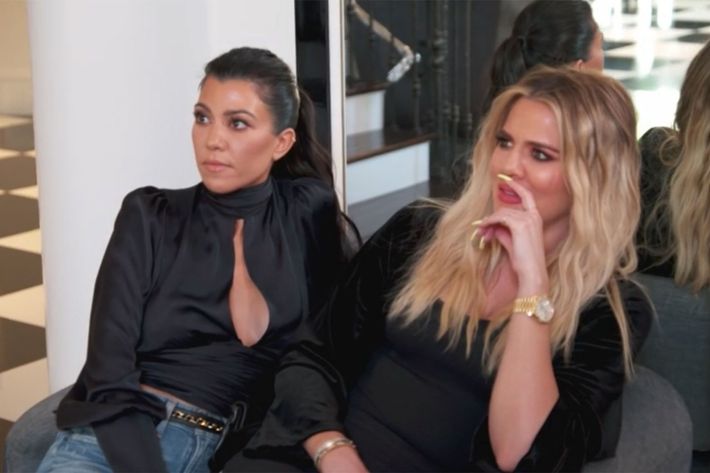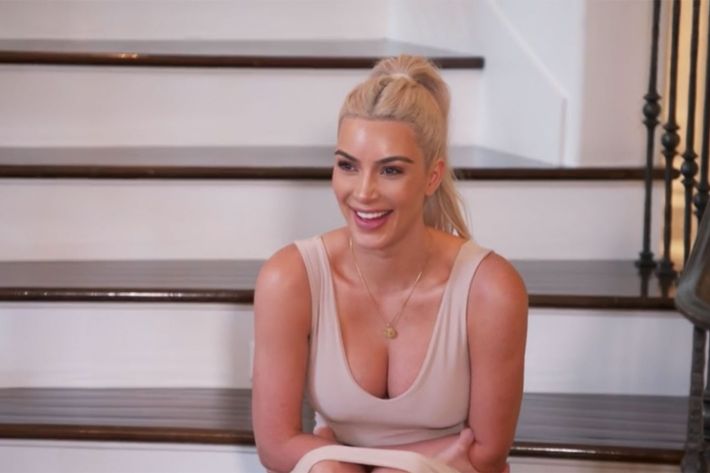 Scene 13:
Inspired by their mom's attempt at Miranda Priestly, the Kardashian sisters figured they'd join in on the fun and get all decked out in The Devil Wears Prada drag, too. In Kourtney's closet, the sister's cobble together some costumes: Khloé's first wig isn't really a match with the theme, so she snatches her "natural" hair back into a low bun and begins speaking in a low, soft voice for added effect; Kim, who is giving up fur (even fakes), wears a leopard-print rain coat; and Kourtney is in an oversize pink fur.
Of course, Kris, in a floral ensemble and white fur, needs no help becoming iconic. And she's perched like a queen and holding a martini glass on Kourtney's suburban-high-end-Rothman's couch! I was born waiting to be served this look, and darling, it did not disappoint. While they wait for lunch, Kris, Khloé, and Kim attack one another with more false quotes from The Devil Wears Prada. Who knew I'd want to call the FBI because Kim saying "that will be all" instead of "that's all" feels like an attack on me and my family!
Thankfully, the women retire to the dining-room table where Kim, Kris, and Khloé are dressed like off-brand Mirandas and Kourtney is dressed like Rachel Zoe. Over salads, the women yell at their help, toss around alcohol, and have a full-on New York romp. This scene was also filmed on October 10.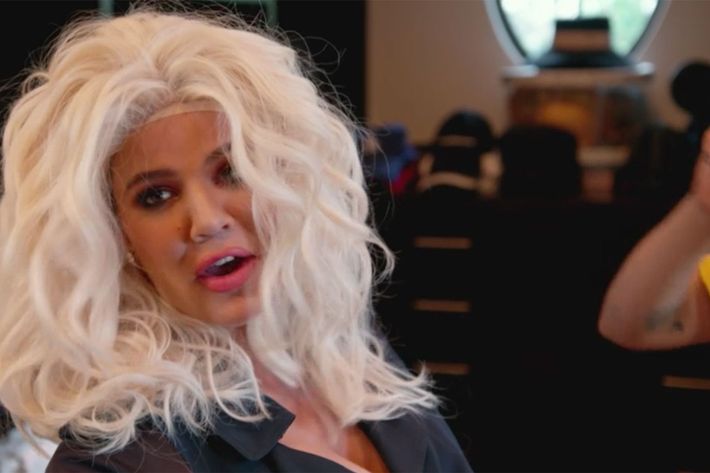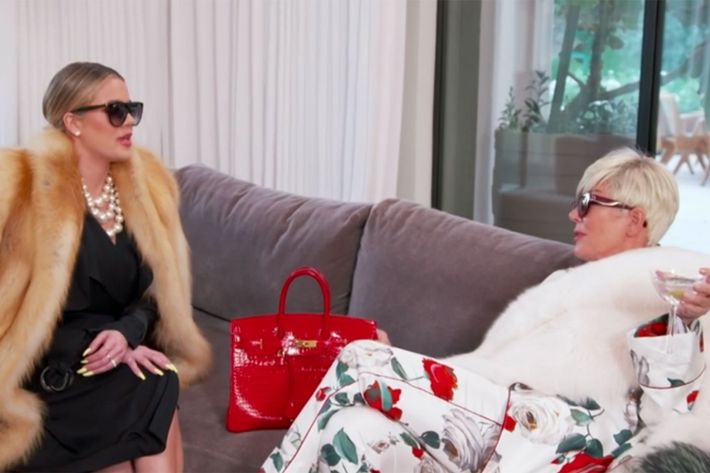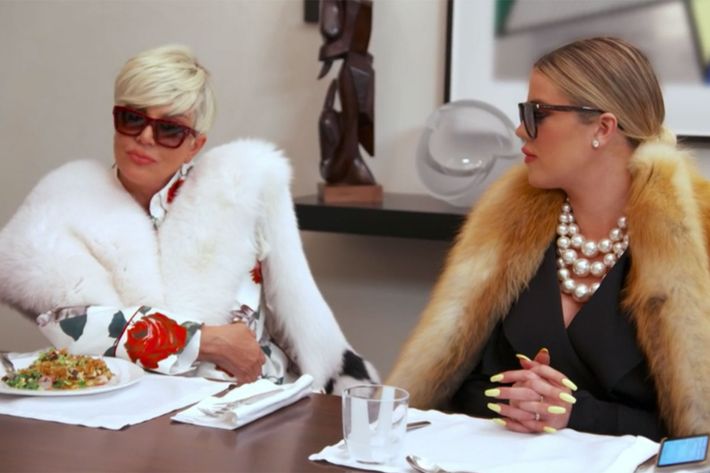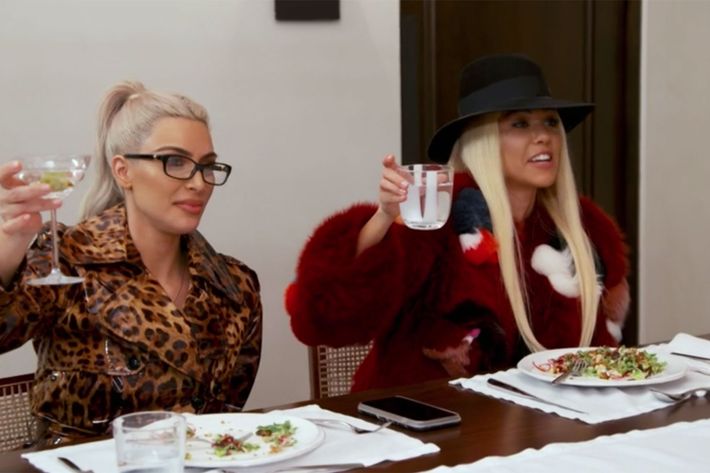 Scene 15:
After finding out her pregnancy news might be leaked, Khloé finally had to give into TMZ's demands and allow them to run the story — sort of.
According to Kim and Khloé, TMZ rang her up and gave her five minutes to confirm or deny the news; if she didn't the story would run. Instead of bending to their will, Khloé committed herself to not commenting. Kim agrees with her sister's choice, and accepts Khloé's thanks for her unwavering support. Kim also admits that even though she's excited about her new baby, she's anxious that she won't "care" as much since she's using a surrogate. An honest moment from Kimberly. This scene was filmed on October 9, 2017.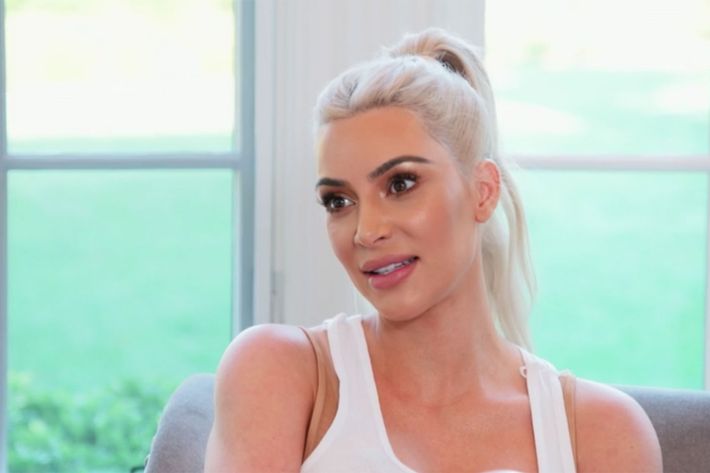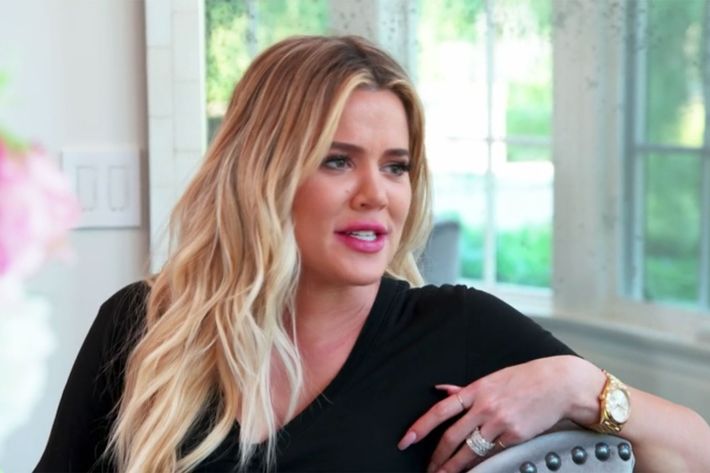 Scene 16:
At Kris Jenner's house, Kourtney eats a salad and declines her "Friday Gift" from her mother. Luckily, Kris, who apparently just gives her kids gifts for the days of the week, isn't too upset when Kourtney decides that she doesn't want the metallic green purse.
What Kourtney's really at her mom's house for is to chat about her decision to not freeze her eggs. At the moment, Kourtney's not ready for the stress and side effects that may come with the process, but does say she may change her mind in just a few months. Kris is far more upset over this than I would have imagined, and says her daughter is making a foolish mistake by not taking advantage of the technology that's right in front of her. Kourtney doesn't really care, and as she does most of the time, shrugs off her mother's complaints. This scene was filmed on November 20, 2017.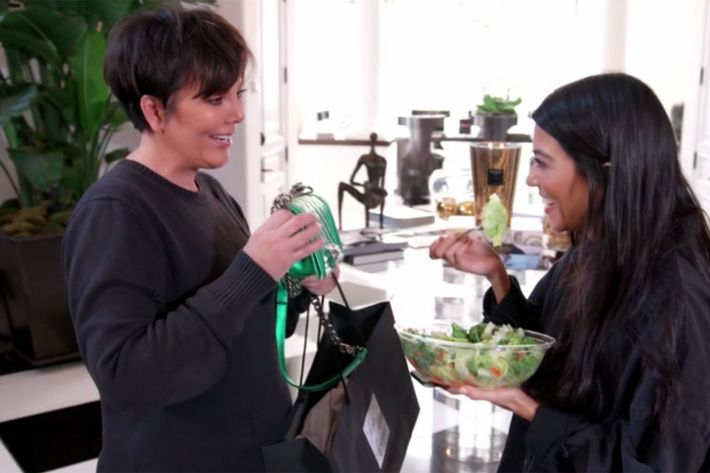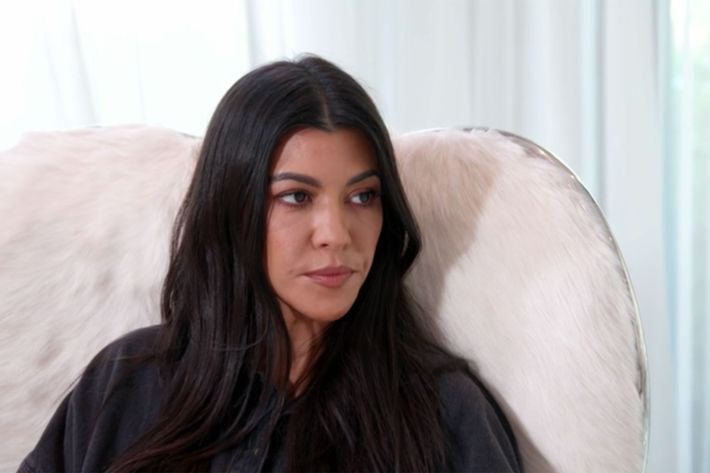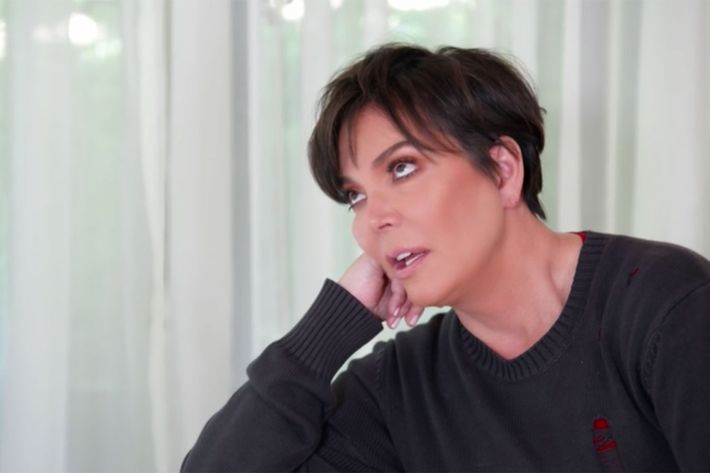 Whew! That's all she wrote this week, dolls. Check back in next week for the season finale #KUWTKE recap of Keeping Up With Kris Jenner's Emmy! #THATWILLBEALL