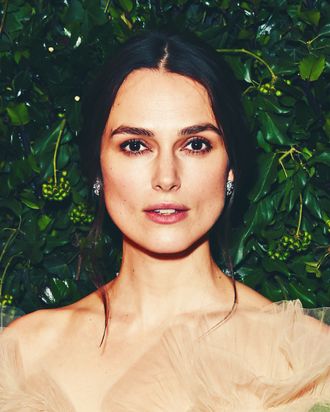 Keira Knightley.
Photo: Dave Benett/Getty Images
Keira Knightley will reprise her role as Chanel's most popular campaign star as a "sassy seductress with even more confidence" in the brand's latest ad campaign for the new fragrance Coco Mademoiselle Intense. The short film, directed by Johan Renck, begins with Knightley waking up the morning after a wild Parisian party, sprightly and with her makeup still intact. She looks around the balloon- and confetti-filled room, reconstructing the night one memory at a time. She kicked off her shoes, dropped her purse, and snagged a handsome admirer in her scarf, with whom she later played strip chess. She even sang a couple of syllables during karaoke.
Knightley did her first campaign film with Chanel in 2007 for Coco Mademoiselle, and she's carried her loving and playful attitude throughout her four campaigns since. Chanel said Knightley is "like a lady adventurer you can sense is demanding and sophisticated. She is a pioneer who calls the shots, drawing others along in her wake," presumably leaving traces of her sensual scent in her path.
The perfume is a woody blend of patchouli, amber, tonka bean, vanilla from Madagascar, and citrus that feels rebellious yet sophisticated. As its name suggests, Intense is a deeper, warmer scent than the original Coco Mademoiselle perfume, which Knightley calls one of her signature scents. While the new perfume is richer than its predecessor, Intense is allegedly still light enough for everyday use.
Coco Mademoiselle Intense is currently available at Chanel and Knightley's ad campaign will launch on March 1.
If you buy something through our links, New York may earn an affiliate commission.