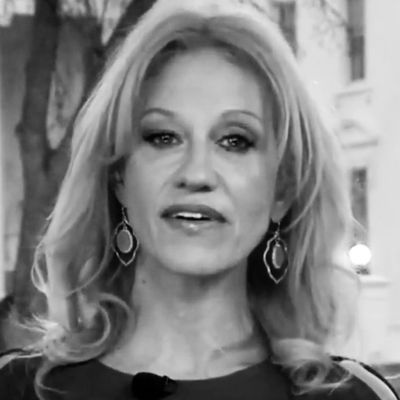 Kellyanne Conway.
Photo: Courtesy of Fox News
Kellyanne Conway has brought rhyming flash cards on TV and paused interviews to say hi to woodland creatures — and on Thursday morning, she brought us yet another appearance to add to those ranks.
Fox & Friends had the counselor to the president on the show to discuss the latest news about texts between two FBI agents — bureau lawyer Lisa Page and (former) investigative agent Peter Strzok — who were also rumored to be in a relationship. In December of last year, it was revealed that during the presidential campaign they sent each other private negative messages about Trump (huge bombshell); on Wednesday news broke that Page texted that Barack Obama reportedly wanted to "know everything" the FBI was doing in the Hillary Clinton email server probe.
"It is very concerning to see two people sexting each other about this investigation," Conway said before realizing her Freudian slip. "I mean texting each other about this investigation, on and on."
Sounds like someone needs those rhyming flash cards after all.