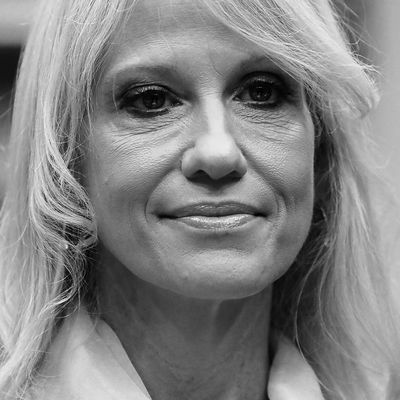 Kellyanne Conway.
Photo: Chip Somodevilla/Getty Images
Tasked with addressing Donald Trump's anti-#MeToo tweet Saturday, Kellyanne Conway went on ABC's This Week and attempted to defend the president's treatment of women, The Hill reports. Her word choices were, as they often are, eyebrow-raising.
Clearly upset with the world's current reckoning with sexual harassment, Trump fired off a tweet in reference to former staff secretary Rob Porter, who resigned this week amid domestic abuse allegations. "Peoples lives are being shattered and destroyed by a mere allegation," he wrote, lamenting what he perceives as the degradation of due process.
In swooped Conway, who told CNN this morning that she "has no reason to not believe the women" accusing Porter. She defended Trump by claiming that he at least respects women in the White House.
"Why would someone like me and other women work there?" Conway asked George Stephanopoulos. "He has many times come to the aid of women privately. That's the Donald Trump I see and I know."
Perhaps not the best argument to make for a man who has been accused of sexual misconduct more than a handful of times.